By Pam Kopiak (PKopiak@MossBuildingandDesign.com)
Sometimes I feel like my bedroom is the size of the one pictured below. It isn't. It's a bit bigger... but not much. It definitely is NOT a place where the kids could play hide and seek. They wouldn't be doing much hiding and certainly not much seeking. If you have a small bedroom too, there are things you can do to make the room appear larger than it is. Let's discuss these magic tricks.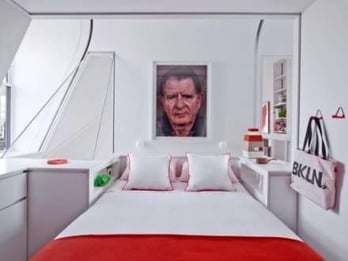 You Complete Me... Or Not.
With a small space, sometimes you have to get a little creative. For example, who said you needed a whole side table? Try using half the unit and mount it on the wall, as shown in the HGTV gallery '20 Space-Saving Solutions for Small Bedrooms' below. This still gives you a nightstand surface but keeps your room from feeling cluttered.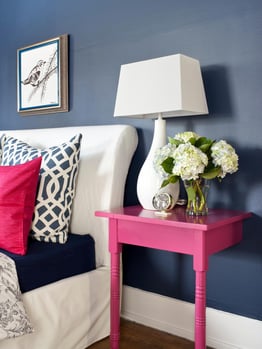 The client in this McLean, VA renovation opted for a narrow nightstand, creating a similar effect which helped to keep the appearance of floor space, making the room feel larger.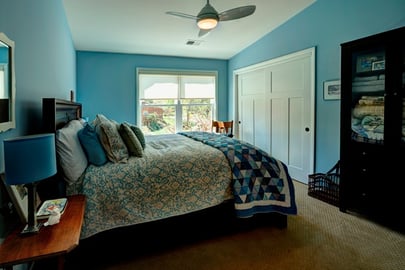 Stripes Stripes, Baby
Have you ever heard the saying "stripes are unflattering" when talking about clothes? Or was that just me? Well, when it comes to decorating, stripes can help trick the eye. While some people like to keep the room light to open up a space, you could also use one of the walls as an accent. With some solid stripes, or even a trendy chevron pattern, you can create a bold result that will distract from the size of the room.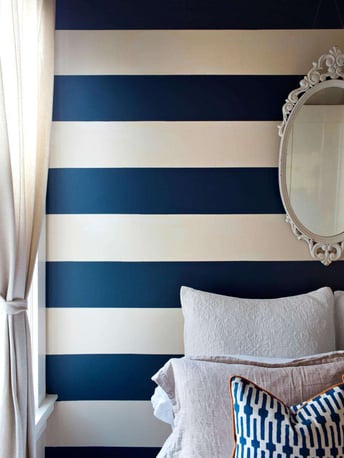 When used strategically, stripes can also direct the viewer's eye to make the room feel bigger. Horizontal stripes will make a narrow room look wider, and vertical patterns will make a low ceiling look higher. This Arlington, VA interior remodel chose to use a striped accent rug to help widen the room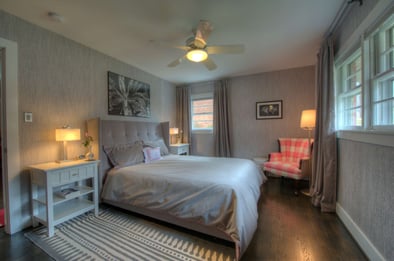 Read more interior design tricks to help make a small room feel larger here.
Shove It Under The Bed
Consolidation is key. By creating or buying (let's be real people) a bed with storage underneath, you could save space by getting rid of a dresser unit or bookshelf. I, myself, have a bed with built-in drawers and it saves a LOT of floor space. This bed storage from HGTV is a great way to keep it functional, but tucked neatly under that bed.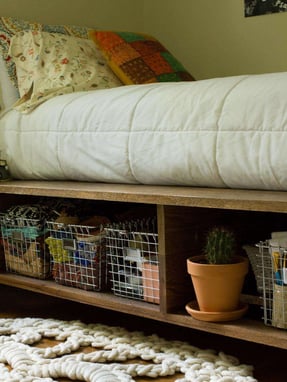 If these magic tricks aren't enough to make your small bedroom feel larger, consider an addition or remodel to give your bedroom that few extra feet you've been dreaming of. The professionals at Moss Building and Design are always available to answer questions and share ideas. If you would like to discuss your remodeling plans or have general questions call MOSS at 703.961.7707 or email Sales@MossBuildingandDesign.com.