Thanksgiving is a holiday full of food, traditions and family. Here's what a MOSS Thanksgiving table would look like with recipes from our very own employees! Happy Thanksgiving!

Mashed Potatoes
Provided by Jodi Jameson, Customer Care Manager
"The trick to these is getting the consistency right. Too much sour cream will make them runny. I love this recipe because I can make a huge vat the night before and just heat them up right before the meal."
5 pounds potatoes, peeled and cut into wedges

1 package (8 ounces) reduced-fat cream cheese, cubed

2 large egg whites, beaten

1 cup (8 ounces) reduced-fat sour cream

2 teaspoons onion powder

1 teaspoon salt

1/2 teaspoon pepper

1 tablespoon butter, melted
Directions
Place potatoes in a Dutch oven and cover with water. Bring to a boil. Reduce heat; cover and cook for 15-20 minutes or until tender. Drain.

In a large bowl, mash potatoes with cream cheese. Combine the egg whites, sour cream, onion powder, salt and pepper; stir into potatoes until blended. Transfer to a greased 3-qt. baking dish. Drizzle with butter. Cover and refrigerate overnight.

Remove from the refrigerator 30 minutes before baking. Preheat oven to 350°. Cover and bake 50 minutes. Uncover; bake 5-10 minutes longer or until a thermometer reads 160°.

Yield:

12 servings (3/4 cup each).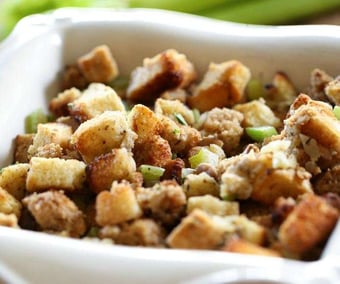 Stuffing
Recipe provided by Valerie Irons, Customer Care Manager
Ingredients
24 slices firm-texture white bread (1.5 one lb loaves) OR you can cheat and buy pre-cut bread.
2 cups finely chopped celery
1 large onion, finely chopped (1 cup)
1/2 cup margarine or butter
1 medium tart apple, peeled and chopped (1 cup)
1 teaspoon dried rosemary, crushed
1 teaspoon dried thyme, crushed
1/4 cup snipped fresh parsley
OPTIONAL finely chopped cooked giblets
3/4 to 1 cup giblet broth or chicken broth
salt and pepper
Pecans
Craisans
Directions
Toss bread cubes on cookie sheet by baking at 350 degrees F for 10 minutes. Set aside.
In a medium skillet, sauté celery, onion and apples in butter. Add salt, parsley, thyme, and rosemary
In a large bowl toss bread cubes with sautéed vegetables/seasonings until bread is well coated.
Add chicken broth to moisten.
Pour into a greased 9x13 pan.
Bake uncovered at 350 degrees for 35-40 minutes.

Broccoli Casserole
Recipe provided by Haley Johnston, Marketing Coordinator
Ingredients
2 ½ lbs. broccoli florets, cut into bite-size pieces (about 8 cups)
6 tbsp. butter, divided
1 cup finely chopped button mushrooms
¼ cup flour
1 cup milk (whole or 2% preferred)
½ cup half-n-half
½ tsp. salt
¼ tsp. freshly ground black pepper
½ cup Greek yogurt
1 cup finely chopped yellow onion
1 egg, lightly beaten
1 ½ cups grated cheddar cheese, divided
1 ¼ cups whole-wheat breadcrumbs (homemade* or store-bought), divided
Directions
Preheat oven to 350 degrees F. Lightly spray a baking dish with cooking spray.
Bring a large pot of water to a boil. Add broccoli and boil for 4 minutes. Transfer to a colander, rinse with cold water, and drain. Place broccoli in a large bowl.
Meanwhile, melt 1 tablespoon of the butter in a medium saucepan over medium-low heat. Add the mushrooms and cook until soft, about 4 minutes, stirring occasionally. Transfer mushrooms to the bowl with the broccoli.
In the same saucepan, melt 4 tablespoons of the butter over medium heat. Whisk in the flour until smooth; cook, whisking constantly, 30 seconds. Whisk in the milk and half-n-half. Bring to a low simmer and continue to whisk constantly until thickened. Remove from the heat and stir in the salt, pepper, and Greek yogurt.
Pour sauce into the bowl with the broccoli and mushrooms. Add the onion, egg, 1 cup of the cheddar cheese, and ½ cup of the breadcrumbs.
Stir to combine. Transfer to the prepared baking dish.
Melt the remaining tablespoon of butter and stir into the remaining ¾ cup breadcrumbs. Stir in the remaining ½ cup cheddar. Sprinkle breadcrumb topping over the casserole.
Bake for 45 minutes, until filling is hot and bubbly. Check after 30 minutes and cover with foil if topping is browning too quickly. Let stand 10 minutes before serving.

Apple Spice Cake
Recipe provided by Deanna Llewellyn, Kitchen Designer
Honey Glaze:
1 cup confectioners' sugar
2 tablespoons honey
2 tablespoons milk
Add all the ingredients to a small bowl and stir until smooth. Set the bowl aside.
Cake:
3 cups diced Granny Smith apples, about 2 apples

1 cup lightly toasted chopped walnuts
2 teaspoons vanilla extract
2 teaspoons ground cinnamon
3 cups all-purpose flour
1 teaspoon baking soda
1 teaspoon salt
2 cups sugar
1 1/4 cups vegetable oil
3 eggs
Directions:
Preheat the oven to 325 degrees F. Lightly grease a

Bundt pan

.
In a bowl, mix together the apples, walnuts, vanilla, and cinnamon. In a separate bowl, sift together the flour, baking soda, and salt.
Using an electric mixer beat the sugar, oil, and eggs in a large bowl. Add in the dry ingredients and beat until completely combined. Fold in the apple mixture.
Scrape the batter into the prepared pan and bake for 1 hour and 30 minutes or until a tester inserted into the middle of the cake comes out clean.
Allow the cake to fully cool in the pan, about 1 hour, and then turn it out onto a plate.
Drizzle the apple cake with some of the honey glaze, serve and enjoy!
The cake can be wrapped tightly and stored in the refrigerator for 3 to 5 days.

Pumpkin Roll with Cream Cheese Filling
Recipe provided by Valerie Irons, Customer Care Manager
Ingredients:
Cake
3 eggs (beat for 5 minutes)
1 cup Sugar
⅔ cup canned Pumpkin
1 teaspoon Lemon juice
3/4 cup all purpose flour
1 teaspoon Baking powder 2 teaspoons Cinnamon
1 teaspoon fresh Ginger
½ teaspoon Nutmeg
¼ teaspoon Salt
Filling
8 ounces Cream cheese softened
4 tablespoons Butter or margarine
1 cup Powdered sugar
½ teaspoon Vanilla
Preparation:
Cake
In large bowl, combine eggs and sugar, beating with an electric mixer until thick and light yellow in color. Add pumpkin and lemon juice, mixing until blended.
In separate bowl, combine flour, baking powder, spices and salt. Add to egg mixture, mixing well. Spread batter into greased and waxed paper lined 10 by 15 inch jelly roll pan.
Bake at 375° for 10-15 minutes.
Remove from oven. Cool for 5 minutes
Sprinkle ¼ cup of powdered sugar onto a kitchen towel.
Invert the cake onto the powdered surface and wait 2 or 3 minutes.
Carefully remove the wax paper and if there are places that stick, carefully cut the edge off with the spatula.
Slowly roll up the cake in the kitchen towel jelly roll style (starting with short side).
Cool completely in refrigerator (about 30 minutes)
While cake is cooling in towel, prepare filling.
Filling
Beat together cream cheese and butter
stir in powdered sugar and vanilla and blend until smooth
Unroll cake. Evenly spread filling over cake.
Roll up cake (without the towel). Wrap in plastic wrap.
Cover and chill at least 1 hour. Slice before serving. Keep leftover slices refrigerated.
This pumpkin roll freezes well!