Sliding doors can do a lot for a remodeling project, depending on what function you want them to serve. Maybe you want a grand entrance into your new den. Maybe your current bathroom door swings into a small hallway. Maybe you just love the style of a rustic looking barn door, and need that in your kitchen. Whatever your reason, sliding doors can be a great solution for homeowners who want to get creative in their home improvement.
Space-Saving
Many homeowners like the appeal of sliding doors due to the convenience of eliminating the need for the door swing. This can be a huge obstacle for people who are remodeling a small bathroom that doesn't have much wiggle room. This bathroom remodel in Alexandria, VA utilized a pocket door (a door that slides into the adjacent wall, completely disappearing) to save space in their bathroom as well as their upstairs hallway. While pocket doors are excellent for saving space, they require more in-depth work and should be installed by a contractor.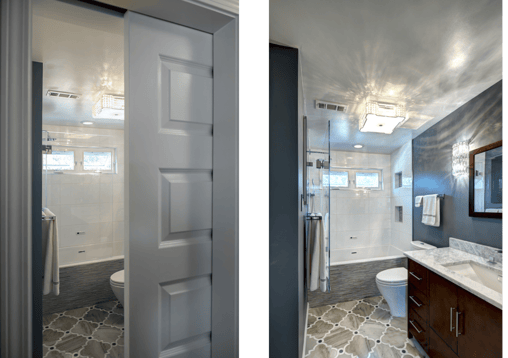 Best for: Small Bathrooms, Closets
Style
Sliding barn doors are a great option to add some character to your home. You can find barn doors in all kinds of antique thrift stores, and reusing an old barn door in your remodel can not only be a way to flex your creative muscles, but save some money by repurposing the door yourself. Check out this DIY tutorial by This Old House on how to install your own sliding barn doors.
Installing barn doors is a great option for homeowners because with a little work the tracks are relatively easy to install. Though you should be aware that barn doors are typically heavier and harder to lift. If you are uncomfortable installing them yourself, hire a contractor to install them for you. These addition remodels in Northern Virginia used barn doors to add some rustic charm to their home.
Best for: Kitchens, Mudrooms, Accent Pieces
Statement
For a grand entrance, use sliding doors as a functional divider between rooms. Having the ability to slide the doors to open up the room is beneficial for homes that want a more spacious floor plan.This is also a great option for homeowners who have the wall space and want their sliding door to double as a decor accent, as well as a room separator. This accessibility remodel in Arlington, VA made great use of sliding doors to section off their home office.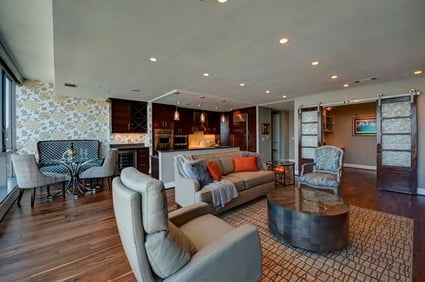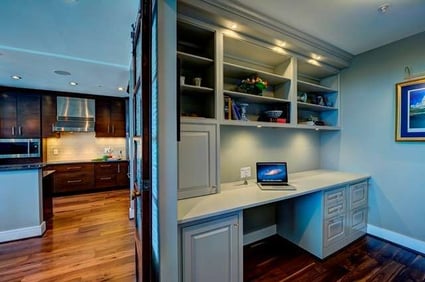 Best for: Home Offices, Dens, Guest Rooms
If you are considering installing sliding doors in your home, the professionals at Moss Building and Design and Moss Home Services can help you through the entire process-- from planning to installation. Contact MOSS today for a quote.