By – Madeline Pillow (MPillow@MossBuildingandDesign.com)
Remodeling Ideas for Your Basement
At Moss, we have completed many basement home theaters for clients who wanted to have that perfect movie night experience in their home.
It's a great addition to have especially in a finished basement as the family gathering point. If you are considering a home theater in your basement, this blog will help you identify the steps you need to take.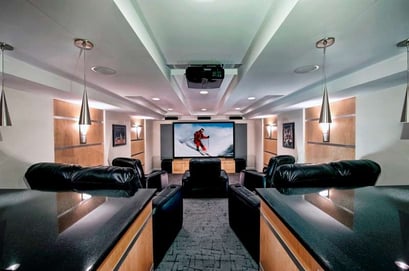 Basement Home Theater Renovation
The first thing you need to decide is whether you want a home theater or a media room. The deciding factor between these two types of rooms is the amount of dedicated space you have. For example, if you have a fairly large room with no windows, then the choice favors towards a home theater. But if you have a space akin to a family room area then this space would be better suited as a media room. This is because a media room by definition can serve additional purposes and through such a room you could get close to making it feel like a home theater through the use of blackout shades or dimmable lighting.
A true home theater is a space that is dedicated to this purpose and will not interrupt your day-to-day activities because of function or sound/vibrations which may disrupt the household.
Below are the things needed to have a home theater:
1. Insulation on the ceiling, exterior and interior walls
2. Additional sound barriers (such as resilient channels) to prevent movement from sound vibrations
3. Surround Sound System (comprised of receiver, subwoofer, and speakers)
4. Cabinet or closet to house media equipment
5. High quality large screen projector, DVD player, remote control system
6. Lighting (Recessed and Sconced)
7. Comfortable seating (stadium or lounge)
Basement Design in Your Home Theater
Camille DeLew of Another Eye Design in Oakton, VA sees the enjoyment of these rooms really come to life for clients when they have a dedicated space for the home theater so that they can get a great movie experience.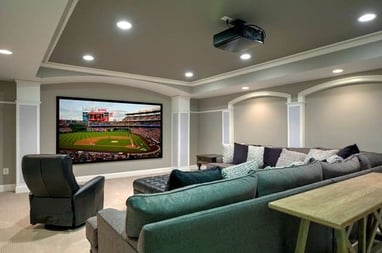 By having this designated space, the room can serve its true purpose of a theater room which will not disrupt the rest of the house.
Remember that with your home theater room comes the perks of hidden technology wherein technology is incorporated into the décor of the room (e.g. speaker panels can look like artwork).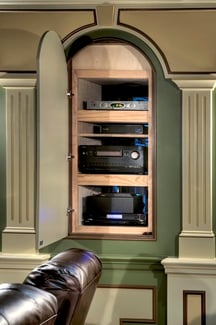 In this theater room above in McLean, VA, for example, the electronics were incorporated into the design of the space and gives ample room to house the equipment necessary for the room.
Best Basement Remodeler in Northern VA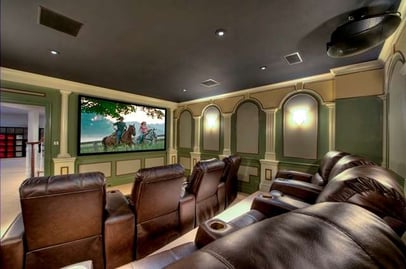 Collaborate on your basement remodel with Moss Building & Design! Our experts take into account your needs, budget, and your home when discussing your design ideas in order to deliver a space that works best for your family for years to come.
You can learn more about the Moss process through our project management tool, MOSS Online. See how your project would be managed with us!
For a free consultation on how you can implement your basement remodeling ideas, call us at 703.961.7707.