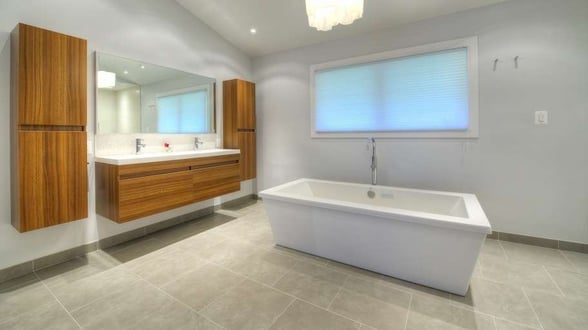 When contemplating one of the main aspects to a bathroom remodel, sometimes it's hard to know where to start. Do you want a full-sized vanity? Should you install a medicine cabinet or floating shelves? It's normal for all of those choices to make your head spin. The best way to tackle this decision is by keeping two main things in mind-- design and functionality.
Functionality
Keep in mind the space you will working with when thinking about your cabinets. Is your remodel a small bathroom? Or a master bathroom? Do you need to be able to maneuver comfortably, or will you have plenty of legroom in your master bath? These questions are all important because thinking about how the space will be used should drive your cabinet and vanity choices.
Take for instance this custom vanity in a small bathroom remodel in Arlington, VA. By keeping the vanity slim and space-saving but having a medicine cabinet as a trade off, the bathroom is easier to navigate and doesn't feel crammed.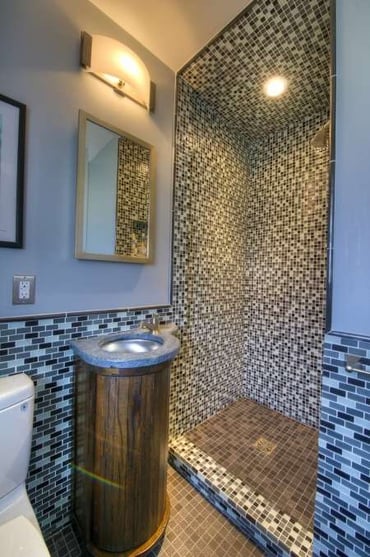 Another way to get the most out of a smaller bathroom is to choose an open vanity without cabinets. Mounting vanities to the wall as opposed to having them under the sink will give your eye some breathing room, create easier foot traffic and potentially keep the doorway from being blocked by cabinet doors.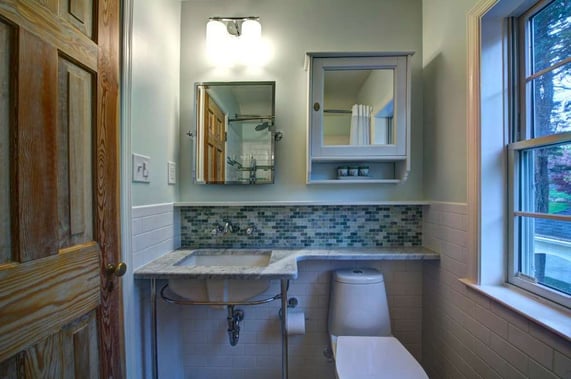 Design
Once you know how you want the space to function, you need to figure out the look and feel you want your bathroom to have. Use your cabinets and vanities to drive home the design, whether modern or rustic.
Floating your cabinets is ideal in small bathrooms or as a way to make your room feel more open. Use vessel sinks that sit on top of your bathroom vanity to create a more luxurious look.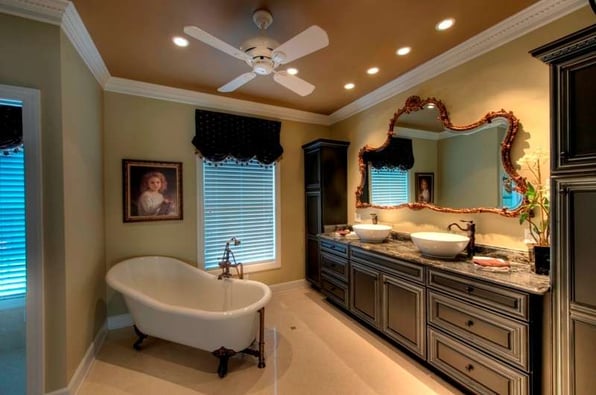 A good way to give your cabinets and vanities some character is by using trendy or unique materials. Making sure the materials align with the functionality and design of your remodel is important, but getting creative in this area can make a lasting impression. Check out this re-purposed dresser used as a vanity in this bathroom remodel in Burke, VA.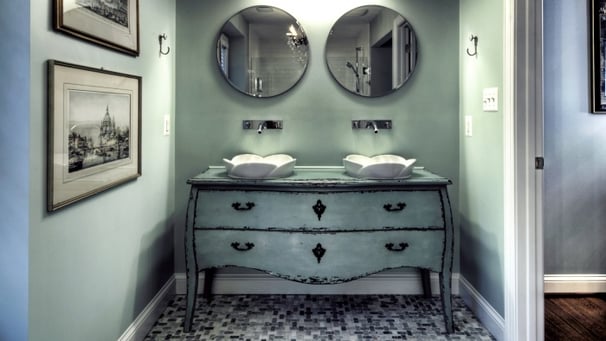 If you are interested in a bathroom remodel and are deciding which cabinets you should use, the professionals at Moss Building and Design are always available to share ideas and address your home improvement concerns.
Give us a Call: 703.961.7707
Send us an email: sales@mossbuildinganddesign.com
Get Inspired: Portfolio