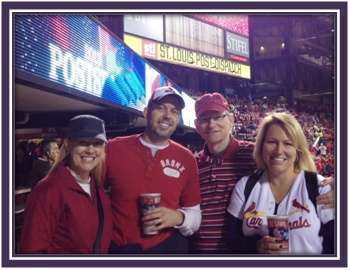 At least that would explain the unbelievable time I've had

By – Jeannine Miller (jmiller@mossbuildinganddesign.com)
Since I prefer to eat my crow earlier rather than later, let's just get it out of the way. Remember I Think I'll Write My Own Book when I was doggin' my husband? Scratch that. (Yes, as a matter of fact, I do consider "scratch that" a sufficient apology.)
Phil Mill surprised me with the best birthday present EVER -- a trip to the World Series to see my beloved Cardinals play in my home town, St. Louis. If you know me even a teensy bit, you know I am a lifelong Cardinals fan and you can probably imagine how much I loved this gift. And to send it straight over the top, my dad, sister and brother-in-law all came in and went to the game with me. It. Was. Awesome.
Here I am on my 45th Birthday watching my childhood favorite, Ozzie Smith, throw out the first pitch and listening to Harry Connick, Jr. sing the National Anthem. It's like the night was tailor-made for me.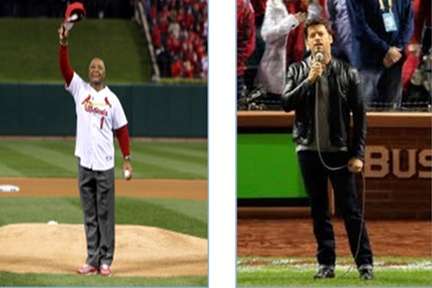 If you have never been to a World Series game, it is a must for your bucket list. There is an energy that defies description, but is actually palpable. The freaks characters you will run into are like no other.

Everyone is just so happy and friendly. The teenager sitting next to us shared that his grandma never missed listening to a Cardinals game on the radio and he was so glad the Cards won the World Series in 2011, just before she passed away. His story mirrored my own grandma's and really touched my dad and me. Apparently he felt the connection too because when Holliday blasted one out of the park, this kid started hugging my dad like it was his own grandpa. Hilarious and sweet all rolled up in one!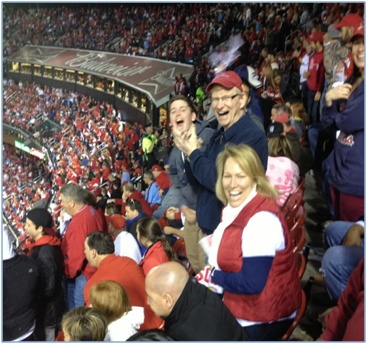 While the Cards didn't win Game 5, my sister, Amy, and I decided to pretend they did and keep the party going. As it happens, people really liked that idea. We gathered lots of friends along the way who were more than happy to celebrate until the wee hours of the morning. (I don't know why her husband wasn't as amused by all these nut jobs as we were.)
As all good times must come to an end, I had to say goodbye to my awesome city and head to the airport. Moving through security I see this guy who I just know is a pro football player, but I can't place him, especially with his humongo black shades on, so I just go on about my business. When boarding the plane, the flight attendant stops me and asks if we know one another. Turns out we have a mutual friend from back in the day. Before takeoff, she moves me to an empty seat in First Class next to that guy I saw earlier in security. It's RAY LEWIS (still wearing the world's biggest sunglasses). Of course I had to get a picture. I wait until he hasn't moved a muscle for about 20 minutes and am sure he's asleep. I sneak out my phone, power it up and start to take a selfie with Ray sleeping behind me when I hear this very deep and low voice say "Don't do that." I about died. I just lowered the phone slowly and started laughing. The guy still didn't move a muscle or say one word for the rest of the flight. Suffice it to say, the only picture I've got of Ray Lewis is this one I got from ESPN.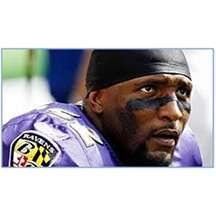 Of course, I now know the Cardinals didn't win the World Series, but that doesn't change my trip of a lifetime. As I tell my kids on a regular basis, if you only have fun when you win, you're going to miss out on a lot of great stuff. Besides, the Cardinal player that means the most to me did win the Championship this week and that's good enough for me.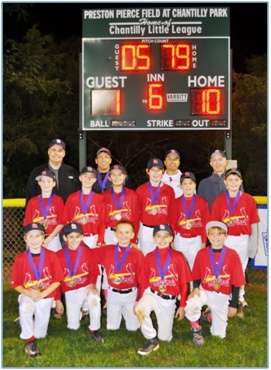 In addition to blogging about all things home and family-related, Jeannine Miller manages Moss Building & Design's HandyMOM 101 workshop program and coordinates Moss' philanthropic efforts in the community.
Photo credits: UPI/Bill Greenblatt and Boston.com