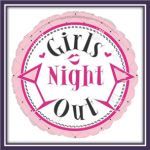 By – Jeannine Miller (jmiller@mossbuildinganddesign.com)
I recently met the cutest, most impressive group of aspiring young women. Take away cute and impressive and they totally remind me of myself a decade ago. MOSS co-sponsored a meet-and-greet with Kid Trips at Café Pizzaiolo in Shirlington for northern VA female bloggers and social media mavens. Along with my cohort, Camille DeLew, I set out to spread the word about the HandyMOM 101 and HandyGirl 101 programs we offer to women and girls.
As so often happens in my world, I think I'm doing one thing and something completely different happens. I thought I was giving something to these women, but they wound up giving more to me. Talk about impressive -- these ladies are raising families, starting and managing businesses, blogging, facing serious health issues, all with a spirit that was truly energizing. I cannot even tell you how much I enjoyed my evening chatting with them.
Here are just a few of the remarkable people I met: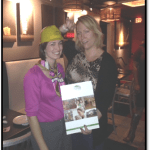 Laura Harders (@BeltwayBargain) was financially savvy enough to pare down to one income so she could be a stay-at-home mom. She then parlayed this 'savings plan' into a business in which she blogs, makes local and national TV appearances and teaches workshops where she shares money-saving tips and instills community among couponers and savvy shoppers in northern Virginia. How fitting that Laura won the FREE Handyman For A Day! (Laura is the adorable one in the Moss hat; I don't know about the nut job on the right.)
Marcia Sheehan (pictured right @magnificuffs) is seriously funny as all get-out. She is the kind of girl I love spending a night with (not in a weird way, you pervs). She is so flippin' clever, I can't even stand it. Why Marcia isn't doing stand-up, I just don't know. After she killed me with stories from her days as a [night-job] band manager, she finally let out that she started her own business, MagnifiCuffs. Check it out – it's genius!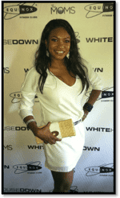 Then there's Angelica Talan (pictured left @ClarendonMoms). Good God. You look at this woman and you're not sure if she's a model, an actress or a salesperson. The answer is YES! Angelica is quite the girl about town and always stunning.
So many women, all so different. This night was an incredible reminder of how fantastic Fairfax County is. Time to get out there and meet some people!
And now a word from my sponsor: If you're in the market for a home remodel, call the experts at Moss Building & Design. We will consult with you and help you explore the many possibilities for updating your home. Call 703-961-7707 to schedule an appointment for a free estimate.
In addition to blogging about all things home and family-related, Jeannine Miller manages Moss Building & Design's HandyMOM 101 and HandyGirl 101 workshop programs and coordinates Moss' philanthropic efforts in the community.