At Moss we want to make your home work for you and your family while working within your style and budget. In our Home Addition Series, we have covered the different types of additions from bump-outs to second story additions and more. As well in our Home Addition Series, we have explored ideas for your home in any phase of an addition which includes thinking about how the lighting with change in your home or considering how the flow of your home will change with an addition.
Generally, an addition is a good idea when you are looking for more space in your home, and you want to stay in your neighborhood. An addition can also add value by adding additional bedrooms and bathrooms.
Exploring Other Remodeling Options for your Home
For any of your home remodeling ideas, Moss is here to help discuss your options and what you want according to your budget, your home, and your family's needs. If you are not ready for an addition, but want more functionality from your home, you should consider a couple of options.
Considering a Kitchen Bump-out
Technically, a small addition, a kitchen bump-out affords a little more space by "bumping" out several feet of the existing room. This allows for additional storage space or allows for a larger eating space, or simply more room in your kitchen to do your day-to-day functions. A bump-out can add additional space for other rooms as well as long as your layout allows it, whether it's making your master bedroom a little bigger or making room for a bathroom on the main floor. Seen below, this kitchen bump-out in Ashburn, VA, provided the family additional space to push their kitchen back for seating and ample space for cooking.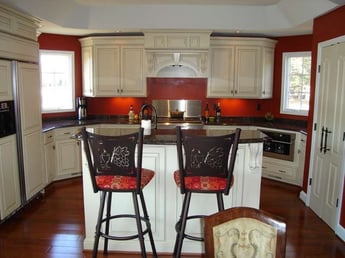 Choosing to Finish Your Basement
A basement is the place that can become the easy catch-all in your home for toys, storage space, and act as an indoor garage. If this room is unfinished, you are losing valuable square footage in your home to use for a family gathering space or additional rooms such a theatre room, playroom, or home gym. It is one of the easiest ways to make the most out of any otherwise unused space. This basement remodel in Vienna, VA, included a gym, media room, extra bedroom and bathroom, and a game room.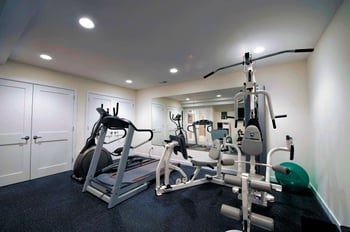 Making a Room Multi-Functional
Another idea is to find a room that could suit several of your needs. Do you have an extra bedroom that is hardly used? How often do you use your dining room?
For a guest bedroom, re-envision the space by choosing more manageable furniture such as a futon. By using a futon, the room could be a hangout area, or office space by day, but then turns into a sleeping space by night.
Also, look at your dining room which in most families only is used for special occasions and holidays. Find space that can function for storage and the room can act as an extra office or homework area.
Finally, look for nooks in your home that are not serving a purpose. By doing this you can find places for storage or for a small office. The picture below shows room for extra storage under your stairs which could be helpful if you do not have a mudroom.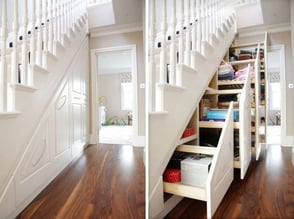 In this renovation in Great Falls, VA, seen below, we were able to create a small working space in the kitchen that will be helpful whether it's paying bills at night or catching a quick moment to organize the calendar. It allows the homeowners to get the most out of an otherwise unused space in their home.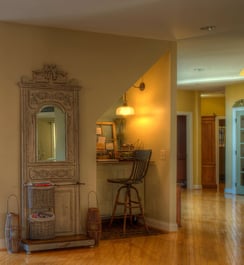 Your home should reflect you style but also your family's needs. Whether you need a larger house footprint, or are looking to get more functionality from your house, we hope these tips have been helpful.
Moss Building & Design
Moss Building & Design is an award-winning remodeling company in Northern Virginia. We are happy to explore what will work best for your family whether it's a home remodel or an addition. We specialize in home additions, basement remodeling, and kitchen & bathroom remodels. As an established Virginia contractor we know what it takes to transform your house into the home of your dreams. As a result of the countless requests by Moss Building & Design customers who already know and trust the Moss name, we also offer Moss Home Services to cover your plumbing, electrical, external work, and handyman needs. Call us at 703-961-7707 or email us at Sales@MossBuildingandDesign.com to set up a free estimate for your ideas.
Photo Credit: http://cdn.freshome.com/wp-content/uploads/2012/03/storage-space-stairs-17.jpg