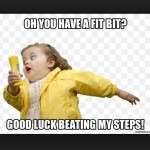 By – Jeannine Miller (jmiller@mossbuildinganddesign.com)
I realize I'm a bit late to the game, but I just received a Fitbit for Mother's Day. This thing is incredible. Sure, it counts steps, works as a watch, etc., but did you know it has the power to make other people do things for you? No, seriously, it does. Check this out…
My coworkers and I started the Daily Showdown challenge which, at first, was a great motivator. Being able to see others' step counts (and how far behind I was) encouraged me to do small things like walk to a coworker's desk instead of picking up the phone when I needed a question answered. At night, if I was behind, I would go for a walk to get my 10,000 steps in instead of curling up with a glass of wine book.
In addition to the health benefits, all this exercise was making my coworkers extra nice. They were offering to grab things off the downstairs printer for me or walk to the deli to pick up our lunch, encouraging me to just relax and stay put. Then it hit me -- those jerks were trying to steal my steps! Well, the joke is on them because at that moment the true power of the Fitbit was revealed to me. Whenever I need something downstairs or in the hot, dusty warehouse, I don't even bother getting up, I just ask one of them to fetch it. Same with lunch – it's like delivery service without having to tip.
Things were going so well at the office, I figured I would try it at home. I told my kids how much I wanted to win the office challenge and let them take it from there. Eager to use my new gadget, they started coming up with ways to help me like walking the dog and taking out the trash while wearing the Fitbit to up my step count. My oldest even suggested starting to cut the grass so he could get me more steps.
I may not have the most steps in the office challenge, but there is only one word for my position: WINNING!
And now a word from my sponsor: If you're in the market for some home remodeling, call the experts at Moss Building & Design. We will consult with you and help you explore the many possibilities for updating your home. Call 703-961-7707 to schedule an appointment for a free estimate.
In addition to blogging about all things home and family-related, Jeannine Miller manages Moss Building & Design's Community Relations Department, which includes the popular HandyMOM 101 and HandyGirl 101 workshop programs.