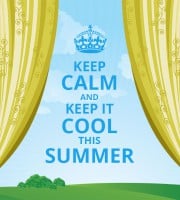 By – Jenn Zschunke (JZschunke@MossBuildingandDesign.com)
Do you ever have those days over the summer where walking up each step to your upstairs you feel warmer and warmer? But you don't want to keep turning your thermostat up because then the basement gets really cold and your electric bill gets really high? I was curious about ways to balance out the indoor cool with the outdoor heat in the best way possible, yet to also keep our electric bill manageable. I found some great tips to help keep our Northern Virginia homes cool even in the midst of our typical summertime heat and humidity.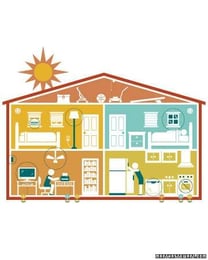 Close curtains or blinds in the house during the day, especially on the east and west sides of your house. Keeping your house closed up tightly also prevents cold air from leaking out (this includes windows and doors – weather strip if you have older doors and windows).
Save energy draining activities, such as running the dishwasher, until after dark, when your air-conditioner won't be working as hard.
If you have an older central air conditioning unit, consider replacing the outdoor compressor with a more modern and high-efficiency unit. Match it properly to your indoor unit. If buying a new air conditioner, make sure it is properly sized to your home's size!
Don't air-condition un-used rooms. Close the vents in those rooms to force more cool air into rooms that are used. This is a great tip for your basement as well – as it's naturally cooler, close those vents!
Change your home's air filter every 3 months. This is an inexpensive way that is very helpful – if your filter is dirty the air conditioning will have to work harder, thus creating more work.
Turn your thermostat up a few degrees (recommended temperature is 78 degrees) and utilize ceiling fans or oscillating fans in upper rooms to circulate air. Make sure ceiling fans are blowing

down

!
Check the insulation in your attic – make sure it's adequate so that the cool air from the lower parts of your home doesn't get sucked up. Also make sure your attic fan is working properly. An attic fan can cool your home by up to 10 degrees!
Unplug appliances and electronics when not in use. These all produce heat and use energy even when not being used – keep your home cooler by unplugging them.
Moss Home Services, Northern Virginia's premier handyman service, is available to assist homeowners preparing for the summer. Don't spend your summer days and nights uncomfortably! Moss Home Services was also recently awarded Best Handyman by the readers of Northern Virginia Magazine!
Jenn Zschunke is a part of the Community Relations department. She plans HandyMOM 101 workshop programs for Moss and coordinates philanthropic activities in her local community
Photo credit www.couponraja.in