By-Madeline Pillow (MPillow@MossBuildingandDesign.com)
In the Northern VA region, we have the joy of enjoying the changing of the seasons. This is why creating both enjoyable indoor and outdoor living spaces is so important.
Two great ways that you can expand your outdoor space is either through the addition of a deck or a porch.
While both can add great value to your home, there are some slight differences between the two that, depending on how your home and family functions, could be a better choice.
The Difference Between Porches and Decks
Both of these structures are similar in that provide ample outdoor living space. But from here they differ. Most porches will only be featured on the first floor of homes whereas decks can function on a number of levels. A porch as well involves a roof and in some cases is enclosed with screens and/or windows which create an additional living space.
Decks are more open spaces but usually can only be enjoyed in accommodating weather and through certain seasons. Decks have an option of being attached to a home or being an adjacent structure which allows them to take on versatile looks.
Additional Exterior Living Space
To choose between one of these structures, you need to identify what your specific needs are to be sure you choose the right solution.
For a combination of additional interior living space and exterior, an enclosed porch would be a good structure to choose. An enclosed porch can be surrounded by screens or by windows which creates a year-round room that adds to the square footage of your homes footprint.
If you do use screens, you will be able to enjoy warmer months and avoid any bugs. The first picture above, a deck addition in McLean, VA, uses screens for the structure and also features a skylight for increased natural light. The area is a great addition to the home that is convenient and connects to the living and kitchen area.
But with a screened porch, you should be aware that this structure will not be used in colder months.
However, if your intention is to enjoy more of nature, then a deck might be better suited for your needs. Decks aren't covered by a roof, allow a better connection to the outdoors and would be perfect if you are looking to enjoy cook-outs or surveying a garden.
Decks also have the ability to be housed on different levels of your home. With a deck, there are other options that can be added such as a fire pit, an outdoor kitchen or a gazebo.
If you are thinking about safety, decks that are raised could cause a potential risk for smaller children or pets.
Either choice grants you additional living space which provides you great quality time with your family and a better footprint of your home.
Remodeling Ideas with the Best Northern VA Remodeler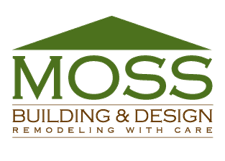 At MOSS, no project is too big or small. Our team will expertly answer any questions you may have concerning anything from additions, kitchens, bathrooms and basements to handyman services.
Get started with your plans by contacting us to set up a phone consultation with MOSS' Inside Guide or have one of our experts come to your home for a free in-home estimate at 703-961-7707.