By – Jenn Zschunke (JZschunke@MossBuildingandDesign.com)
Recently, our MOSS team has noticed a trend among our Northern Virginia clients making selections for their kitchen countertops: clients are choosing to install beautiful Carrara marble. Carrara marble, which has been used since Ancient Rome for sculptures and building décor, is white or blue grey in color. While many options exist for countertops (including granite, silestone, stainless steel, etc.), the timeless appeal of this natural stone, quarried in Northern Italy, is being used to complete the look of our clients' elegant and upscale kitchen remodels.
Pros and Cons of Carrara Countertops
Carrara marble countertops, like anything, can have positives and negatives associated with it. MOSS encourages our clients to be fully educated about their selections and weigh options when choosing countertop materials, especially considering the amount of space that can be taken up with them.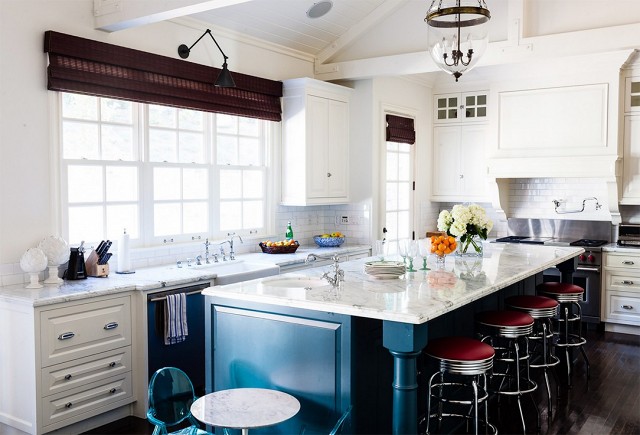 Pros:
Carrara marble, like all marbles, is cool to the touch. It is a great option for bakers who work with pastry a lot as it doesn't conduct heat.
The bright white, which cannot be found in granite or soapstone, is appealing to those who want an eye popping look to their kitchens.
Marble truly has an enduring, classic appeal – but surprisingly, the more common Carrara marble is one of the least expensive natural materials for kitchen countertops.
Things to consider
All marbles are known to be porous – so it can etch (scratch) and/or stain more easily.
Chipping is common if users are not careful.
Marble also has to be resealed every few months to maintain is luxurious appearance. Compared to granite, for example, it is a much higher maintenance natural stone.

Carrara Marble vs. Calacatta Marble
If you've heard of and admire Carrara marble, there's a large chance you've come across Calacatta Marble. Carrara and Calacatta are two very similar styles of marble, with the same general look. You might hear people refer to these two types of marble interchangeably, which makes sense given their similarities. In fact, most Calacatta marble comes from Carrar, Italy. Read more about how to spot the difference between Carrara and Calacatta marble in this article from Houzz.
Carrara Countertop Alternatives
Some clients who want the look of Carrara and Calacatta marble countertops but do not want to worry about the maintenance of it can also find materials that are similar in looks. For example, Quartzite is a natural stone that is very resilient and stain-proof. However, to find a piece that has the bright white of marble can be difficult as well as very expensive. Granite, a hugely popular choice among homeowners, is never truly white with typically splotchy markings. Finally, there are several types of engineered countertop materials made to look like marble – these can be beautiful and very natural looking.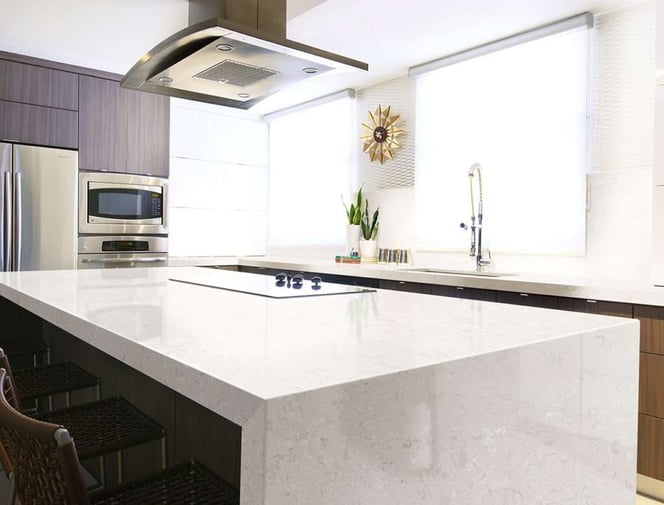 Choosing the Right Kitchen Countertops
MOSS strives to not only provide home improvement services, but to also give good advice to our community. When it comes to selecting your kitchen countertops, MOSS provides customers with a Customer Care Manager that will help you make selections to achieve to kitchen of your dreams. If you want to learn more about remodeling your kitchen or would like to schedule a free consultation, contact MOSS at 703.961.7707 or visit the website, MossBuildingandDesign.com
Jenn Zschunke manages MOSS' Community Relations department. She plans HandyMOM 101 workshop programs for Moss and coordinates philanthropic activities in her local community.