MOSS professionals share their remodeling tips
I recently came across an article on HGTV.com about 'Remodeling Fails.' It was about things people often times do incorrectly when planning their remodel. This included things like buying the cheapest materials, not doing your remodeling homework, going too trendy, and many other things. If you'd like to read the full list you can read the article here.
This article inspired us to share some inside remodeling tips with you. These tips came from our expert team of Designers, Sales Consultants and Customer Care Managers. We always keep the customers best interest at the top of our priority list, and we hope these tips can serve you as you plan for your renovation.
Remodeling Tip 1: Kitchen appliances
There are so many appliances to choose from, and homeowners should research and decide on appliances very early in the process. MOSS Sales Consultant, Lisa Ladson recommends purchasing appliances prior to ordering cabinets as appliance models are changed, updated and discontinued often, which may include dimensional changes.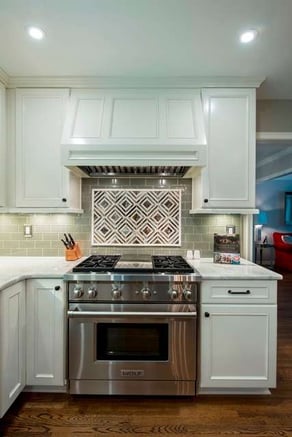 "Unfortunately, some homeowners make a list of appliances, design their cabinets based on the specifications, only to find that when they go to purchase the appliances, model numbers are discontinued, dimensions have changes, and it's too late to change the cabinets," Lisa explained.
Remodeling Tip 2: Think about how you are going to use the renovated space
"I see this a lot in kitchen remodeling," explains Customer Care Manager, Jodi Jameson. "Homeowners will end up duplicating their existing kitchen layout because it's what they're used to and they'll overlook the opportunity to change the layout to one that could be used better."
When planning your remodel, not only for kitchens, but any new space, carefully consider how your family functions and what the most beneficial layout will be for you and your family.
The homeowners of this beautiful kitchen in Oak Hill, VA carefullly considered their lifestyle and what was important to them. This translated into a great an open kitchen that is great for entertaining guests.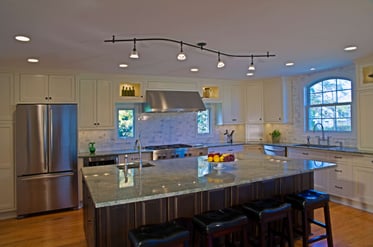 Bonus MOSS tip: When designing your new space don't forget about what you already have and make sure you allow space for it. (ie- that special countertop mixer that you love), make sure you have space for it and other things you love in your new design.
Remodeling Tip 3: Discover what you like and don't like
Jodi always tells people to start paying attention to what they dislike and what they love about their current design. "I tell them to make a list of those things so they don't forget anything when they meet with their designer. Your designer needs to know everything so they can come up with a new design that you'll love," says Jodi.
This tip applies to any remodel you are considering. If you know someone who recently remodeled, ask them about the process. Ask them about what they love and what they would have done differently.
Remodeling Tip 4: Taking Care of Your Kitchen Cabinets
After your remodel is completed you'll want to consider these tips from our Kitchen and Bath Designer, Deanna Llewellyn to keep your kitchen cabinets in the best condition:
Use the hood/ventilation when cooking. The ventilator really should be turned on a few minutes before you start cooking to start the airflow. If you don't use the ventilation you can damage the finish of your kitchen cabinets on either side of the hood (or the hood itself if it is wood).
Cabinet care instructions should be followed for longevity of the cabinet finishes. A slightly damp cloth should be used for day to day cleaning. The surface should be dried immediately with a dry soft cloth. Harsh cleaners such as ammonia based products, bleach or abrasive materials should never be used on cabinetry finishes.
Remodeling in Northern Virginia
We hope these tips may come in handy for you as you are planning your remodel. If you have further questions about your remodel please feel free to email them to Sales@MossBuildingandDesign.com. If you are ready to move forward and set up an appointment we're happy to do that as well. Our consultative approach allows us to have open conversation about your wants and needs. You can learn more about our process here. Call us at 703.961.7707 to schedule a free consultation or to speak to someone regarding your remodel.