By Pam Kopiak (pkopiak@mossbuildinganddesign.com)
Unless you live in a mansion where every room could have its own sitting area, chances are, you have a small bathroom somewhere in your house. Usually the master bath is reserved as an area of the home where one can retire to after a long hard day of working/parenting. This space is, more often than not, spacious and easily made luxurious by the multitudes of designs and accessories that could occupy such a space. The same might not be said for the bathroom down the hall.
Most hall bathrooms are slightly (or more than slightly) less spacious than a master bathroom. In these spaces, things are sometimes cramped and can feel closed in. There are certain things you can do though in your small bathroom remodel to make it appear as if the space is larger and more luxurious than it really is. This extends beyond usual "keeping the paint color light" and "adding a mirror to the space." We are talking about things such as procuring small/custom bathroom vanities, wall mounting your hardware and even foregoing cabinets in favor of the old classic "pedestal" sink.
Bathroom vanities – size really does matter
Unfortunately, in a small bathroom, space is finite and there is no way around the fact that you just cannot fit a large vanity in the room if you still want there to be space for a toilet. You could however, find a small vanity from the big box stores OR you could consider having a unique custom built vanity made for your space as shown in the bathroom remodel in Arlington, VA, pictured below.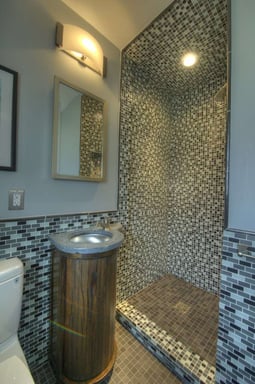 This custom bathroom vanity allows space for a shower in an otherwise small bathroom.
Wall mounting your bathroom hardware
Another thing you can do is consider wall mounting your bathroom faucets. This visually opens up the space by allowing more counter space so things don't get clustered around the faucets of the sink. Notice in this Arlington, VA bathroom remodel that not only did the customer go with a wall mounted faucet, they also chose to keep the area under the sink open to create the illusion of more space, and took the shelf out to the wall to add more counter space.
Pedestal sinks
Pedestal sinks, as pictured in the bathroom remodel in McLean, VA, below, are another great option to consider that will certainly open up a small bathroom. As with the vanity pictured above, a pedestal sink keeps a space looking open where a cabinet might close it in. What you lose in storage space when opting for a pedestal sink you could make up for with some built in recessed storage space.
Top Arlington, VA Contractor Remodels Small Bathrooms
We hope you will consider these tips when remodeling your bathroom. Whether you need your small hall bathroom remodeled or you are ready to transform your master bath, MOSS can help. No project is too big or too small.
If you're not ready to move forward with an in-home consultation- no worries! We also offer our Inside Guide option which is an in-depth, educational phone call with a MOSS Sales Consultant. We'll listen to your needs, talk through ideas, give you an idea of the cost, and much more. We're ready to provide value to you, regardless of where you are in the remodeling process.