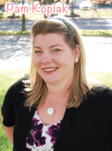 By Pam Kopiak (PKopiak@MossBuildingandDesign.com)
I consider myself to be a pretty simple person. But to be honest, sometimes I really long for more glamour in my life. My house was built in 1930. 1930 I said! Let's just say there ain't much glamour left in that house. If I could, I would love to "pop the top," and do one of those gorgeous additions you see appearing all around Arlington. When that time comes, maybe after the kindergartner finally leaves the house, then I would LOVE to do something like these MOSS customers did in Fairfax Station. It's OK to daydream right?
Add Vaulted Ceilings to Your Remodel
Raise the roof! I am not talking about lyrics in a pop song... I literally mean raising the roof. I want vaulted ceilings in my Arlington home so that when I have company over I don't have to remind the taller ones to watch their heads when getting rowdy during sporting events. I guess people were just shorter in the 1930's. This MOSS addition in Fairfax Station, VA, did it right with their beautiful ceiling height showed off by MULTIPLE chandeliers. The reflection off of those– amazing!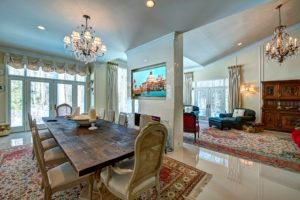 Expand your Kitchen Remodel
If you're doing a home addition in Northern Virginia, chances are you're updating your kitchen at the same time. Lots of people dream of expansive kitchens, I know I certainly do. There is that saying "Go big or go home" well… I say go big IN your home. Most of the entertaining happens in the kitchen, at least in my house, so the extra space here is critical. The remodel in Fairfax Station, VA, below has plenty of space for the family in their kitchen.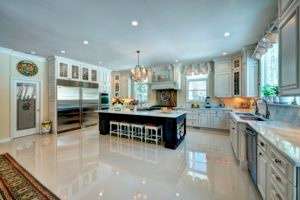 Personalize your Home Addition
When brainstorming for your new remodel, make it unique. The whole point of a home addition is the chance to incorporate the details and specifications you've always wanted. We at MOSS want to work with you and turn your dreams into a reality. This MOSS customer wanted a television cut into the wall with a pass through fireplace underneath – and it happened!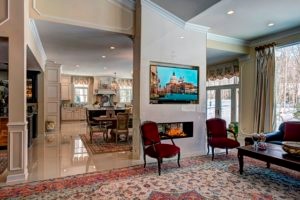 Design/Build Firms in Northern VA
Did you know that Moss Building & Design was voted Best Remodeler in Arlington Magazine's Best of Arlington 2016?! That's one of the many reasons why you should choose MOSS to answer all of your general remodeling questions. If you are considering incorporating an addition to your Northern Virginia home call us at 703.961.7707 or email Sales@MossBuildingandDesign.com.