Refer Three Friends and Receive a Free Handyman
What do the following phrases have in common?
"Where can I get a good burger around here?"
"Where do you go to clean your duvet cover?"
"I love your shoes, where did you get them?"
Each phrase begs the question, "Will you please give me your best recommendation based off of your experiences?" When your good friend asks you for advice on where to spend their hard-earned money, they expect you to provide your honest opinion!
You will get rewarded for being a reliable friend when you refer them to Moss Building & Design.
Our Enhanced Referral Program
When you refer three people to MOSS for an addition, kitchen, bathroom or basement remodel and they attend an appointment with a MOSS Sales Consultant, you will immediately receive a FREE handyman for a day.
Simple as that. No strings attached.
You can finally get everything checked off of your 'honey-do' list! All you have to do is recommend Moss Building & Design to your friends who are considering remodeling their addition, kitchen, bathroom or basement.
It's good to be rewarded for being a great friend.
Referring a Friend is Easy with the MOSS App
Our MOSS app is an easy way to refer your friends.
You can download the app to your smartphone here!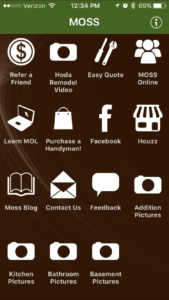 Click 'Refer a Friend' and fill out your contact information and the name and contact information of the person you want to refer! Don't have three people to refer at once? No problem! You can come back to the MOSS app time and time again to submit as many referrals as you'd like!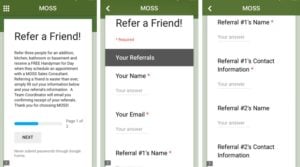 No app? No problem! You can always call us at 703-961-7707 or e-mail at Sales@MossBuildingandDesign.com. When the person you referred schedules an appointment, we will keep track of your referrals for you.
Northern Virginia's Best Contractor
You have trusted MOSS for all of your home improvement needs, it's time your friends trusted us too! Feel free to refer as many friends as you want! There is NO limit on how many FREE handymen you can get! We pride ourselves on being your one trusted company that can take care of all of your home improvement needs. We at MOSS continue to put our customer's wants and needs first. Now we want you to share your positive MOSS experience with the rest of Northern Virginia!