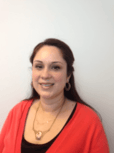 By: Zaiba Hasan (ZHasan@MossBuildingandDesign.com)
The Top 5 Fall Trends in Bathroom Remodeling
The kids are back in school, football season has begun, and there is a slight crispness to the early morning hours. Whether you love it or hate it, Pumpkin Spice is back in town. All of these things scream, "FALL is here." Now is the perfect time to check off some of your never ending items on your "honey-do" list. It's a good thing I work for the top Northern VA contractor, Moss Building & Design, so that we can get a jump start on our annual holiday home maintenance projects! This year at the Z house we are looking to give our powder room a face-lift. While doing my research, I discovered the top 5 fall trends in bathroom remodeling, and thought I'd share them with you!
Heated Bathroom Floors
The leaves are beginning to turn, bringing with it the vibrant colors of fall. Shortly after comes the cool whispers of winter. Wouldn't adding radiant heating into your bathroom floors be JUST what your icy feet need on those frosty fall mornings?

Wood Paneling and Wainscoting in Your Bathroom Design
Adding wood elements into your bathroom design not only brings warmth and elegance into what is normally a "cool-ish" area, it can bring a sense of texture and pattern that can make any bathroom remodel POP.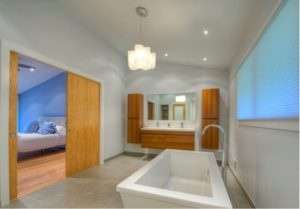 Bathroom Remodels with Natural Stone and Tile Work
Mixing textures and colors in natural stone is always a fabulous way of updating your bathroom space. Keeping the design work simple is a way to add depth and dimension in a tasteful way while giving your bathroom just the right touch of elegance to make it stand out.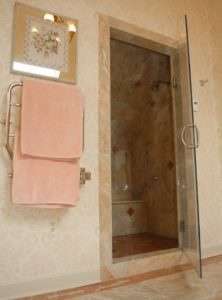 Turn Your Bathroom Renovation Into a Spa
Nothing says indulgence like modernizing your bathroom fixtures with dual-head showers, rain-fall fixtures, or steam baths. Coming in from the cold just got a lot more appealing when you can feel luxurious in your very own spa.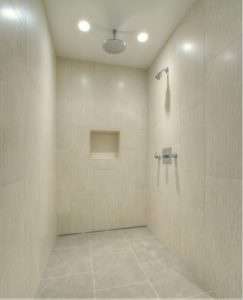 Home Decor Fall Colors
The easiest way to transform any bathroom is incorporate one of falls' trending colors and hues. Emeralds, golds, and hues of pink are really dominating the color scene this fall in home decor. As the days are getting longer and darker, having an inviting bathroom to retreat too may be exactly what we need to combat these impending winter BLAHS.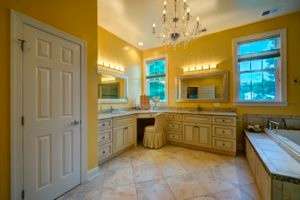 Look No Further for Bathroom Remodelers in Northern VA
Whether you need your small hall bathroom remodeled or you are ready to transform your master bath, MOSS can help. No project is too big or too small.
If you're not ready to move forward with an in-home consultation- no worries! We also offer our Inside Guide option which is an in-depth, educational phone call with a MOSS Sales Consultant. We'll listen to your needs, talk through ideas, give you an idea of the cost, and much more. We're ready to provide value to you, regardless of where you are in the remodeling process.
Want to stay up-to-date on the latest remodeling trends AND receive exclusive invites to events? Sign up for our newsletter to stay in the know!
Until Next Time,
Z