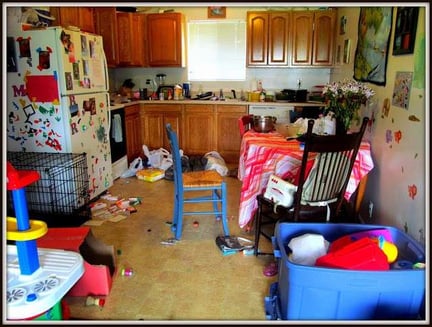 Hint: Do not leave your home looking like the above!

By – Jenn Zschunke (jzschunke@mossbuildinganddesign.com)
When our Northern Virginia clients hire Moss Home Services for home projects and services, they are asked to prepare the work area so that our teams may come in and disrupt as little of their possessions as possible. The idea is that the homeowner can feel comfortable knowing that nothing of theirs will be damaged in the process. Moss Home Services always does site protection at a client's home before starting any work which includes covering the floors, using drop cloths to protect from dust and debris and, applying carpet-specific coverage to protect carpet.
Additionally, our clients are asked to do their part in preparing their homes. Some helpful hints if you are planning to have work done around your home include the following:
Kitchen
Moss handymen suggest that you clear all the countertops of any appliances and clutter, especially if you are having backsplash work done. If a larger kitchen project is in order, we also suggest clearing out all the cabinets and boxing up dishes, glassware, and utensils. Storing these items in another room is a big help for our teams so the work can be done without having to move items.
Bathroom
Much like the kitchen extraneous items should be removed from medicine cabinets, the floor, and the tub/shower. Taking off the shower curtain and just using another bathroom entirely would be best.
Garage Repairs
If you are getting work done in your garage, you should remove boxes and storage out of the way of the teams. Anything that might get in the way will make the repairs take longer than necessary, and we all want our home improvements done as efficiently as possible.
Drywall Repair
If you are having drywall work done, you should remove all clothing and personal belongings from the area. It is suggested that any areas close by (beds, etc.) be covered with drop cloths or old sheets as drywall repair can be dusty and messy. Moss Home Services very thoroughly cleans an area after any drywall repair. The other option is to simply remove items that might get dusty and return them when the work has been completed.
Another suggestion is to remove pictures from nearby walls during any kind of drywall or wall repair. The same suggestion applies to valuables or pictures on tables near the work area – remove them for safe-keeping until after the work is completed.
Moss Home Services takes pride in its work to keep a client's home as neat and clean as possible during a repair and treat our client homes as our own to ensure our clients peace of mind.
Contact the experts at Moss Home Services at 703-961-7707 for a free estimate and to learn more about our services.
Jenn Zschunke is a part of the Community Relations department. She plans HandyMom 101 workshop programs for Moss and coordinates philanthropic activities in her local community.
Photo Credit:
http://professionalmommybestjobever.blogspot.com/2013/06/messy-house-happy-kids.html