Tips to add glamour to your Northern Virginia Remodel
We've all looked at a remodeling or design magazine and said, "I wish I had that," or "Isn't that beautiful, I want that."
After you've torn out the picture or saved it to Pinterest, it gets lost in the pile of "I will never do it" or "That could never work." For whatever reason, whether your budget or the layout of your home, you're unable to believe it could work in your home.
Instead of automatically moving from "I want that" to "It could never happen," first focus on what you like about these pictures. Is it the overall feel? It is a trend in kitchens? Is it a certain color?
From this step, look at your own home and see how an appliance or color could be used in your own space. By separating what it is that you like and adding to your existing home, you can push away the thought that it could never work and open yourself up to a unique design.
More importantly, you can create a home design that is both suitable for your lifestyle and also features a hint of glamour that will make your home design special and functional.
Add glamour in your Northern Virginia Kitchen
Your kitchen is a high-traffic room with the everyday use and visits from guests and relatives. This room is also high on the list for home renovations. An idea to keep in mind is that one of the easiest ways you can create an added design is through the use of natural or artificial light.
In your kitchen, pendant lighting, especially over your kitchen island, can create a special oasis.
In a recent Oakton, Virginia, kitchen remodel (pictured above), the mixture of the modern stainless steel lighting is paired with this hanging metal piece that breaks up the wood design of the kitchen with a bit of whimsy and texture in the shape of the light fixture.
In this Reston, Virginia kitchen renovation (pictured below), the chandelier over the seating area creates a particular atmosphere and the chandelier accents the white kitchen nicely with a warm glow.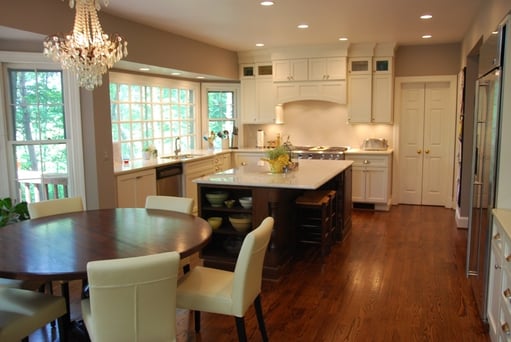 When designing your kitchen, this idea of subtle glamour also comes through in the use of interesting and innovative backsplash options. These options include mother of pearl, solid glass and solid porcelain panels.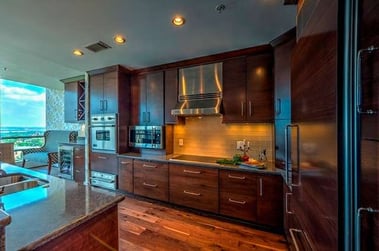 In an Arlington, Virginia condo remodel (pictured above), the kitchen features a mosaic glass backsplash, which gives the room just a dash of shine to create a special touch.
Northern Virginia's Top Contractor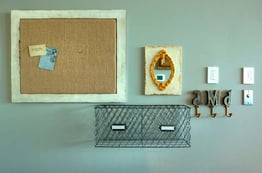 Stay connected with Moss to get the latest in design ideas and new trends on our social media or our blogs.
When you are ready to bring together your ideas or start your project, call the experts at Moss who will give you their expertise and ideas to make your project just right for your home, budget and family.
Contact Moss at 703-961-7707 or Sales@MossBuildingandDesign.com to get started.