By: Jenn Zschunke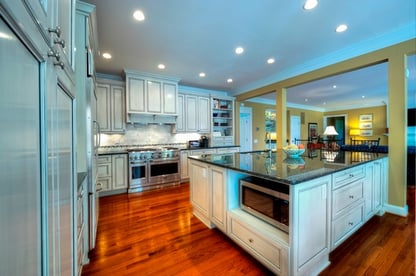 Home trends are changing constantly, especially in kitchen cabinets. Here's a look at some current trends for kitchen cabinets that are timeless and long-lasting in their look and usefulness. With many of our Northern Virginia clients remodeling their kitchens, Moss is always working to stay with the trends to make the kitchens we work on as beautiful and appealing as possible. Kitchen cabinets are at the forefront of bringing a total kitchen look together. It is such an important kitchen feature that Moss recently announced its line of semi-custom and custom branded cabinets in conjunction with the Hampshire Cabinetry Company. Here are some cabinet trends to keep in mind for your kitchen remodel:
Floor to Ceiling Kitchen Cabinets
A trend that has been around for a while and will continue to be is the use of cabinets as storage. By utilizing the space up to the ceiling (and, additionally, above the refrigerator), your kitchen cabinets can be used to store more than dinner plates and glassware. Storage can include larger appliances, pantry items and more. This way there is no "lost" space.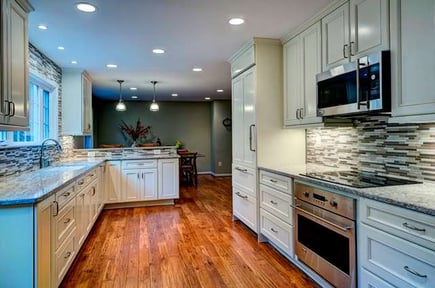 Kitchen Cabinet Efficiency
In the past, kitchen cabinet options that included a lazy Susan were considered trendy. Nowadays, cabinets are much more efficient, with options for pull out drawers, hidden drawers for cleaning equipment (where a cabinet front in the past would have been false), and the use of narrow spaces for cutting boards or other pans for storage.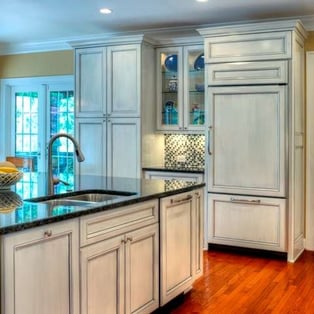 Customizable Drawers
Soft close drawers and hidden garbage and recycling bins have been popular for a while. Now, our clients can customize even more so, with drawers customizable for flatware, cookie sheets, and other cabinetry options. Less clutter in drawers creates a less stressful cooking (and living!) environment. Plus, having more customizable drawer options creates less clutter on countertops.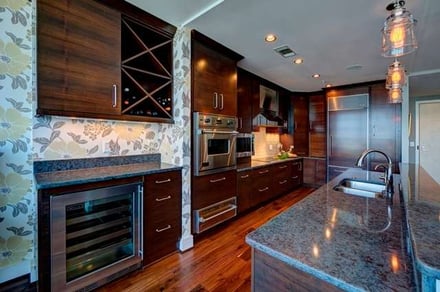 Embellishments
It is remarkable the number of options that our clients have when choosing their kitchen cabinets from style and finish to various embellishments including drawer pulls or handles. Trends now lean toward making one's kitchen cabinets part of the overall furniture theme of the home and embellishing one's cabinetry is just one unique way to do that.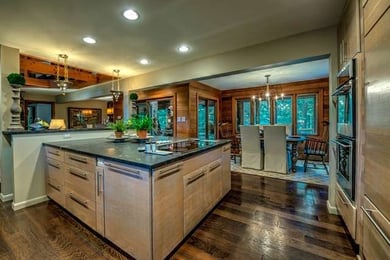 To go over your ideas for kitchen cabinets or how to remodel your space into a more functional and appealing kitchen, contact the experts at Moss Building & Design! Our Sales Consultants will work collaboratively with you to decide what works best for your space and for your family. Check out Moss' portfolio for ideas for your kitchen project. Get scheduled for a free estimate by calling 703-961-7707.