Pumpkin Spice Has Arrived in Northern VA
It's Fall Y'all. I saw a pillow with that saying on it in Home Goods the other day and it made me smile. The best time of the year (according to me) is finally here. I know this to be true because Starbucks says it's so. The unveiling of the Pumpkin Spice/ Salted Caramel lattes officially ushers in the Fall season and with that a new season of home décor ideas. Here are a few different ways to spread the Fall cheer!
Spray It Don't Say It
Yes, that's what I meant. I have come to LOVE the room perfume sold at Bath and Body Works. The "Leaves" scent is my absolute FAVORITE and I find I have to horde it so that I have enough to last me throughout the year. It makes my home smell fantastic! BUT, if you are not a room spray sort of person, they have a TON of other fall scents in candle form you can try. Sweet Cinnamon Pumpkin, Pumpkin Cupcake, Pumpkin Pecan Waffles, the list goes on and on – check it out!
Accessorize your Home for Fall
From throw pillows (It's Fall Y'all), to ornamental pumpkins to wreaths, there's no shortage of home décor items you can buy to bring Fall into your Northern Virginia home. Just type in "pumpkin décor" on Etsy and a whole slew of things come up (https://www.etsy.com/market/pumpkin_decor)! Or you could find something like I did at World Market and see how that livens up the place.
Fall Paint Colors
I love Fall so much that I had a Pumpkin orange wall color in the kitchen for several years. Even though I recently changed that and enjoy the new color, I sometimes miss the coziness the color brought to the kitchen. Fall colors with red, orange or yellow hues can really bring a warmth to a space.
This addition in Centreville, VA incorporated stone and red paint into their remodel that resulted in a rustic design.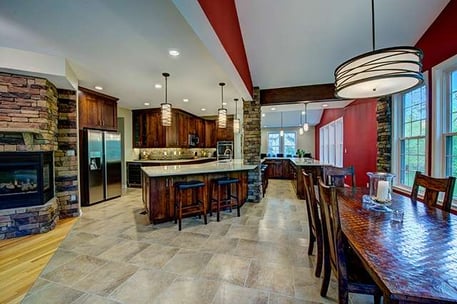 A home addition in Oakton, VA used a fall paint color for their dining room. It made the space warm and cozy.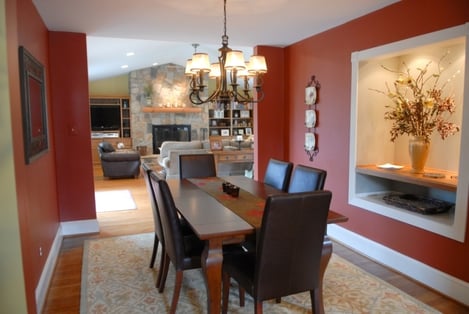 Northern Virginia's Best Remodeling Contractor
If you're thinking of an addition or would like to talk about your remodeling project in Northern Virginia, call MOSS at 703.961.7707 or email Sales@MossBuildingandDesign.com.