The History of the Galley Kitchen
Galley Kitchens refer to the design of kitchens where space is maximized with minimum movement required between units. This means that galley kitchens typically have units in two facing lines, but can also refer to U-shaped designs.
Galley kitchens increase their storage space by working vertically, with hanging pots, dish racks, and typically ceiling-hung cabinets. One of the first mass-produced galley kitchen designs was known as the Frankfurt kitchen, in 1926 for a Frankfurt housing estate. 10,000 units were installed in Frankfurt, and it was the most successful and influential kitchen of the period.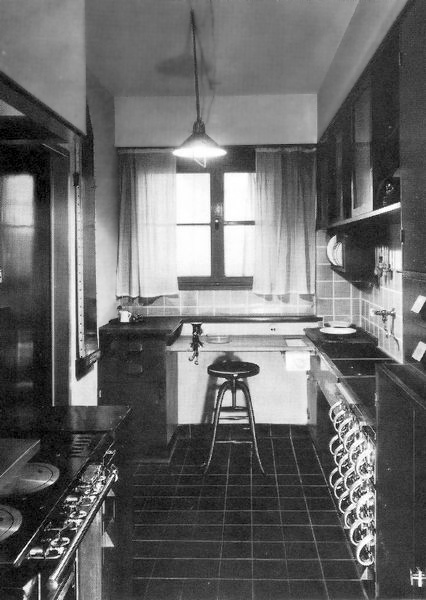 Galley Kitchens as Space-Savers
Galley Kitchens are perfect when you don't have as much space to work with for your kitchen remodel. That doesn't mean that you have to completely ignore it! If you don't have the space to expand your kitchen or you simply want to upgrade your kitchen to reflect your tastes, galley kitchens are easily updated and can certainly run with the big dogs.
Our most famous galley kitchen was featured on the Today Show with Hoda Kotb who used MOSS and Lowe's to surprise her mother with a kitchen remodel for Mother's Day. During a 7-day renovation MOSS and Lowe's completed a full renovation for Hoda to reveal on the Today Show for their Mother's Day segment. While the transformation of this kitchen was night and day, the basis of this kitchen's layout relatively stayed the same due to limited space. See the full Today Show Kitchen Remodel.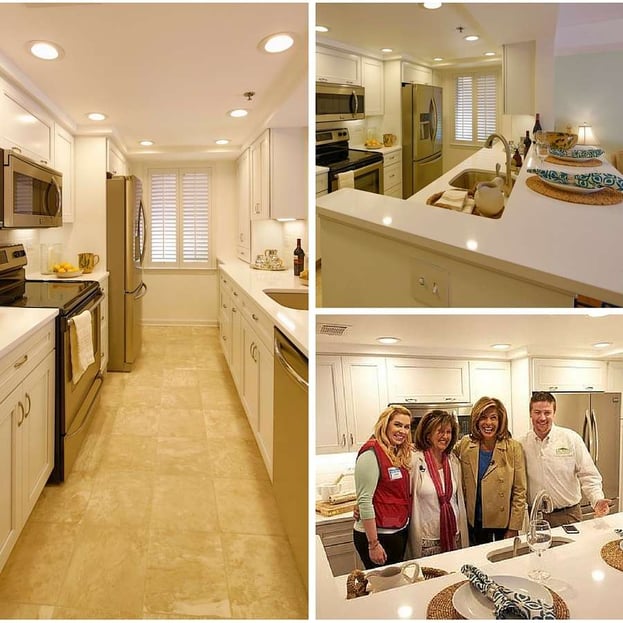 photos courtesy of Lowe's
Keep your Galley Kitchen Bright
While Hoda was able to pull out all the stops for her mother's suprise kitchen remodel, there are simple things you can do to ensure your galley kitchen does not seem short on space. One thing to consider is where your light sources will be.
If your kitchen will only have one light source, using lighter kitchen countertops or a bright kitchen backsplash can help keep your kitchen light and airy. You could also include alternative light sources for your kitchen such as under cabinet lighting or task lighting. Read our Angie's List Expert Article on Creative Kitchen Lighting Options.
Partial-Galley Kitchen Layouts
While the efficient galley kitchens are appealing due to their ability to maximize space and increase functionality through creative storage solutions, some kitchens may fall somewhere in-between. This partial-galley layout offers the best of both worlds with plenty of room to move around and open access to an adjacent eating area and dining room.
This galley layout features a wider 'aisle' to easily move around the kitchen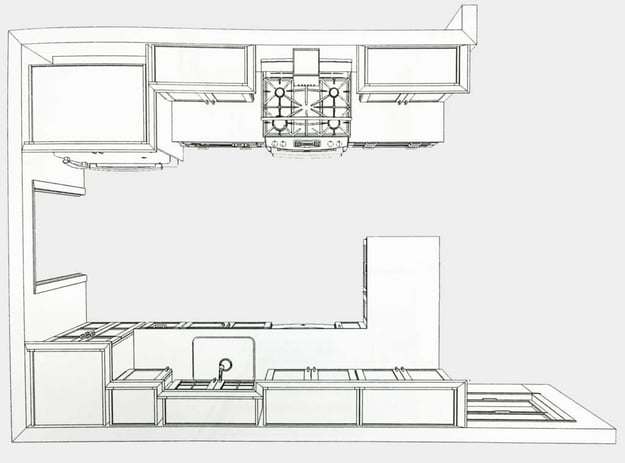 Galley Kitchen Inspiration
Are you looking for inspiration for your Galley Kitchen? Check out our Galley Kitchen Houzz Ideabook for inspiration for your remodel.
Start your Galley Kitchen Remodel
Ready to start your galley kitchen? Contact us today to talk about your project. We offer free initial consultations with one of our MOSS Sales Consultants either in-person or through 'Inside-Guide' phone calls. Call 703.961.7707 today to start your project.