by Zabia Hasan (ZHasan@MossBuildingandDesign.com)
I am in the preliminary stages of a bathroom remodel, also known as the "I'm still trying to convince my hubby that we NEED our bathroom remodeled." The great news for me is that one of the major perks of my employment with one of Northern Virginia's top remodeling company's is that I have the experts at my fingertips! Beginning my research for bathroom tile I turned to Haley Johnston, a regular contributor for Angie's List "Experts Contributor Program" (and who also happens to be my office-mate) for advice. After reading her article Shopping for Bathroom Tile on Angie's List, I was energized and ready to begin this project. In choosing the perfect tile I discovered that there were 5 current tiling trends that I thought I would share with you. The following examples were pulled from Houzz and Pinterest.
Enginered Tile
Though one can dream about having beautiful marble tiles made by the Grecian Gods in their bathrooms, it's not always practical for the pocketbook. Engineered tile, specifically those made to LOOK like beautiful marble, natural stone, or even wood is all the rage in bathrooms these days. Long gone are the days of the generic ceramic look. These tiles are not only durable and strong, but beautiful to boot. Bonus feature is that they run a lot "warmer" to your cold morning feet then some of the natural stone out there.
Accent Tile
Nothing says "wow" like a strip of color. This holds true for tile as well. Large white tile laid in a subway pattern with a narrow colorful strip of small mosaic tiles. Many people who want to accent, say a claw foot tub or stunning vanity, choose to do so with this tiling approach!
3D Tile
Looking for something to "pop" out at you? You can literally accomplish this with the new 3-D tiles that can provide for you a certain cobble-stone effect. Putting these tactile tiles on one of your bathroom walls will surely be a conversation piece in any bathroom remodel.
Exotic Tile
Want to bring a little bit of the East to Northern Virginia? You can with Moroccan-inspired tiles. Transport yourself to another place and time instantly with a sophisticated Moroccan accent wall. You can always "rock the Casbah" and change the feel of any bathroom if you choose this tiling trend.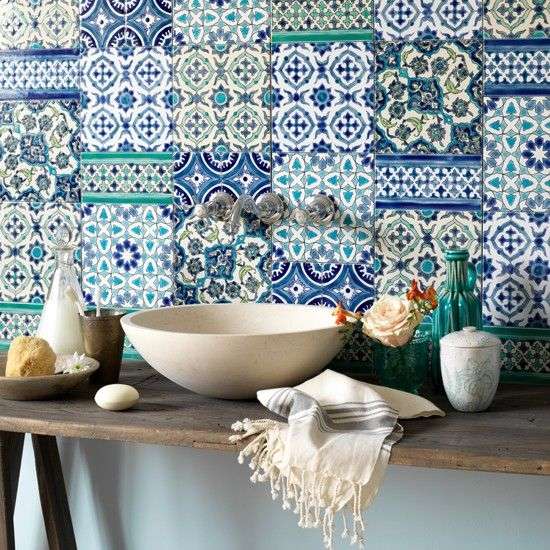 "Wood Look"
How much wood would a woodchuck chuck if a woodchuck could chuck wood? Except in this case he wouldn't have to because the "wood" is actually ceramic tile! Having the appearance of wood to add warmth and depth to the bathroom space without the worry of water on wood is exactly what the woodchuck would choose for HIS bathroom remodel.
No matter what tile you choose to finish up your bathroom space, I am sure it will be "tile on the cake" for your bathroom remodel.
Until Next Time,
Z
P.S. Now that you know the trends, it's time to shop! Check out our Angie's List Expert Article: Shopping for Bathroom Tile