By – Jenn Zschunke (jzschunke@mossbuildinganddesign.com)
A basement remodel, whether an unfinished space or a more substantial update, involves a variety of decisions for our Northern Virginia clients: what is the space going to be? If our clients have young children, will there be a play area? Older children: a space for a pool table or ping pong? A media room? Wet bar? While these are the larger, more overarching decisions, there are multiple smaller, yet just as equally important ones, when redesigning your basement (or any space). One of the most important ones in basement remodeling is the lighting. If you are lucky enough to have a walk out and some natural light, this helps immensely when planning the lighting design. If not, Moss offers several ideas for ways to create lighting that is warm, comforting, and as natural as possible.
Recessed Lighting for your Basement Remodel
A favorite lighting option is to install recessed lights. These lights, usually spaced equally throughout a room, are a blessing as an option for families with young children – the lights are installed into the ceiling and offer bright light and minimal shadows. They can also be installed with a dimmer. These are great lights for game rooms because they can't get knocked around by pool cues! As seen in this Oak Hill, VA basement remodel below, the lighting offers bright light for the children's play area. This option offers even lighting for all kinds of activities, whether hopscotch or movies, in your basement.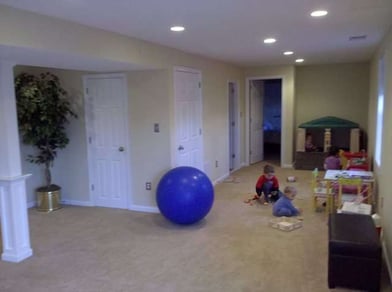 Pendant Lighting in Northern VA Basements
As seen in the basement remodel in Ashburn, VA below, lighting a wet bar/basement kitchen can provide our clients with a chance to purchase pendant lighting. The warmth that the pendant lights provide make a basement room feel more intimate and comfortable, especially when the area is within a large open space. There are countless options available as well, making the choice a highly personalized one.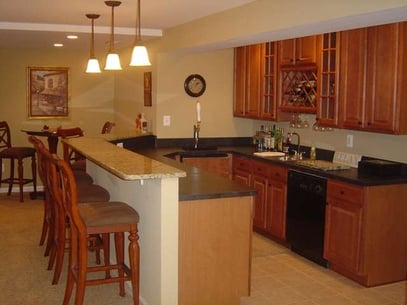 Up-Lighting for Basement Home Improvements
As seen in this Burke, VA basement media room, another option for lighting is "up-lighting", in which light is focused going toward the ceiling rather than coming down from it. This option creates an even, soothing light without glares or overwhelming brightness. Another option for up-lighting is to purchase standalone lamps that can be directed upward or downward – providing options for homeowners at various times of day or night.
Combining Lighting Options for your Basement Renovation
In the remodel above, you can see that there is a combination of lighting – both the recessed lighting and the wall sconce provides up-lighting. Having a variety of lighting options (not inclusive to those listed above!) can help to create a basement that is truly a space your family can use for a variety of reasons for countless numbers of years that is comfortable, warm, and calming.
Choosing the right lighting for your basement is not only practical is terms of making sure that activities are visible, but also it creates the right mood for a basement environment. Lighting can truly bring together your basement decor and make it an inviting family space.
Contact the experts at Moss Home Services at 703-961-7707 for a free estimate and to learn more about our home improvement services.
Jenn Zschunke is a part of the Community Relations department. She plans HandyMom 101 workshop programs for Moss and coordinates philanthropic activities in her local community.