Farmhouse chic is everywhere you look these days: television shows, decorating and interior design magazines, and even at your local Target! It's a warm, rustic, and inviting design style for anyone who loves feeling comfortable and cozy. Farmhouse chic design is best described in this blog by Moss Building & Design, Northern Virginia's top remodeler.
So, what are some ways to really pinpoint the style and design? Here are our top ten farmhouse chic design elements for your home:
Farmhouse Sink
A farmhouse sink is one of the best ways to bring farmhouse chic design to your home. These sinks are reminiscent of "life on the farm". They're deep, functional, and accommodating! Here's a gorgeous farmhouse sink from a Moss Building & Design remodel in Oakton, Virginia: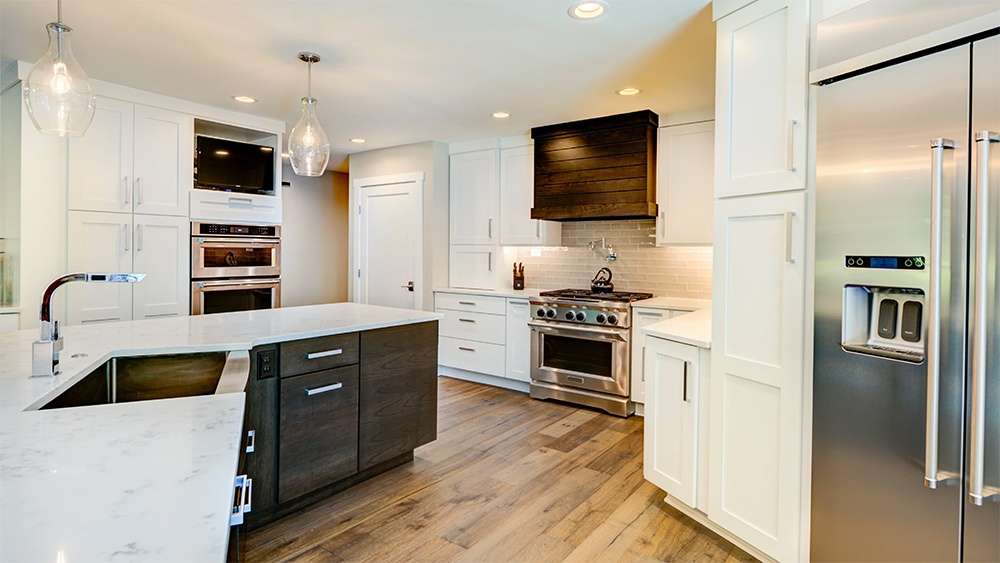 Shiplap
Shiplap is a way in which wooden boards are put together with by grooves, cut into the top and bottom, which allow the pieces to fit together and form a tight seal, giving a unique look with subtle reveals between boards. Made trendy by decorating duo Chip and Joanna Gaines, the design element gives a rustic feel to a room that might otherwise be more contemporary in design.
Open Storage Shelving
Open storage shelving (also known as floating shelves) constructed with reclaimed wood or metal is one of the best ways to showcase farmhouse chic design in your home. This Great Falls, Virginia, home's kitchen shelves, combined with a stone wall and rustic decor, epitomize farmhouse chic design.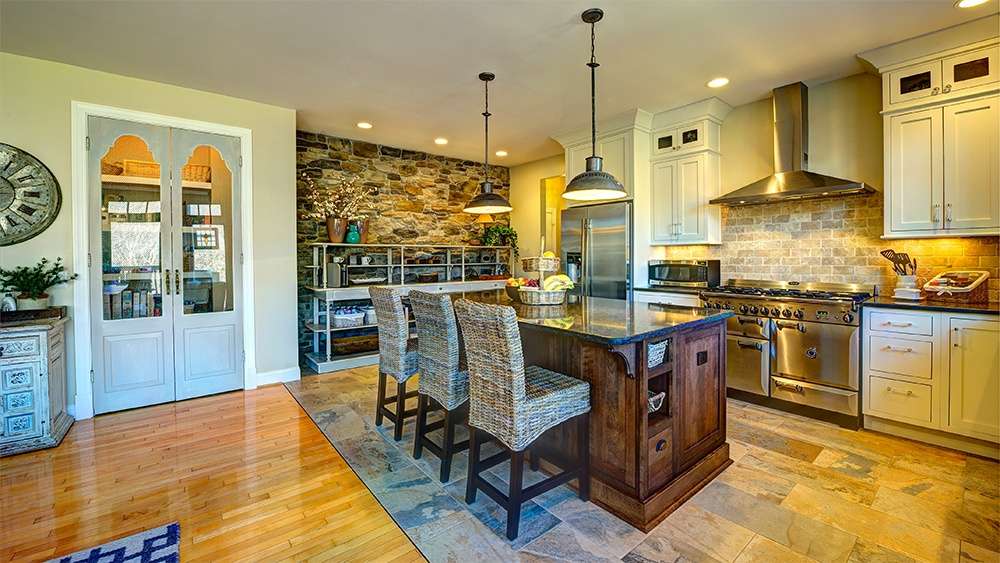 Wood Plank Floors

Wood floors are popular across all design styles, but plank flooring lends itself well to farmhouse chic design. This home in Great Falls, Virginia, has wood plank flooring in its kitchen, which brings a warm feeling when combined with white cabinets, stainless appliances, and textured material for the island chairs.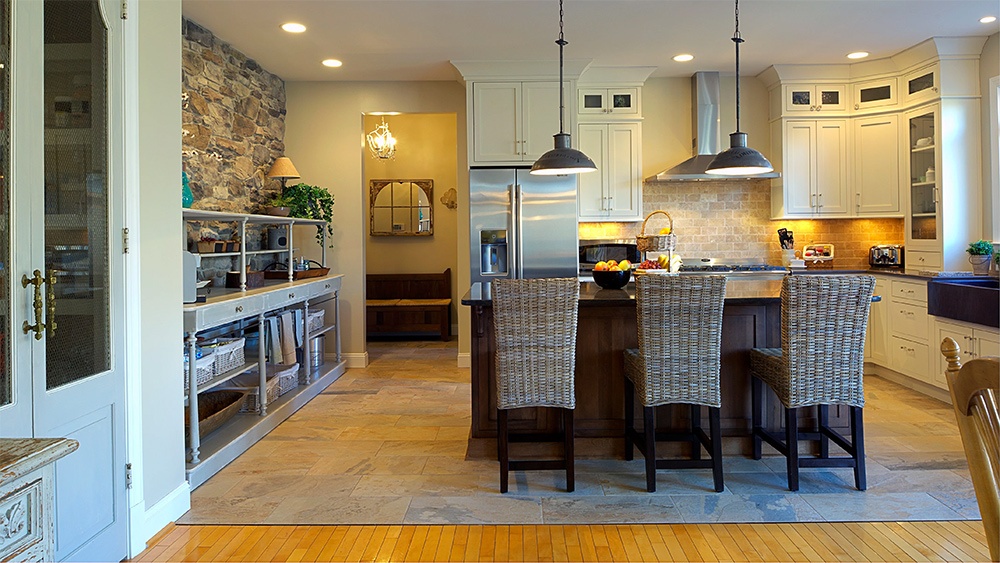 Sliding Barn Doors
Sliding barn doors are the perfect way to add farmhouse chic design elements to your home. This Great Falls, Virginia, remodel features the addition of this sliding barn door, separating the foyer from the main floor living area. It's rustic, repurposed, and brings charm and unique features!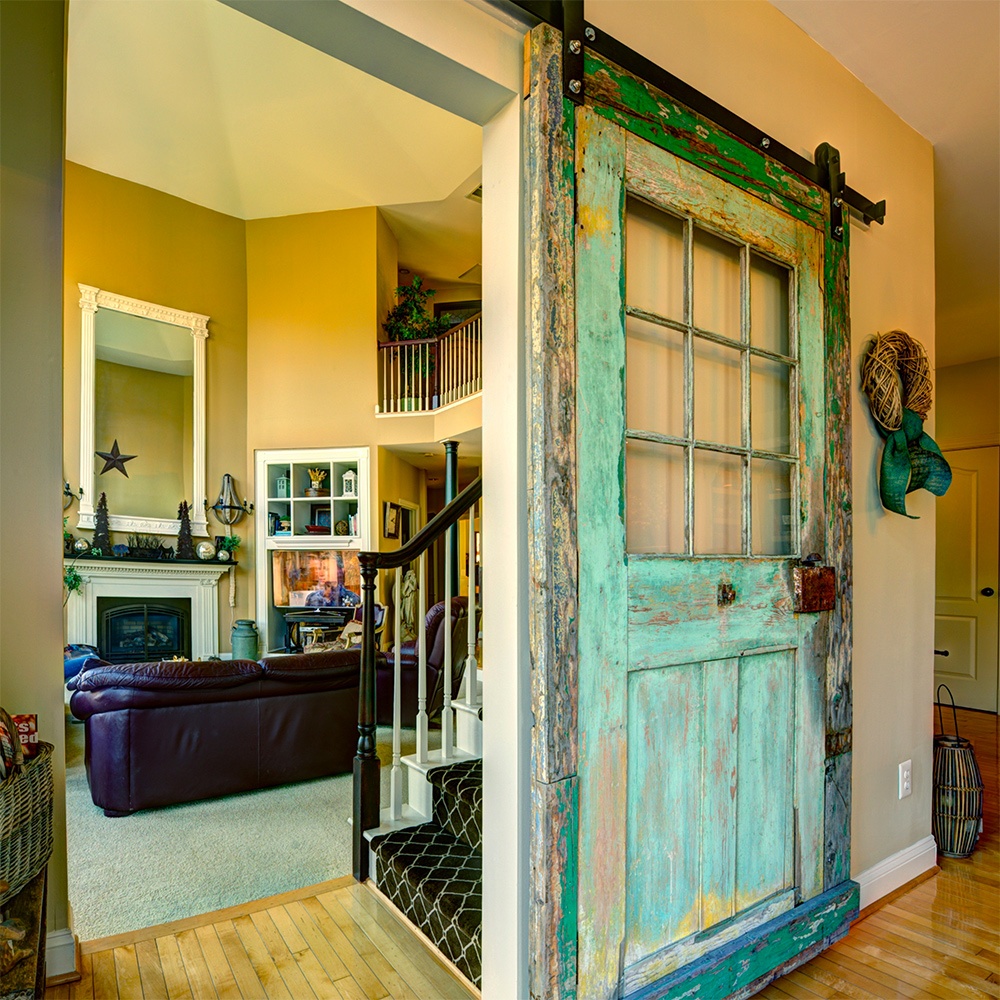 Vintage Decor
Burlap, Mason jars for storage and decor, vintage appliances, painted (yet slightly shabby and chipped) furniture, slipcovers, repurposed signage are all fun ways to implement farmhouse chic decor into your home.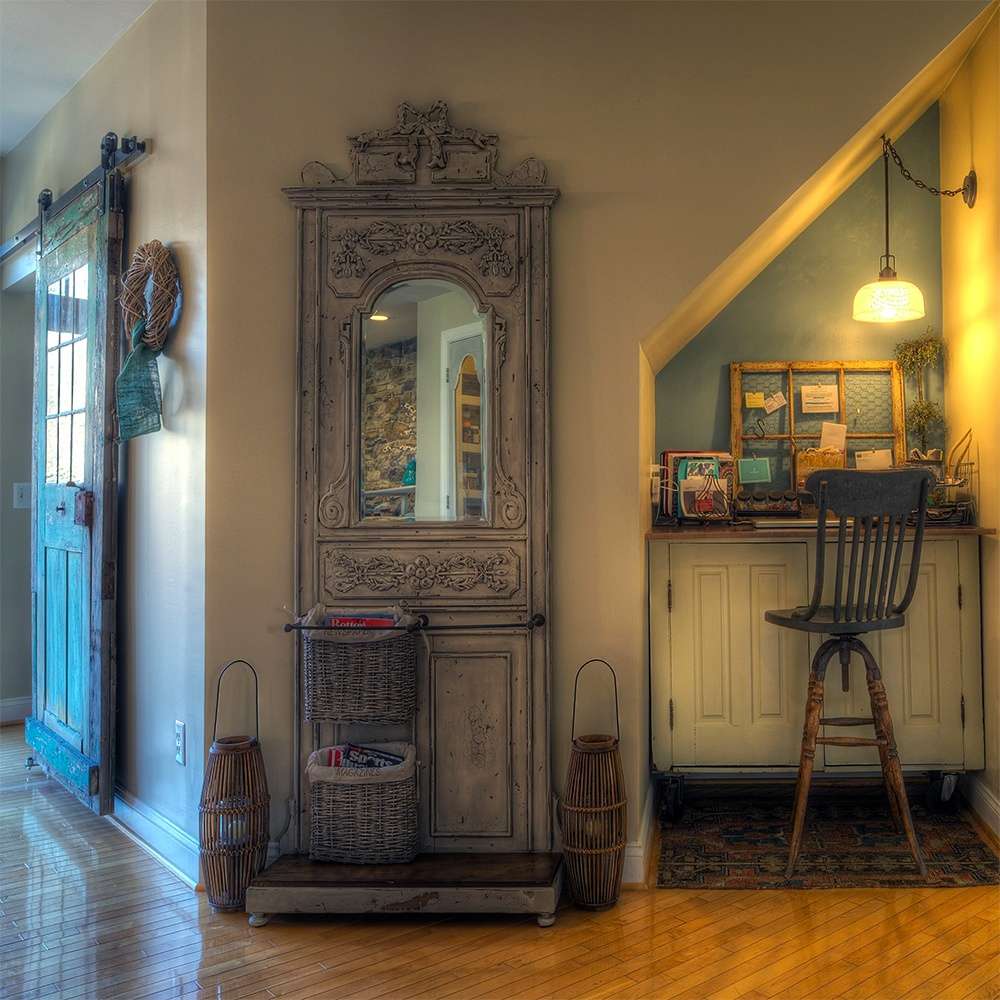 Exposed Wooden Beams
Bringing the outdoors in is a major theme of farmhouse chic design, as seen in this farmhouse chic living room in Ashburn, Virginia. The exposed wooden ceiling beams in this remodel are a gorgeous way to create the warm and cozy feeling of farmhouse chic when combined with natural light and comfortable furniture.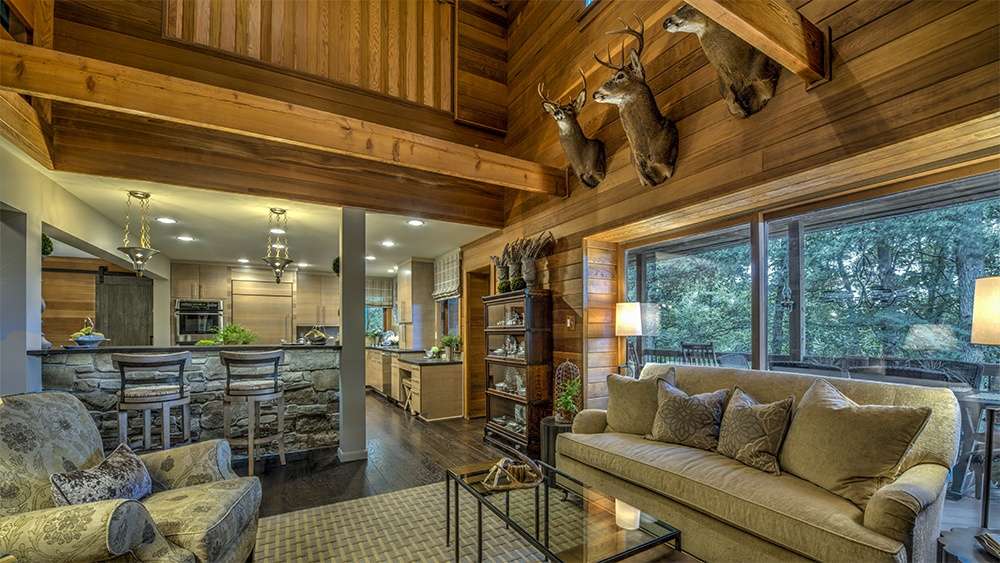 Neutral Paint Colors
Farmhouse chic design paint colors really play off the calm and comfortable feeling of homes with this interior design style. Neutral, warm, and soft colors truly evoke what farmhouse chic design is all about. Greys, beiges, soft whites, and similar colors are truly reminiscent of farmhouse chic design.
Reclaimed Wood
You can't complete your farmhouse chic interior design look without using reclaimed wood. From shelves, and wall decor to cabinetry, headboards, and floors -- it's everywhere. Repurposing is huge in farmhouse chic, and reclaimed wood elements are a perfect way to implement this!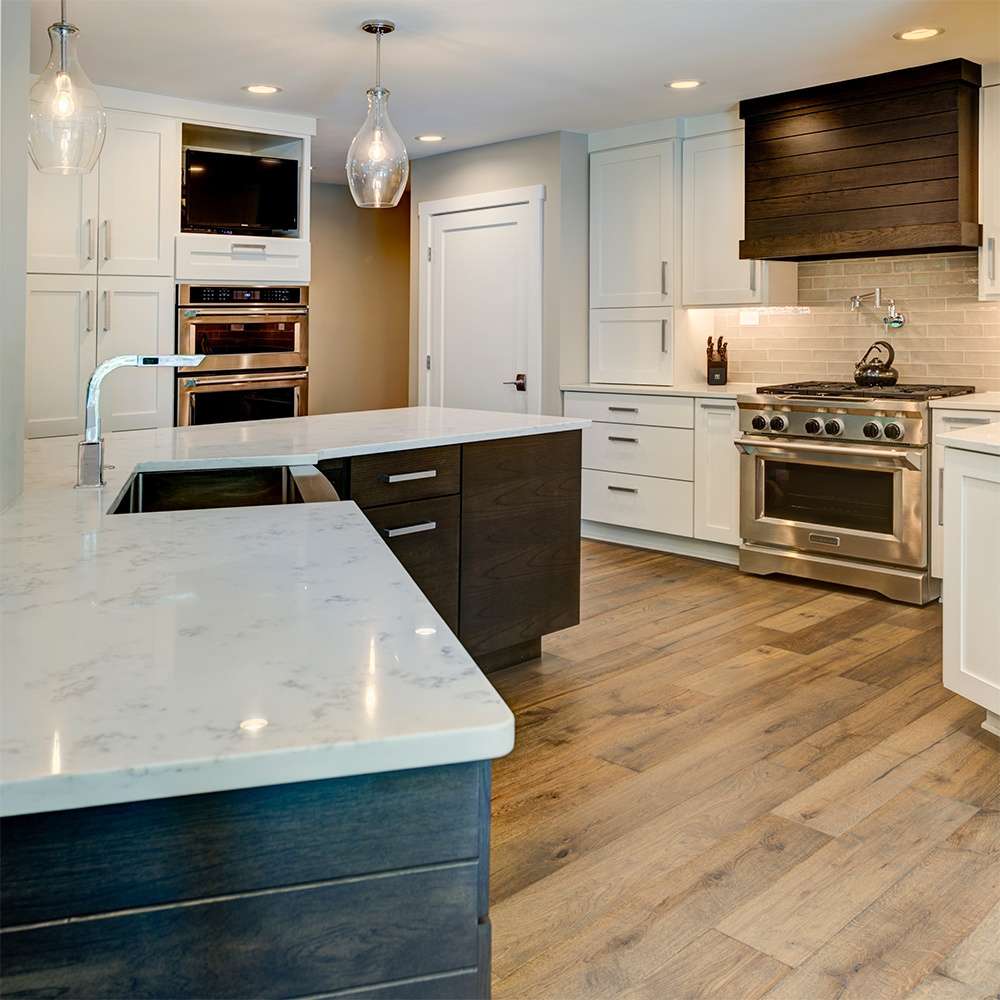 Lighting
You might assume that farmhouse chic lighting would be kerosene lamps or candlelight. While those can be used as sources of ambient lighting, farmhouse chic lighting is often described as clean, bright, and purposeful. Antique brass and oiled bronze are two popular metals used for pendant lamps and chandeliers often seen in farmhouse chic interior design.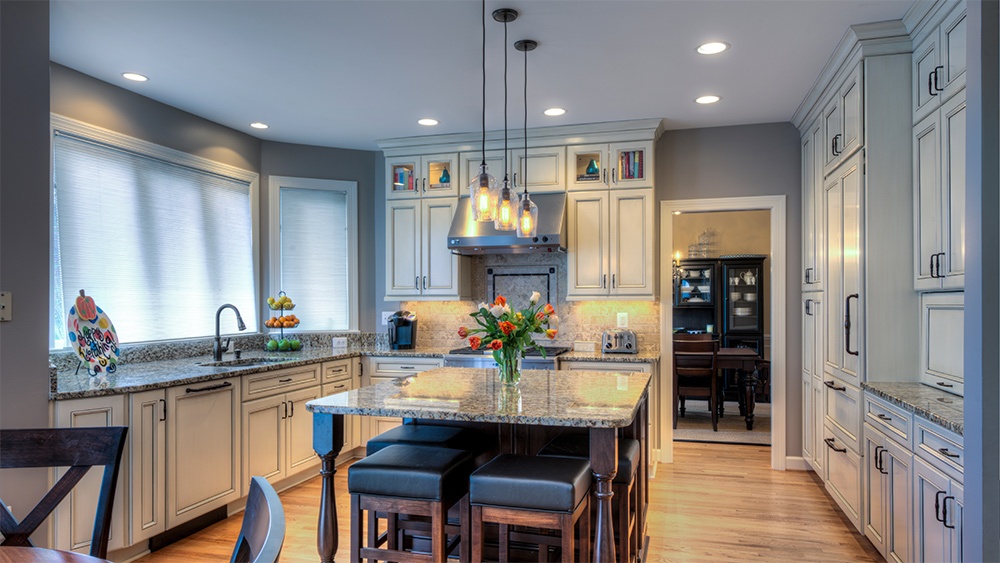 If you're in the market for home remodeling or if you'd like to talk to a professional about a farmhouse chic home interior, call us at 703.961.7707 or email us at Hello@MossBuildingandDesign.com. Sources: