By: PKopiak@MossBuildingandDesign.com
Laundry Rooms
The laundry room. This one is a conundrum for me. I HATE doing laundry, but, I love having clean clothes. Actually, it's not that I dislike doing the laundry. I don't mind washing and drying the clothes, it's the follow up. Getting all the clothes folded and put away before it's time to do more laundry. It just doesn't seem to happen. Maybe if I had my laundry room upstairs that would help, instead of the dark basement in which it currently resides. Here are a few laundry rooms that would make it easier to get the job done.
Multifunctional
Part of my problem is that I have too much going on and sometimes (just kidding, most times) I get off track once I leave the room. This makes doing laundry difficult because I do NOT want to sit around in the basement waiting to switch the clothes over. If I had a laundry room like the one below, this wouldn't happen. I could sit there and work on the counter space and even get some craft time in too if the need or want should arise. All while staying on top of the clothes!
Double Duty
Full disclosure, I don't have a dog. However, if I did I would love this laundry room. No need to mess up that beautiful master bathroom when you can add a pet washing station to your laundry room and give them their own little hideout. This is the perfect place to hose down your furry friends and even wash off those muddy boots of yours afterwards.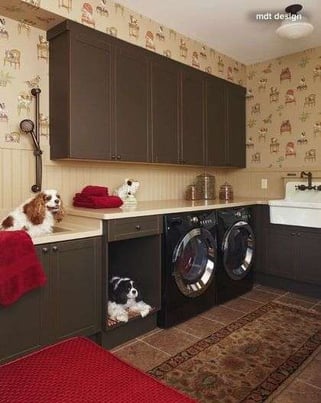 Maximize Your Space
Even if your space is small, you can maximize it to get more done. This room is built with more space vertically than horizontaly, making it the prime example of making the most out of your space. This laundry room features a stacked washer/dryer combo to give way for some storage cubbies and counter space for the dreaded task of ironing. Also thrown in there is a wall mounted drying rack for those delicate items. There is a lot of functionality going on here and I love it!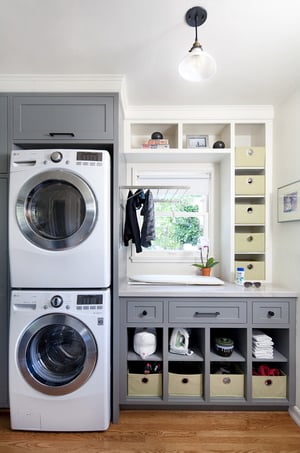 Northern Virginia's Best Remodeler
If you want to look forward to doing your laundry, call MOSS! We look forward to continuing to be your one stop shop for all your home improvement needs. If you are thinking of a home remodel, the professionals at MOSS are here to help. If you have general questions, call MOSS at 703.961.7707 or email Sales@MossBuildingandDesign.com.