Welcome to your one-stop shop for learning how to create a traditional design style in your own home! In this post, you'll learn all about how to give each room in your home that classic, traditional feel.

Northern VA Traditional Interior Design
One of the biggest trademarks of traditional design style is the furniture. Furniture is often understated with muted tones and smooth finishes, especially with wooden pieces.

According to The Spruce, an online home design and inspiration resource, no harsh lines or sharp shapes are involved. Interiors by Steven G advises using leather, velvet, and silk for more elegant upholstery.

For more history and details about what makes traditional design, check out our last blog post, What Is Traditional Design?

Traditional Bathroom Design
Due to the safe and predictable manner of traditional style, the transition to each room should flow smoothly. Similar color schemes and matching architectural elements should be consistent throughout your home, like this traditional bathroom in Vienna, Virginia: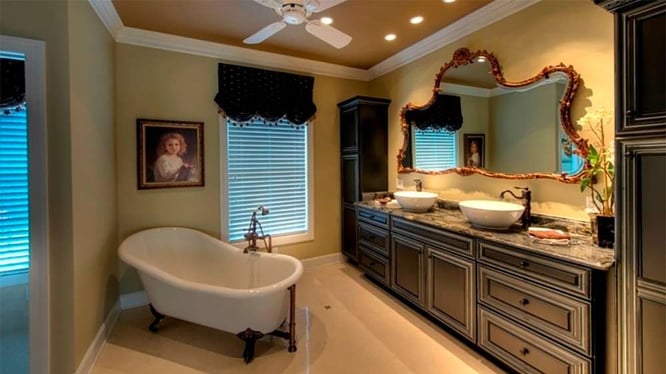 The clawfoot tub is a staple for traditional bathroom design. Notice the decorative detail in the cabinets, mirror, and the valances.
Another important detail to pay attention to is the matching window treatments outside the bathroom, shown in the corner of the picture. The classic-looking window coverings allow a smooth transition between the master bathroom and master bedroom. Traditional bathrooms often feature detailed and decorative toilets (like the one here from Kohler); Carrera Marble countertops; chandelier lighting; and detailed chrome-finished faucets, such as this one.

Tile flooring is also a popular aspect with a lot of neutral tones in blacks and whites. This also helps keep the focus elsewhere. Rain shower heads also add that final classic touch.
Traditional Kitchen Design
Traditional kitchens are heavy on decorative details, typically consisting of the following elements:

Stone backsplashes

Decorative hoods

Stacked molding

Arches

Mullions



It's standard for any traditional kitchen to have maple, cherry, and wood-toned cabinets that are paired with hardwood flooring. Consistent with traditional bathrooms, chrome finishes to faucets and accessories with valances and chandelier light fixtures are found in traditional kitchens.
Traditional kitchens are also starting to incorporate more black and/or paneled appliances, as some homeowners feel that stainless steel appliances are too modern.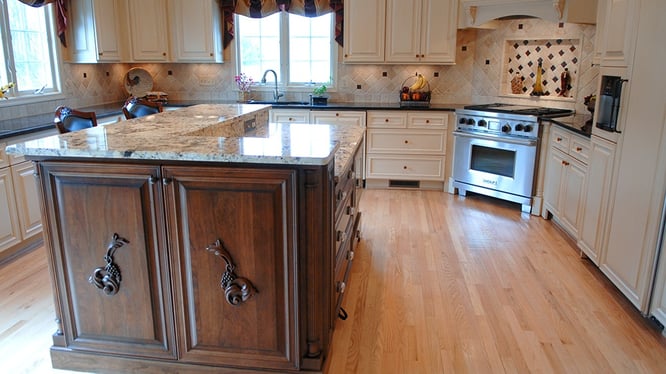 This kitchen remodel in Oakton, Virginia is very traditional through its decorative design on the breakfast island, stone backsplash, arched hood design, valances, window treatments, and wood-toned hardwood flooring. Even the paneled refrigerator has a traditional touch!
Traditional Bedroom Style
When creating a traditional bedroom, keep the design balanced and symmetrical. That homey atmosphere is achieved by keeping it simple yet timeless. Take this Oakton remodel, for example.

The wooden furniture, neutral carpet, leather accents, and subtle touches of color and pattern on the bed create a relaxed ambience. Also notable between this bedroom and bathroom are the still-life oil paintings, which make for a timeless accessory, according to HGTV.

Traditional Basement Design
In traditional home style, it's important to have furniture centered and arranged on a straight axis, according to The Spruce. The main couch should be directly facing the focal point of the room, which is often a fireplace or television set.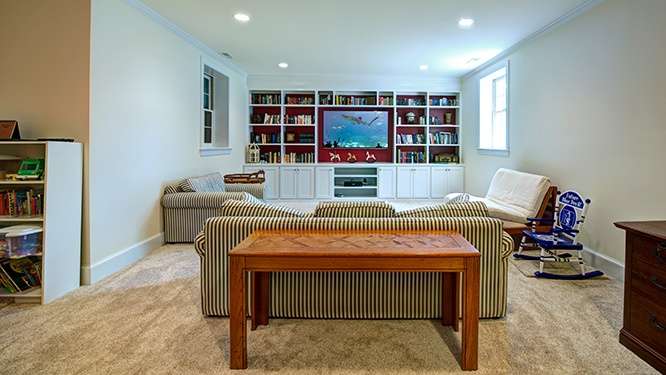 As seen in this McLean, Virginia, basement remodel, the main sofa is perpendicular to the focal wall with the television set. The ceiling's crown molding, vertical couch lines, and incorporation of wood in the furniture and accessories completes this basement's traditional style.

Learn everything you need to know about traditional design today by downloading our Traditional Home Style Guide:
Traditional Design Remodelers in Northern VA
MOSS is here to help with all of your home remodeling needs! If you're in the market for home remodeling or if you'd like to talk to a professional about making your home more traditional, call us at 703.961.7707 or email us at Sales@MossBuildingandDesign.com.