What do you think of when you hear traditional design? Some think it's old or outdated, but that couldn't be further from the truth.
So, what really is traditional interior design? It's defined by rich colors, wood elements, carved molding, elegant decor, and decorative, detailed woodwork.
As remodelers, we see a lot of different design trends, but traditional interior design is one of the most popular. It's a timeless, detailed, and decorative look that's inspired by 18th and 19th century European decor. Traditional design often incorporates warm tones like browns and yellows.

If you prefer the traditional interior design style, you're probably also drawn to intricate, detailed woodwork.
Colors
When designing a traditional room, you'll typically see a lot of warm colors, including rich tans, browns, and yellows. Paisley can be also used for accent rugs, chairs, and decor. Not to say that you can't veer from this color and texture palette, but avoid hues that are considered modern and transitional like white and black.
This master suite, pictured below, is a great example of traditional colors. From the rich brown bed frame and drapes to the neutral decor and paint, this room is very traditional.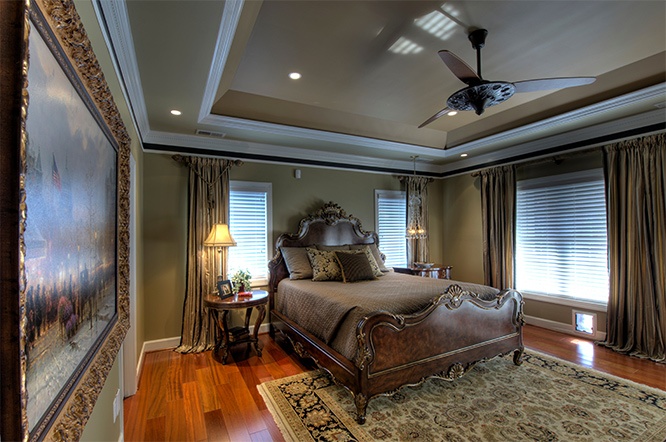 Decor & Fixtures
Traditional design is all about detail, meaning the more elegant, the better. Consider adding classic lamps, vases, decorative mirrors, and chandeliers to the room for a more traditional look. You can find a lot of decor at Pier 1 Imports or Houzz, where you can shop decor by style.

This decorative tray has an old-world look that would make any room more traditional. Long window drapes and valances, as pictured above, also make a room feel more traditional.
For the bathroom, dress up the fixtures. This faucet would make any bathroom more traditional, and you can take it a step further with a toilet inspired by traditional design. Chrome is most commonly used for traditional fixtures.
A stone fireplace paired with a painted mantle is a great way to make the living area more traditional. This remodel in Oakton, Virginia, is inspired by traditional interior design with white mantle and stone. Notice the yellow wall paint and detailed wooden furniture -- all of which make this a traditional living room.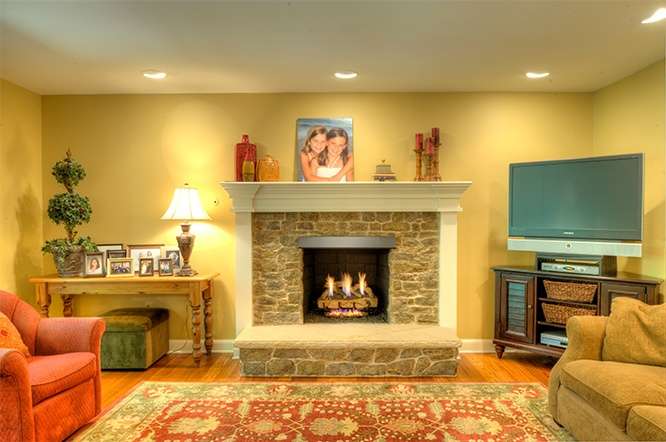 Architectural Elements
As stated by Interiors by Steven G, architectural details are what make a truly traditional home. Built-in cabinetry, crown molding, columns, and tray or coffered ceilings go back to 18th and 19th century traditional home design.

Symmetry is also very important element for traditional design, as almost every fixture and detail comes in a pair, from sofas and chairs to end tables. The purpose is to create a balanced space around an important focal point like a fireplace, television, or piece of art.
Furniture
The furniture in your home has a big impact on whether or not it feels traditional. In many traditional homes, you'll find a clawfoot tub, large beds with wooden frames, and button-tufted pieces.
Materials
Wood, wood, and more wood! In all seriousness, wood tables, chairs, and chests with decorative detail is hallmark in traditional interior design. Maple, cherry, and oak are among the most popular materials used.
Hardwood flooring is most popular in traditional kitchens. For the master suite or basement, consider using carpet instead of tile for a more traditional element.
Looking for tips on how to make your home more traditional? Download our Traditional Home Style Guide today by clicking on the button below:
If you're in the market for home remodeling or you'd like to talk to a professional about making your home more traditional, call us at 703.961.7707 or email us at Sales@MossBuildingandDesign.com.