Halloween is right around the corner. Before you know it all the little trick or treaters (and their parents) will be walking up to your front door or porch in pursuit of candy. Is your house ready for an onslaught of visitors? Don't get spooked by all the prying eyes. With just a few simple upgrades, you can ensure your home is welcoming for Halloween and the upcoming holiday season.
1. Make Your Northern VA Home Pop with Painted Doors
If peeling paint plagues you, consider updating the color of your front door. First impressions matter and that's why many homes are adding a pop of color to their entryway with a bold front door. Red and bright blue are statement colors, but pick one that fits your personality.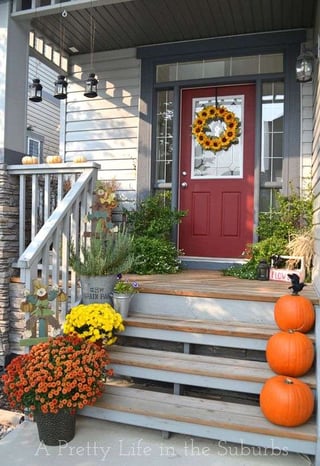 (A Pretty Life in the Suburbs)
2. Install Outdoor Lighting
As fall turns into winter and the days get shorter, you might notice that your front yard is a lot darker than you remember. Refreshing outdoor lighting can add a welcoming touch for guests and visitors and improves safety by illuminating your front steps. There are many options from simple overhead lights built into your porch to more ornate hanging lanterns or pendant fixtures. To add an aesthetic touch to your yard, you could also install post lighting by your driveway.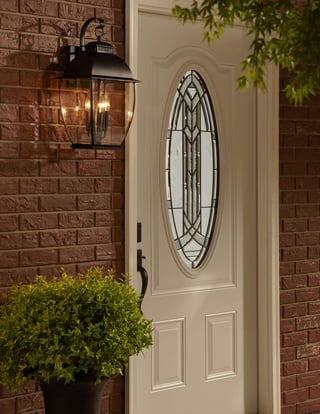 (Home Stratosphere)
3. Update Your Mailbox
Without moving, update your "mailing address" by installing new, shiny house numbers on your door or get a new mailbox that also displays your street number. You could go the DIY route and choose a creative way to display your house number with ribbon and chalkboards or on planters. Those less-frequent guests who show up around the holidays will appreciate having an easy way to identify the house as yours.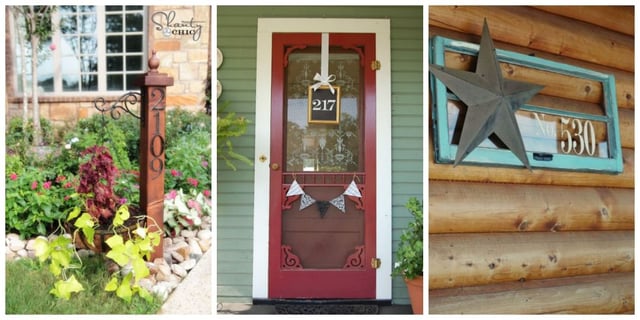 (CountryLiving)
4. Care for Your Gutters
Cleaning gutters is a regular fall activity you're probably already very familiar with as a homeowner. While you're up there, investigate whether new gutters are in order and consider if installing any gutter accents might be in your budget. Copper gutters turn a practical necessity for a home into a beautiful architectural element. You can also add ornamentation to your gutters with accessories such as downspouts and bands, new gutter brackets or rain chains.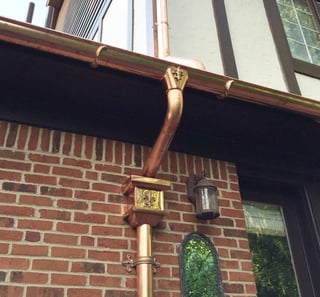 (Michigangutters.com)
5. Upgrade Your Front Walkway
Cracks in steps or concrete walkways are common wear and tear items outside the home. This season is the best time to think about repairing or replacing front steps and walkways and fix broken or rickety railings. This will help prevent stumbles and falls by people who are less familiar with your front walkway than you are. There are many decorative options for front walkways and steps with stone slabs, tile or pavingstones just a start.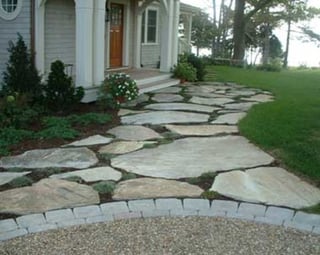 (StoneFarmLiving.com)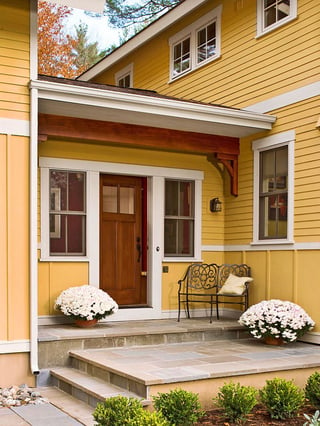 (Better Homes and Gardens)
The Best Remodeler in Northern VA
If you need help sprucing up your home or are just looking for direction as you begin planning a remodel give us a call (703.961.7707) or email us at Sales@MossBuildingandDesign.com.