Bathroom Design Trends in Northern VA
As summer comes to an end and autumn draws closer, you start spending more time indoors- so why not make your next project revamping your bathroom? Check out these new trends for bathroom renovations!
Looking to create a relaxing oasis? Try a freestanding bath tub!
They're perfect for soaking away the approaching cold weather.
(Via Baltimore At Home, Style Me Pretty, Moss Building & Design)
Freestanding tubs are so versatile, they'll fit in any style bathroom. Rustic, modern, or traditional- you can design around it any way you want! Place it in your bathroom alone or in conjunction with a shower for the full experience. Select a tub with jets for a jacuzzi experience, or keep it simple!
Spice up your master bathroom this fall by upgrading to a "party shower"!
A party shower is a fancy term for a fun, luxurious shower characterized by multiple shower heads, LED colored lights, a built-in sound system, and heated floors!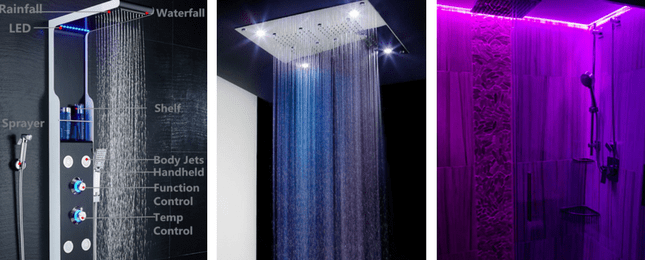 (Via REVIEWHOMKIT, Trendir, Houzz- Vancouver General Contractors)
You can select an all-inclusive shower system like the ELLO&ALLO one above that takes care of all the shower head and sprayer needs, including jets and temperature control with LED lights as well. There are also simpler panel options that just control the water, like this one.
Patterned and mismatching tiles are also hot right now!
Play with color or select one and play with texture!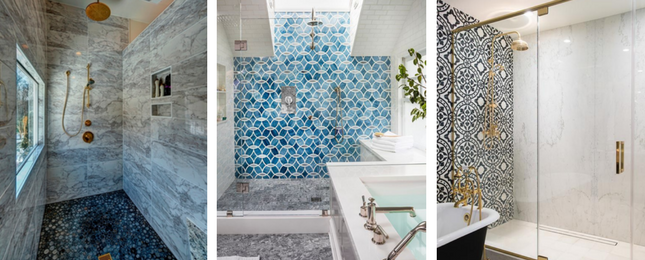 (Via Moss Building & Design, House of Turquoise, Byrd Design)
Geometric tiles are all the rage right now, either highlighted as an accent wall or in combination with other colors and textures. Your selections will make it uniquely yours!
Not looking to completely remodel your bathroom? Here are some cool gadgets for an easy upgrade!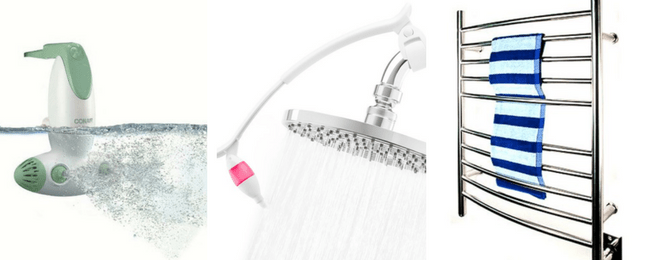 The Dual Jet Bath Spa by Conair sticks right on the side of your bathtub to convert it into a relaxing spa. This Aromatherapy Shower Kit diffuses essential oils right into your shower for a calming experience. The Heated Towel Rack keeps towels warm, just like at the spa!
Bathroom Remodelers in Northern VA
We look forward to being your one stop shop for all your home improvement needs. If you are thinking of a home or bathroom remodel, the professionals at MOSS are here to help. If you have general questions, call MOSS at 703.961.7707 or email Sales@MossBuildingandDesign.com.