Moss Building & Design Brings Popular HandyMOM 101 Workshop to Mid-Atlantic Parents of Multiples 2014 Conference
By – Jenn Zschunke (jzschunke@mossbuildinganddesign.com)
Moss was thrilled to participate in the annual Mid-Atlantic Parents of Multiples Conference, held at the Dulles Westin in Herndon, VA this past weekend. The Mid-Atlantic Parents of Multiples unites several local multiples clubs each year as a way to socialize, network, and learn from members about their clubs. This year's conference was hosted by the Loudoun/Fairfax Multiples Club. For one of the breakout sessions on Saturday morning, we presented our popular HandyMOM 101 workshop, "Patch It", which teaches moms how to repair a variety of dings and holes in drywall, as well as a presentation on home remodeling trends.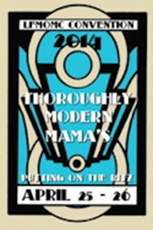 In our session, we were welcomed by a very enthusiastic and interested group of moms – these are the moms who don't have a lot of time – they were all parents of twins, triplets, or more! Marty Fletcher, our Moss professional, demonstrated the tools to use (use metal knives, not plastic!), how to repair a nail pop, how to apply drywall mud, and how to sand (after waiting the appropriate 24 hours ). Marty also demonstrated how to repair larger holes by cutting a large square and inserting a piece of stabilizing wood behind the hole (screwing it to the studs).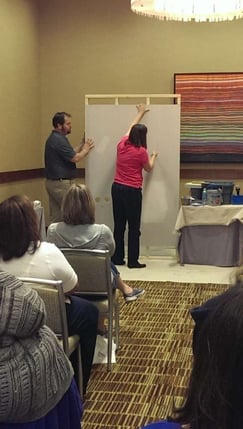 As with all our HandyMOM 101 workshops, we invited the moms in attendance to come up and learn through practice– several of them took on the challenge and learned how to hold tools in the best way, how to apply drywall mud, and the correct way to drill holes as part of the process of repairing larger holes in drywall.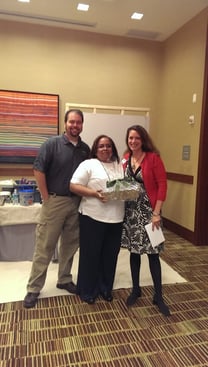 Following our HandyMOM 101 workshop, our attendees returned to a presentation by Moss' Dave Greksouk who discussed remodeling trends and needs with large families in mind. We covered a new trend in master bathrooms which involves getting rid of the tub as well as monochromatic color schemes in kitchens. For basements, we discussed the best floor materials to use with flooding and heat insulation in mind.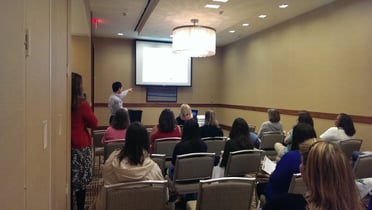 As part of our visit at the conference, we were happy to gift one of our attendees with a Handyman for a Day prize. Congratulations to Nancy Anthony, who was very excited to win!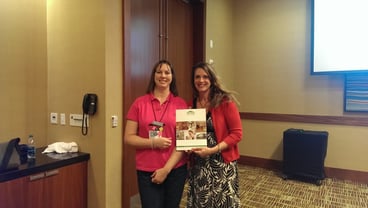 Contact the experts at Moss Home Services at 703-961-7707 for a free estimate and to learn more about our services.
Jenn Zschunke is a part of the Community Relations department. She plans HandyMom 101 workshop programs for Moss and coordinates philanthropic activities in her local community.