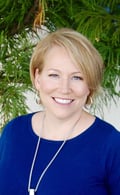 By Jeannine Miller (JMiller@MossBuildingandDesign.com)
One of my favorite parts of my job is partnering with our vendors for an evening of education and entertainment. Last night I got to do just that with Dominion Electric Supply Company in Arlington. Dominion really pulled out all the stops by providing an amazing spread of food and wine, making guests feel indulged the minute they walked through the door.
The educational portion of our evening began with a very informative presentation by Liz Iacone, a rep for Philips Lightolier. Many of us were familiar with some of the benefits of LEDs such as longer bulb life and lower heat generation, but we didn't know much about the color temperature of the light produced by LEDs. Liz helped us understand the color temperature concept and how to select the correct bulbs for our homes. (Stay in the 2700-3000K range and you'll be fine.) Among the many interesting points she made, she told us our parents' aging eyes will see more yellow than ours which is why they might prefer lighting that seems too cool and/or bright for our own taste.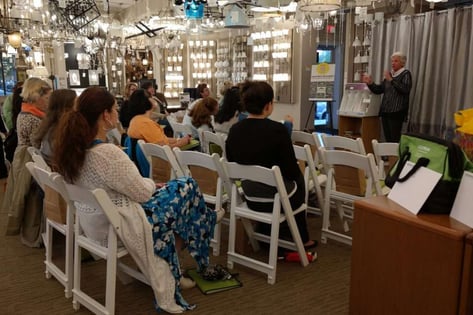 Liz Iacone teaches attendees about LED lights.
Guests continued to learn as MOSS' Damon Cruz presented the 'Dim It' HandyMOM 101 workshop. Damon taught how to safely replace a regular light switch with a dimmer switch and answered attendees' questions about lighting in their own homes. (There may or may not have been a chance for attendees to witness the art of troubleshooting.) The instruction was obviously spot on, because three lovely ladies participated in a "Dim Off" contest and were able to safely and successfully install their dimmer switches in about ten minutes.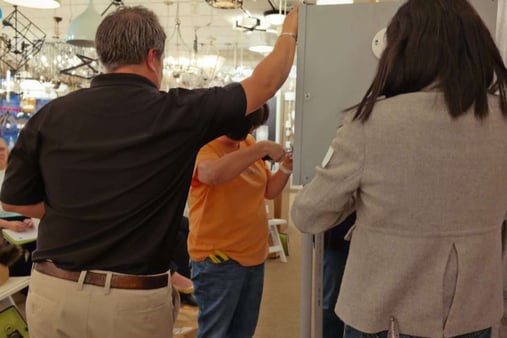 MOSS Sales Consultant Damon Cruz looks on as the attendees install their own dimmer switches.
Throughout the evening, guests earned raffle tickets by asking questions and answering questions correctly. We concluded the event by using these tickets for a drawing to award a whole bunch of great prizes like gift bags containing everything a homeowner needs to install a dimmer at home, Dominion Electric gift certificates and, the grand prize, a FREE Handyman For A Day. It was a wonderful evening and a great opportunity to meet some fine Arlingtonians.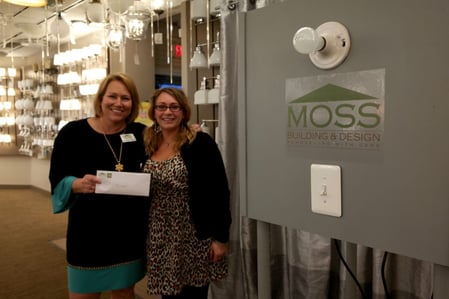 The winner of the FREE Handyman For A Day!
And now a word from my sponsor: If you're in the market for some home remodeling, call the experts at Moss Building & Design. We will consult with you and help you explore the many possibilities for updating your home. Call 703-961-7707 to schedule an appointment for a free estimate.
In addition to blogging about all things home and family-related, Jeannine Miller is a member of Moss Building & Design's Community Relations team.