By- Pam Kopiak (PKopiak@MossBuildingandDesign.com)
Spring has sprung. I wouldn't have known that last Friday with a snow storm on the first day of spring. But the snow quickly melted and the time has arrived for spring cleanings, spring maintenance, and, if you are part of the McKinley Elementary community in Arlington, the time for school renovations as well.
If you live in Arlington, VA, you might be aware of the ongoing efforts to reorganize the school districts and boundaries to accommodate our ever-growing student population. McKinley Elementary is one of the schools in Arlington that is getting a makeover this year to help alleviate some of the overcrowding.
Trailers are in place for student use while sections of the building will be worked on. Right now, the removal of trees has begun – don't worry, there is a plan in place to save as many trees as possible and replant more once all is complete (tree huggers of Arlington UNITE!)- and the kids of McKinley are in a construction mindset. It's even the theme of the Auction in April!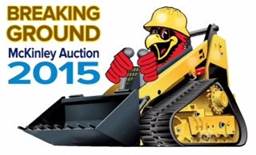 This made for a fitting time to present our HandyGirl 101 "Tile It " workshop at McKinley. With their hardhats on, Brownie Troop #6608 jumped right in.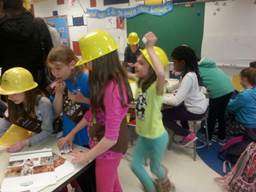 Step by step, we showed the girls the correct tools to use, trowels and floats, along with the correct materials, Speed-Set and grout. We even showed them how to cut tile with our tile cutter (Spoiler alert – it's safe and no one got hurt). They ended with a finished trivet ready to take home to proudly show their parents.
Along with a new set of skills and a construction hat, each girl brought home a folder with a $50 Moss Home Services coupon and ONE lucky parent won a $250 gift certificate to Moss Home Services which is perfect for any number of spring home improvements.
If this Brownie Troop is any indication, watch out McKinley community, these girls are in the construction mood and ready to take on some projects!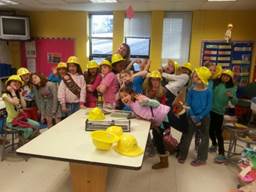 Pam Kopiak is part of Moss Building & Design's Community Relations Department. If interested in planning an Arlington HandyMOM 101 or HandyGirl 101 workshop programs, contact her at PKopiak@MossBuildingandDesign.com.