By- Madeline Pillow (MPillow@MossBuildingandDesign.com)
Northern VA Contractor Talks Going Green
There's many ways that you can make your carbon footprint a little smaller and a lot greener. And while it may be hard for Kermit to be green, in all actuality, it's all about taking time to view the number of options out there versus just accepting the first or most available choice.
Being green includes recycling appropriately and being more aware of personal waste. In a remodel, it can be thinking about ways to reuse materials or how they can be reused by someone else in the community.
Green Remodeling
One way to be greener is by being aware of the materials being used in your remodel. Some greener options may also require more green in terms of your budget so see if these options would fit in with your home and budget in the design phase. Not only will budget be something you consider in greener materials but also its effect on the level of comfort in your home, health and its maintenance.
But being environmentally-conscious doesn't just fall on the consumer; it also falls to a contractor. At MOSS, we do the correct things from reusing materials if possible, recycling debris, properly disposing of toxins, and protecting the living space from the remodeled space during construction among others things. For example, this is why we are lead certified to make sure that we know how to handle materials that may contain lead in homes built prior to 1978. It is also why we have unique geo-specific teams headed by a project manager to make sure all the small details are taken care of.
Home Remodel Recycling
Another way our clients can be environmentally-friendly is through the Habitat for Humanity ReStore located in Alexandria or Chantilly. They offer options for either pick-up or drop-off and you can view whether or not your materials would be accepted on their website. This is a great option, if possible, because it brings down waste in the community by giving materials a second life. In the picture seen below, you can see MOSS loading up some job supplies onto the ReStore truck.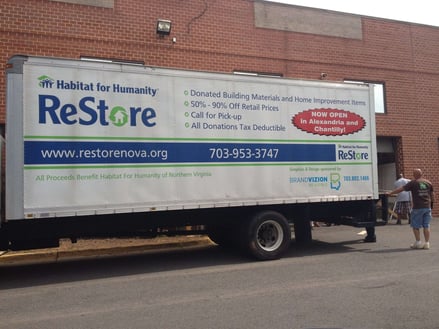 Homeowners also find that they can reuse their materials in their own home. A popular way to recycle good kitchen cabinets is by installing them in a basement or garage space. Not only does this save on buying new cabinets, but it also brings more utility to another space in your home. In the picture below, these homeowners in Burke, VA, repurposed a treasured family heirloom as a bathroom vanity.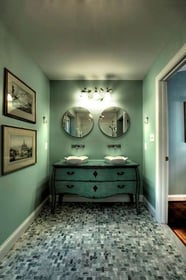 Starting a Home Remodel
No matter where you are in your home remodeling process, whether understanding your options or getting plans drawn up, MOSS will be your advocate giving you detailed information so that you can make an informed decision for your home, family, and budget. MOSS is also here to help you with any design needs and bringing your vision to reality by considering options in greener materials or by repurposing materials in your remodel. Contact us today to get started at 703.961.7707.