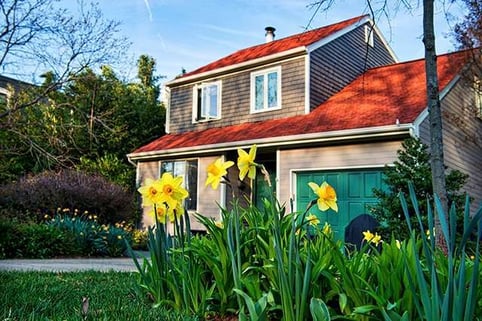 Every customer who comes to remodel their home with MOSS brings with them a different set of challenges. Every space is unique and sometimes customers have a different vision of how they want that space to function. In this blog series, we will highlight specific problems customers want to address in their home and how MOSS helped find those solutions.
The project: a kitchen bump-out and deck
Style: Contemporary
Duration: ~4 months
Quoteable: "Because our family life and entertaining style centers around the kitchen, we wanted to create a cooking and gathering space that would be the center of our home."
Raise the Roof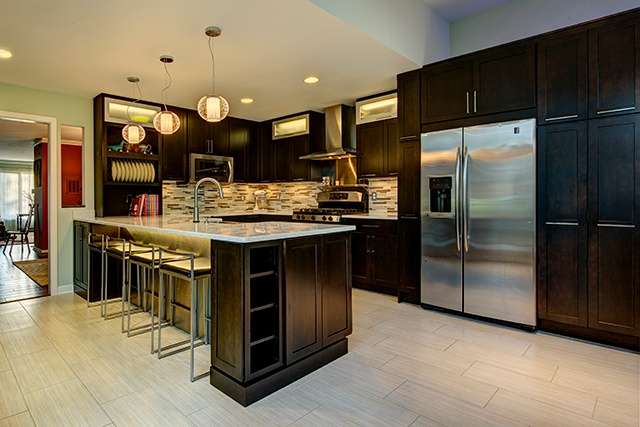 "Our favorite room in the house is our new kitchen. We love all the storage and counter top space, and all the room! The windows provide an abundance of natural light throughout the day, which is wonderful."
Since their small kitchen was the hub of this Arlington, VA family's day-to-day life, maximizing the space was important to them. With the option of whether to raise the ceiling height of the kitchen addition, or to add a second story above the kitchen and expand the master bedroom, the choice to raise the roof was a no-brainer. "Because our family life and entertaining style centers around the kitchen, we wanted to create a cooking and gathering space that would be the center of our home."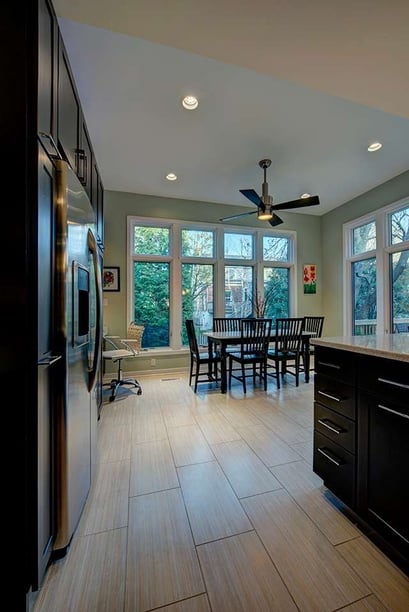 Raising the ceiling height allowed for large windows that flood the room with light, and made the room feel larger.
Kitchen Storage Galore
While the taller ceilings in the addition helped make the space feel larger, increasing kitchen storage was equally important to these MOSS customers. Since they didn't have much storage space in the rest of their home, they maximized their kitchen storage with beautiful floor to ceiling cabinets.
Get this look: cabinets are Diamond Montgomery Maple Chocolate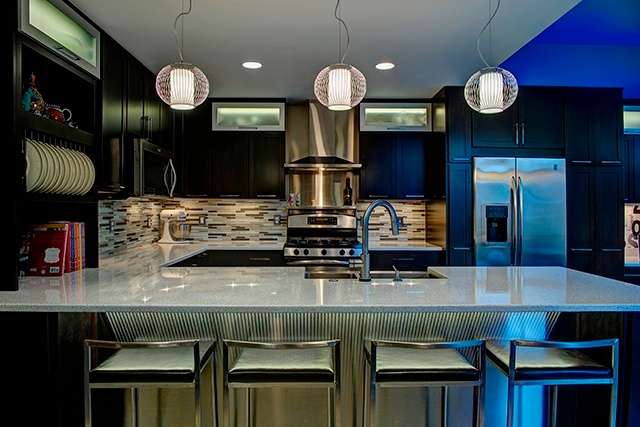 Let There be Light
Don't be afraid to get creative with your home's lighting style. These MOSS customers used a variety of different lighting techniques in their space. "These extra lighting "touches" really helped create a "wow" factor that we are thrilled with!"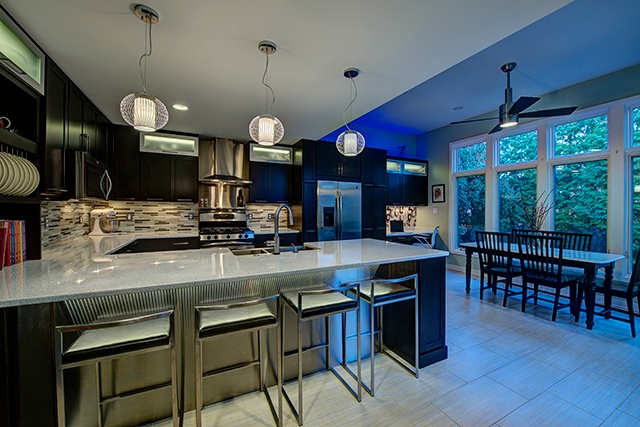 LED Strip Lights behind frosted glass doors in the upper cabinets
White strip lights under the countertop / peninsula
Colored LED strip lights above the addition cabinets
Casablanca fan in kitchen
Pendant lighting above peninsula
Budget Friendly
Understandably with every remodel, staying within budget is a main concern for customers. MOSS Online makes it easy to view your selections and allowances as you progress through your remodel. (See the stand-out selections section for all the beautiful fixtures and appliances that made this kitchen shine.)
Another way these MOSS customers help stay within their budget was by doing the interior wall painting themselves. "We painted all the interior walls—though hired a painter to do all the trim work. We enjoy painting, and we did most of it on our own time… it was worth the effort on our part, as we were looking for ways to keep the budget in check."
Stand-out Selections
Kitchen Cabinetry: Diamond Montgomery Maple Chocolate
Kitchen Countertops: Cambria Whitney
Kitchen Sink: 33" Farmhouse 60/40 Double Bowl 16 Guage Stainless Steel Kitchen Sink
Kitchen Faucet: Delta 9159T-DST
Kitchen Tile: Bamboo Eco Porcelain Tile Flooring
Kitchen Fan: Brushed Nickel Casablanca fan 59068
Pendant Lights above peninsula : Eurofase lighting 20361
Like what you see here? Contact MOSS today about your own kitchen bump-out or any remodeling project for your home. We are ready to find the solutions for you and your family.
See our last Remodeling Solutions blog, Kitchen and Mudroom Renovation in Chantilly, VA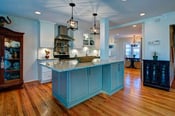 Give us a Call: 703.961.7707
Send us an email: Sales@MossBuildingandDesign.com
Get Inspired: Portfolio