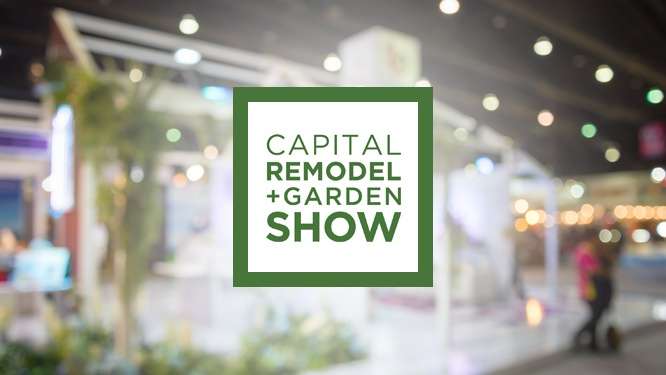 Join Moss Building & Design at the Dulles Expo Center for the Capital Remodel + Garden Show from Feb. 23 to 25, 2018. Here's how to make the most of your experience, whether you're a first-time attendee or a home show pro:

Get up, and get excited.

From

Pinterest

and

Houzz

to

Fixer Upper

and

Property Brothers

, we know that you have tons of house inspiration. However, it doesn't compare to actually meeting the people who can make that dream home a reality (like Moss Building & Design in Northern Virginia).





This Home Show is the best excuse to leave the house, so get ready to see HGTV's

Going Yard

's

Chris and Peyton Lambton

on Feb. 23 and 24

, as they talk landscaping and renovations.





Chris also joined the team of

HGTV Dream Home

and

HGTV Smart Home

and DIY Network's

Yard Crashers

and

Blog Cabin

.





In addition to the line-up, Joanie Sprague of TLC's

Trading Spaces

"shares expert advice and personal tips and tricks for remodeling, home improvement, design ideas, and much more" on Feb. 25.





Joanie also appeared on DIY Network's

Run My Renovation

and

Man Caves

.

Bring a mini version of your vision board

. Attending a home show can be intimidating, especially for first-timers. However, with hundreds of vendors and options for home improvement, lawn maintenance, and interior design, this experience opens your creative mind to all of your home's countless possibilities.





You'll envision your home in a brand-new light after talking to experts in lighting, windows, landscaping, and more. This is a free-range opportunity for those with an interest in updating, enhancing, or creating a new look or feature for their home or garden. You'll be amazed by what's possible, especially with Moss Building & Design.





Pro Tip:

Visit the main stage on

Feb. 24 at 2 p.m.

to see what MOSS 360, our virtual reality design capability, can do for your home improvement project.




Prepare to build long-lasting relationships.

With so many people in attendance, you'll make a few new friends at this event. Whether it's a local gardening expert, interior designer, or another homeowner, these people provide great contacts for future projects. Check out MOSS' Booth 721 to get personalized advice from our interior designers and sales consultants.




Ask questions about your home.

Vendors come from all parts of the industry with specialized expertise and skills for your home. If you're unsure of your specifics, ask around. You'll be able to learn more about your home's soil type, window treatments, landscaping opportunities, and remodeling potential. Stop by to have all your questions answered by the MOSS team. They have the knowledge and skill to tackle your home's biggest projects.




Inquire about new products

, trends, and services for your home.

Be a landscape inspiration for the entire neighborhood, thanks to floral ideas from four featured gardens. Walk through more than "3,500 square feet of haute horticulture" that's "complete with water features, modern gardening accessories and lush greenery, and flowers."





The featured gardens are designed by

Vista Pro Landscape and Design

,

Meadows Farms

,

Blue Sky Landscaping

,

Premium Lawn and Landscape

, and

Custom Stonescaping, LLC

.





According to the Show's website

, you'll "find exactly what you need to recreate [the featured gardens] at home when you visit the Flower Market, provided by

Merrifield Garden Center

. Filled with fresh flowers, plants, and gorgeous home decor, get unique items to refresh your home - inside and out!"




Consult with the best companies

for your next project. Instead of researching online reviews and talking to your friends and family about which remodeling company is best, meet our MOSS team! Get in-person advice and try out MOSS 360 while you're at the show.
With more than 265 exhibitors across the spectrum of interior design, you'll find hundreds of ideas for renovations in your home and garden.
This Chantilly Home Show costs $12 for adults, $9 for children 13 and older, $8 each for groups, and $3 for children 6 to 12 years old. Free admission for children ages 5 and younger. Use promo code MOSS to save money!
Click here to get tickets to the Virginia Capital Remodel + Garden Show, or click below to get more information from their official website: