What I like about contemporary design style, as cited by HGTV, is its fluidity and ever-changing personality. Unlike traditional design style, which can become over-the-top with ornamentation, and modern design style, which seems overly sharp and stark, contemporary design blends the two in perfect harmony. It's never exactly the same with any project.
Every year, contemporary design offers something new or unique from that season's trend. However, some common elements recur in almost all seasons of contemporary design. Trends, like neutral colors, smooth lines, and natural elements, are hallmarks of the style.
Read more about how to achieve this design style in our style guide by clicking here.
The Best Contemporary Kitchen Remodels
For kitchen remodels, you'll typically see contemporary design reflected in white cabinets, stainless steel appliances, granite countertops, and a minimalist, clutter-free environment. This McLean, Virginia, kitchen shown below (remodeled by Moss Building and Design) perfectly showcases contemporary style.
Its white countertops and stainless steel appliances are neutral and use clean lines but also have character.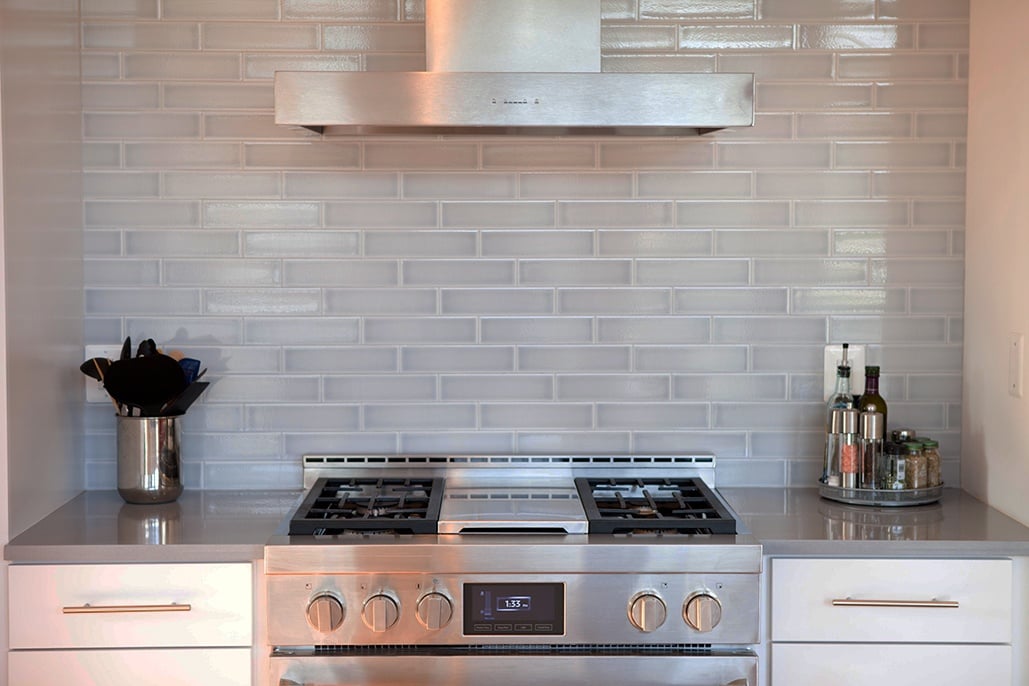 When you're considering a contemporary kitchen remodel, add additional touches, like a bold backsplash, a vintage butcher block, or metallic accents. Don't be afraid to make the kitchen your own! These personal touches are exactly what contemporary design style is all about.

This photo of a kitchen backsplash in McLean, Virginia, shows a great use of beautiful, rectangular tiles. Using creative and colorful tiles adds texture to your space and creates a lovely focal point for the room.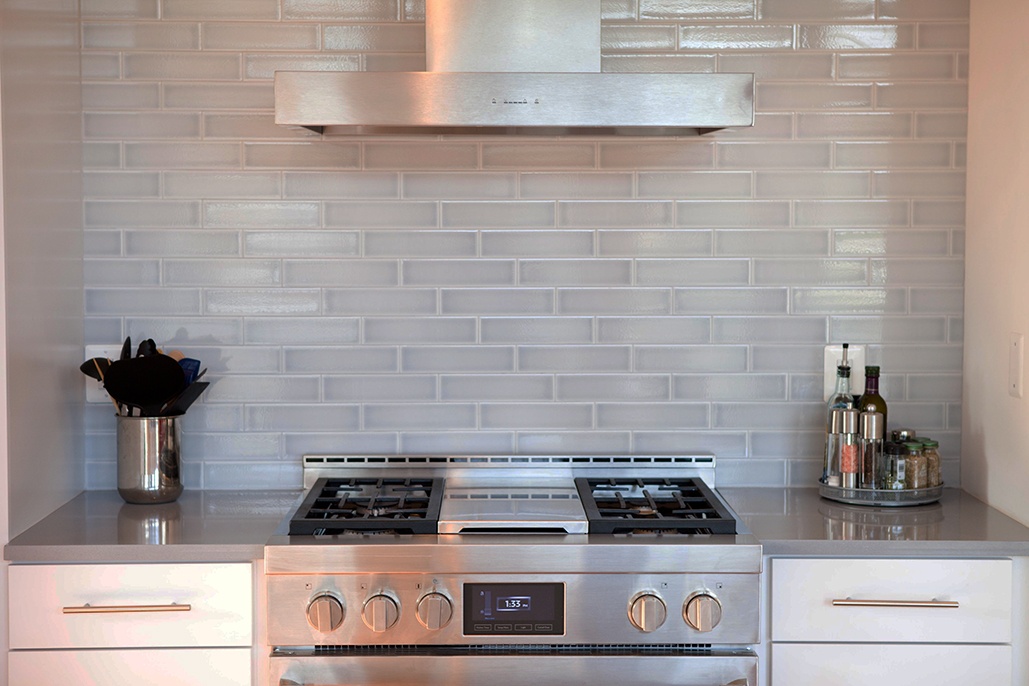 Contemporary kitchens don't have to predominantly use the color white. For example, this MOSS-designed Arlington, Virginia, kitchen uses darker wood cabinetry to add warmth while adhering to contemporary style. You also see very creative and modern light fixtures and bar stools, as well as a colorful tiled geometric backsplash that runs the length of the kitchen remodel.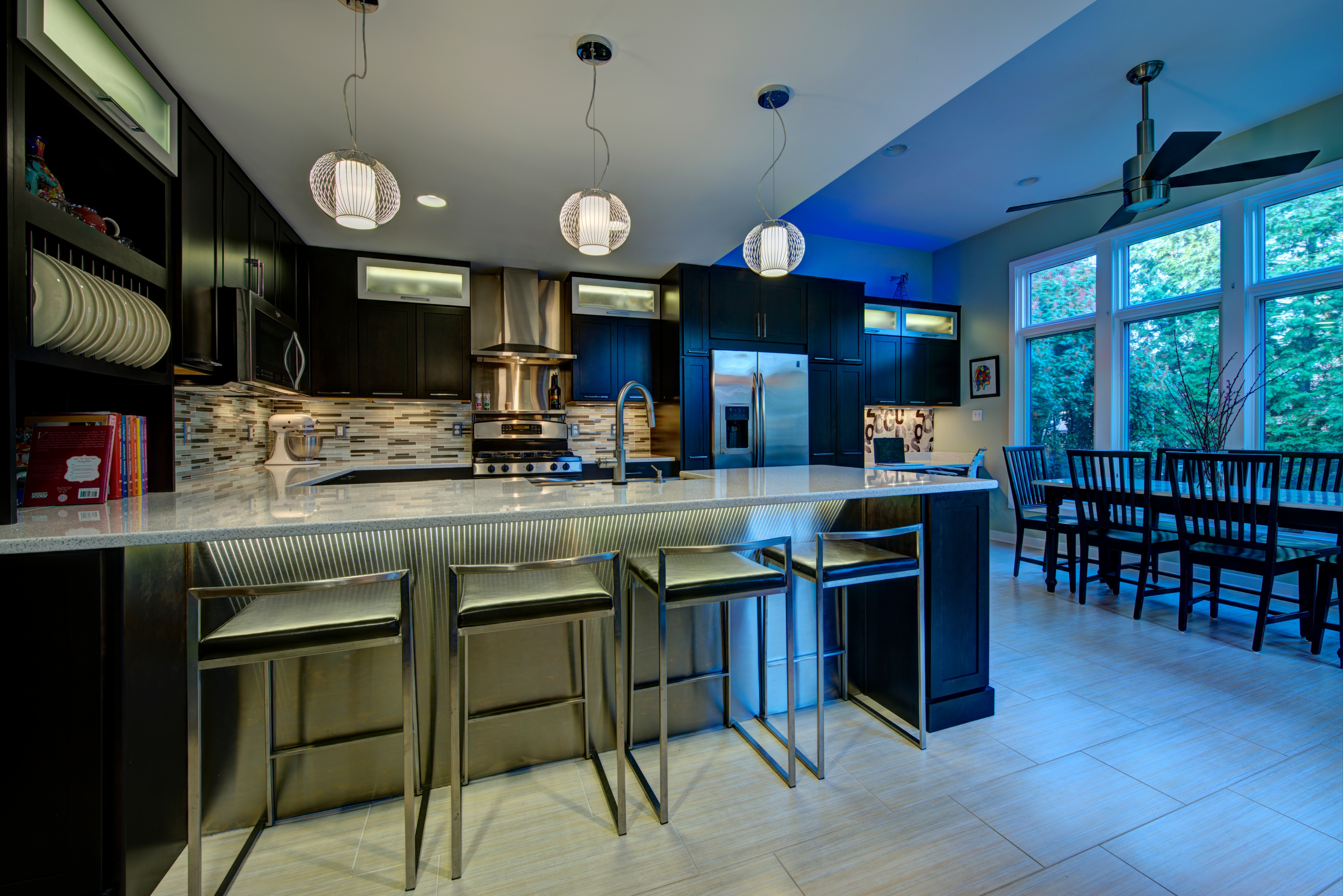 Another example of a darker contemporary kitchen in Arlington focuses on hardwoods from the floor to the cabinets.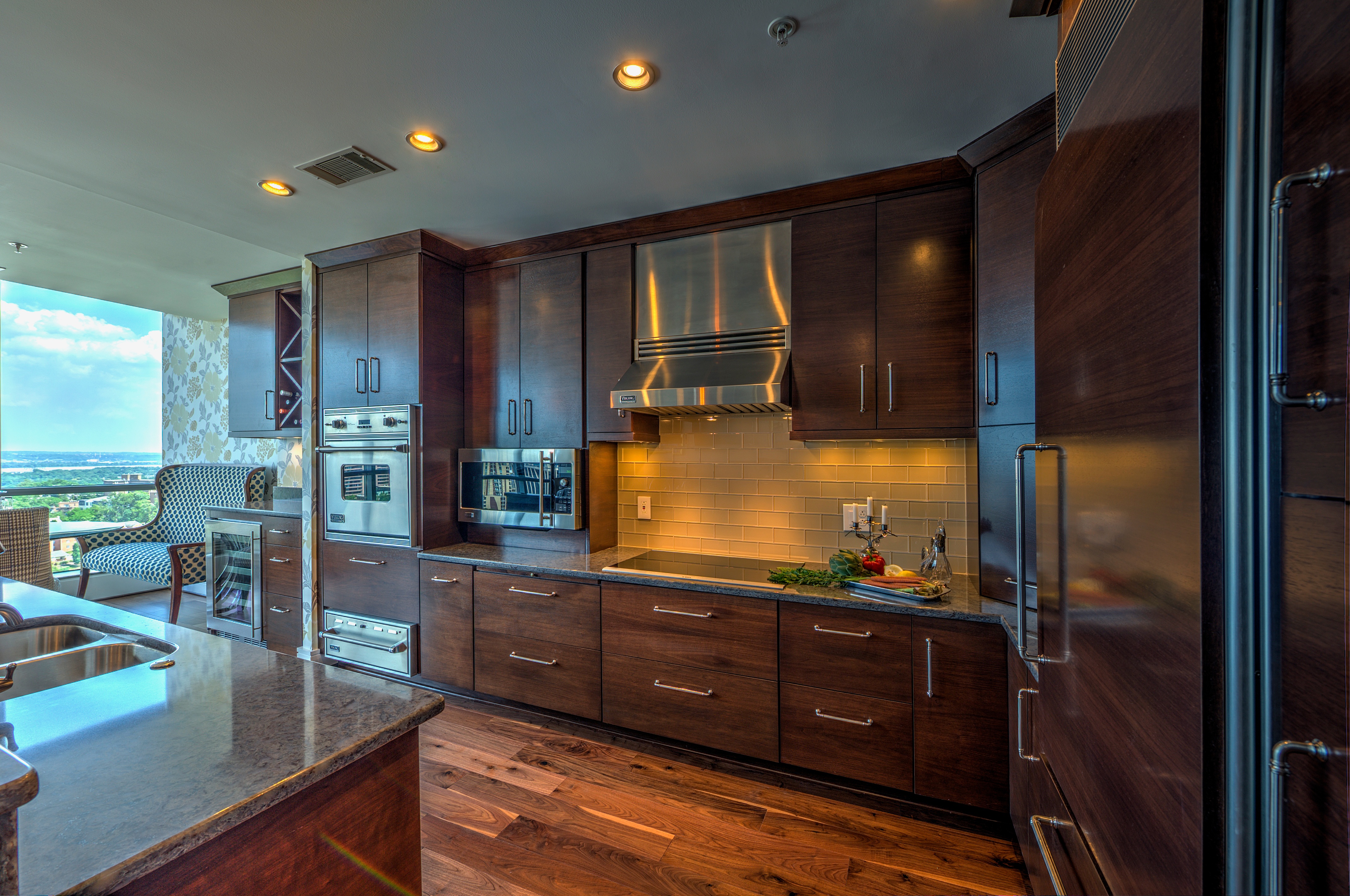 The Best Contemporary Bathroom Remodels
Bathrooms remodeled in contemporary design style are very elegant and spa-like. They create a calming atmosphere with updated fixtures and flooring and often feature geometric shapes in the tile or vanity and mirror.
Glass and natural elements, like stone, real plants, or greenery, are also common. Contemporary bathrooms are nearly always remodeled with new material and technologies in mind, according to HGTV.
For example, many contemporary bathrooms of today use laminate or luxury vinyl plank flooring that resembles real wood but holds up better under moisture conditions.
This example of a MOSS bathroom remodel in Arlington, Virginia, showcases a beautiful, oval mirror behind the sink. The mirror becomes one of the focal points of the room in addition to the geometric tiled wall. The dark wood cabinets of the bathroom complement the light plank flooring.
For a look that's more common, this Oakton, Virginia, bathroom remodel focuses on the tile artistry in the shower. It also matches contemporary style with sleek lines and a clean, updated look.



Learn More About Northern Virginia's Top Remodeler
Kitchens and bathrooms are where you really have fun with home design during a remodeling project. These rooms need the most attention because of their daily use and how quickly appliances and fixtures become outdated. What better way to bring in your eclectic flair than through a contemporary home design in your bathroom or kitchen?
If you're thinking of a contemporary home design for your next remodeling project, call Moss Building & Design at 703.961.7707 or email us at Hello@mossbuildinganddesign.com