We all know that kids like to get dirty. There's nothing more guaranteed than grass stains on a toddler's brand new, clean pants. I've come to embrace it. Children learn through play and there's no better place to explore and learn than your own backyard. With this in mind, there are a number of educational outdoor structures you can build for your children that go beyond the typical playhouse or playground.
Simple Mud Kitchens for Your Backyard: A Kitchen Remodel for Kids
Mud kitchens are by far my favorite outdoor structure because they can be designed in so many ways to meet your needs and accommodate the space you have in your backyard. A mud kitchen, also known as a texture kitchen, is a simple outdoor structure made from wood, pallets, and a sink. This helps kids explore the many textures in nature as they play with dirt, water, leaves, bark, and anything else they find outside. Mud kitchens can be just a few feet wide or more elaborate structures that resemble real kitchens.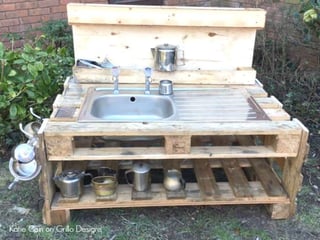 (from aroundthethicket.com)
Incorporate Real Kitchen Elements
Add a few indoor kitchen items, like pots, pans, muffin tins, and spoons to your mud kitchen and your kids will be making you mud pies in no time. You could even build an herb wall next to the mud kitchen to help teach them about gardening and cooking. Plus, you'll have fresh herbs for when you're cooking real dinner later.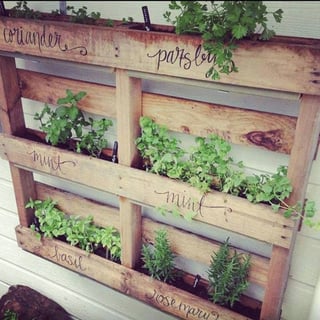 (from onelittleproject.com)
Bigger Mud Kitchens for More Advanced Play
If you have the space, larger mud kitchens can incorporate even more elements of a traditional indoor kitchen. They also provide more space for multiple children to play at once. While one child preps the mud in the sink, another can chop grass on the counter, while a third bakes the muddy treats in the "oven." Add some hooks for hanging pots and pans, old coffee cans to collect spoons, spatulas, or other utensils, and finish it off with a chalk board for announcing the day's meal.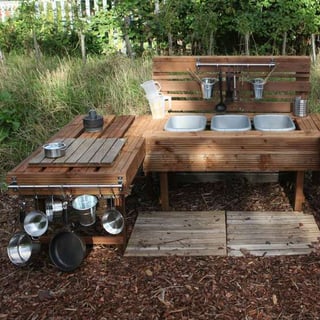 (from Hoselink.com)
Northern Virginia's Best Kitchen Remodeler
If this has you thinking of how to best design your own indoor kitchen, the professionals at MOSS are here to help. We look forward to continuing to be your one stop shop for all your home improvement needs. If you have general questions, call MOSS at 703.961.7707 or email Sales@MossBuildingandDesign.com.