The first thought many homeowners have when preparing for the holidays is: "Where am I going to host everyone??" Whether you are hosting out of town guests for days or entertaining for just a few hours, you are already anticipating all of the cleaning and decorating that will go into the preparations. Here are a few tips for creating that perfect accommodating space in your basement!
Open Concept Design for your Basement Remodel
Let's start with the basics. Open concept design for houses is very popular right now and for good reason! It allows rooms to flow within each other and creates the perception of a larger space. This is the perfect design for entertaining guests, for they have plenty of room to spread out without being closed off from each other.

Cozy Living
It's imperative to have enough seating to accommodate all of your guests. Or, if you're hosting overnight, make sure you have enough beds! If you don't have a guest bedroom, there are so many trendy options for sleeper sofas now, it's easy; like this one from Ikea! This basement remodel in Oakton, VA has plenty of seating with the secitional and even has a guest bedroom and bathroom for friends and family that stay overnight.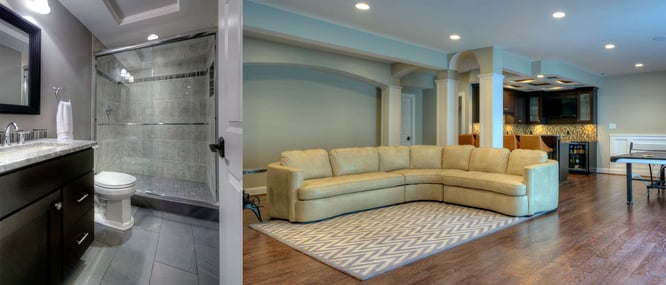 Add a Wet Bar/Kitchenette to your Basement
We all know a favorite way of spreading holiday cheer – in a glass! Whether the kids are snuggling up with a hot chocolate or you're creating a fancy adult drink, a kitchenette or wet bar is necessary for the basement. It also offers overnight guests more privacy during their stay, not needing to leave the basement for kitchen needs. The basement remodel in Oakton (pictured above and below) features a gorgeous wet bar.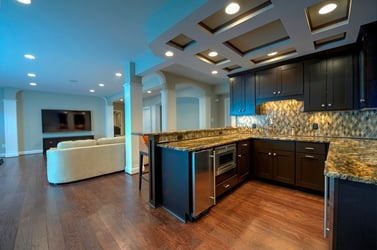 Entertaining in your New Basement
Finally, the fun part – entertainment! The best part about hosting guests is the opportunity for fun. Whether it's a new TV sound system or game room, this is a great opportunity to liven it up! Pool tables, foosball tables, or a fireplace to gather around makes for the perfect holiday season surrounded by family and friends.
We look forward to being your one stop shop for all your home improvement needs. If you are looking to finish or update your basement, the professionals at MOSS are here to help. If you have general questions, call MOSS at 703.961.7707 or email Sales@MossBuildingandDesign.com.