By: PKopiak@MossBuildingandDesign.com
Home Exterior Deals for Northern Virginia Homeowners
Just over five years ago, we were feeling the aftermath of the 2012 Derecho that hit the Washington D.C. area. Summer time around here can be INTENSE, to say the least. And while we haven't experienced anything that dramatic in the years since, this is a good time to "batten down the hatches" as they say because storm season is upon us. We at MOSS understand this and currently have a couple offers to help our customers be prepared.
Free Gutter Cleaning and Gutter Guard Installation
Most people know when you have a leak inside your home, it's time to investigate the condition of your roof. However, checking the condition of your roof is something that should be done before you find a leak, to prevent damage! Additionally, homeowners should be aware of the cleanliness of their gutters. Keeping your gutters free of debris is just as important as making sure the roof is secure. If your gutters aren't clear, then you could end up with a flooded basement or even settlement issues. MOSS' current offer of a free gutter cleaning and gutter guard installation with the purchase of a full roof replacement will give you peace of mind and a great deal all in one (offer expires Aug, 31, 2017).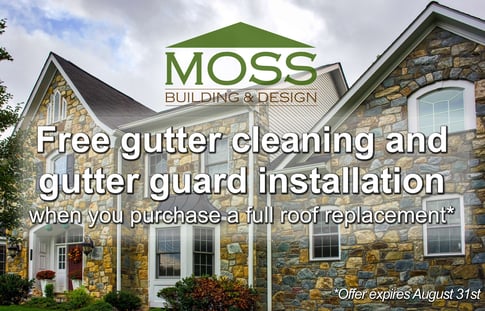 Discounted Whole Home Exterior Siding With James Hardie
If you have secured the roof and your gutters are clear and sturdy, time to check your siding. How is that looking? If there are missing pieces or if it seems like there is deterioration, it might be time to consider a replacement. There is no better product in the siding market than James Hardie. In honor of MOSS' 16 year anniversary, we have an offer of $1,000 off when you purchase James Hardie ColorPlus siding for your whole home (offer expires Sept. 30, 2017).
Be on the lookout for more great offers from MOSS in the upcoming weeks!
Best Northern VA Home Improvement Specialists
We look forward to continuing to be your one stop shop for all your home improvement needs. If you are thinking of a home remodel, the professionals at MOSS are here to help. If you have general questions, call MOSS at 703.961.7707 or email Sales@MossBuildingandDesign.com.