Moss Building and Design in Business for 16 Years
On Sunday, July 23rd, 2017 Moss Building and Design celebrated 16 years of being in business. Since 2001 our vision has been to improve the quality of our customers' lives in their homes. Throughout our 16 years of being one of the Top Northern Virginia contractors, we have been able to service our customers with the high quality craftsmanship and customer-focused service that has been ingrained in us from the beginning.
We have been fortunate to not only improve our customers' homes, but get involved in our community and the local causes that are dear to our hearts. We have not only grown our business, but our relationships with the many organizations we have been lucky to partner with through the years as well.
Our CEO Jason Hampel says, "Over the past 16 years we have improved the quality of people's lives in their home thousands of times. We have always worked hard to improve how we do business and we embrace change to continuously make MOSS better over time. It has been an incredible journey."
Here are a few of our most recent accomplishments that we are thrilled to share and experience with you...
MOSS 360- We released our virtual and augmented reality capabilities that are changing the home remodeling game everywhere. Post-construction regrets are a thing of the past. You can now walk through your brand new kitchen, addition, or bathroom, and make those spatial changes ahead of time. See MOSS 360 on WUSA9, Let's Talk Live, in the Washington Post, and more.

Washington Post, Top Work Places- For the second year in a row we were voted one of the top work places in the Washington DC area.

HandyMOM 101- We continue to host educational workshops throughout our community. We recently rolled out our latest workshop, Design It, and the response has been overwhelming. Learn how to begin your design process, the latest design trends in your neighborhood, and experience our latest Design tools like MOSS 360.

ISO 9001 & OHSAS 18001 certified- MOSS is the only residential remodeler to be ISO 9001 and OHSAS 18001 certified. ISO is a quality management system that sets the international standard for quality and MOSS sets the standard for improving the quality of people's lives in their home.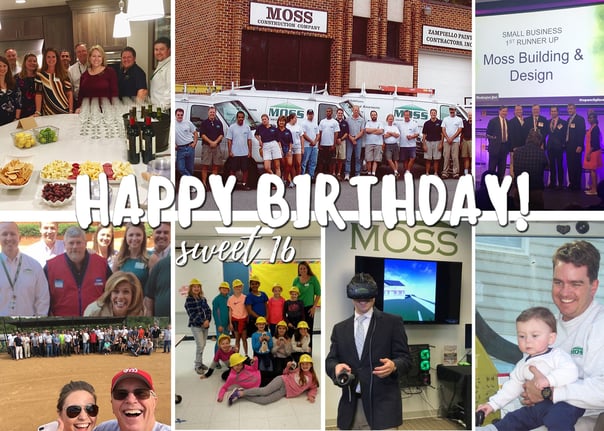 Improving The Lives of Homeowners in Northern Virginia
We are so thankful to be in business these past 16 years. We wouldn't be where we are today without our loyal customers. Thank you for continuing to trust us and allowing us to improve the quality of your life in your home. We look forward to continuing to serve our Northern Virginia community!
Home Improvements in Northern VA
We are so excited to announce that we just won the Best General Repairs/Handyman award, voted on by the readers of Washington Family Magazine! Thank you all for your continued support, and we look forward to being your one stop shop for all your home improvement needs. If you are thinking of a home remodel, the professionals at MOSS are here to help. If you have general questions, call MOSS at 703.961.7707 or email Sales@MossBuildingandDesign.com.