Moss Building and Design in the News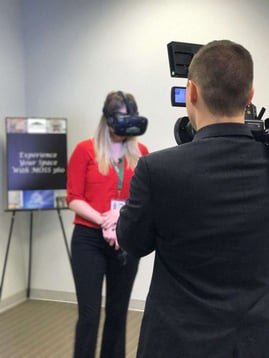 Through public outreach and local media outlets, MOSS has been able to educate our customers and our community. In over 15 years in business, MOSS has covered a wide range of topics–from providing individuals with ways to save during their professional home renovation to offering educational workshops that empower individuals to handle some of their own small home improvement projects themselves.
Moss Building & Design on WUSA 9
Evan Koslof from WUSA9 interviews Marketing Manager, Carly McAlister and MOSS 360 Architect, Tyler Tappan for a segment on virtual reality in the remodeling industry.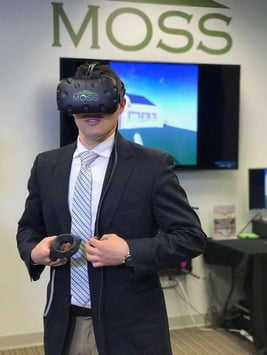 In preparation for the Capital Remodel and Garden Show at the Dulles Expo Center, MOSS 360 was featured on Great Day Washington with Meaghan Mooney. Watch the full segment here!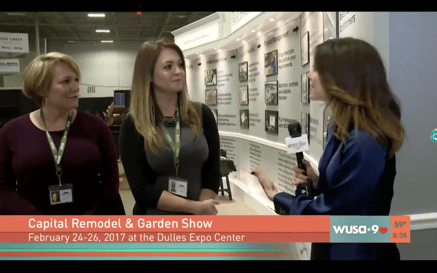 Design Firms Turn to Virtual Reality to Assist Home Owners, Washington Post
Moss Building & Design was featured in the Washington Post article on Virtual Reality in the home remodeling industry. "No rendering can do what virtual reality can," says Moss Chief Operating Officer Paul DesRoches. "It puts the homeowner in the design, allowing them to understand all the spatial relationships between walls, ceilings, floors, openings, furniture, lighting to ensure that the space meets their functional and aesthetic needs, all before construction begins." Read the full article here!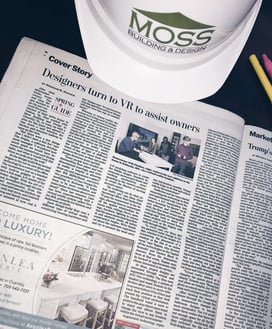 Moss Building & Design on Let's Talk Live, News Channel 8
The Home and Remodeling Show returns for another year to the Dulles Expo Center. In preparation for the show, Tyler Tappan, Moss 360 architect and Jeannine Miller Community relations from Moss Building and Design went on Let's Talk Live to talk about the details of the show and demonstrate their latest virtual and augmented reality design capability, MOSS 360. Watch the full segment here!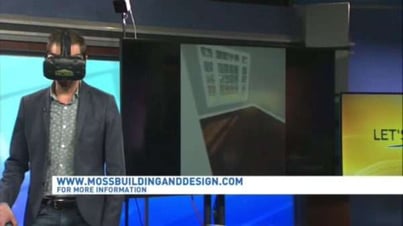 Moss Building & Design on the TODAY Show
Moss Building & Design was recently featured on the TODAY Show after remodeling Hoda Kotb's moms kitchen. Hoda's mom, Sami, was away for a week and during that time our MOSS construction team came in and remodeled her kitchen as a surprise Mother's Day gift from Hoda. Watch the full segment here!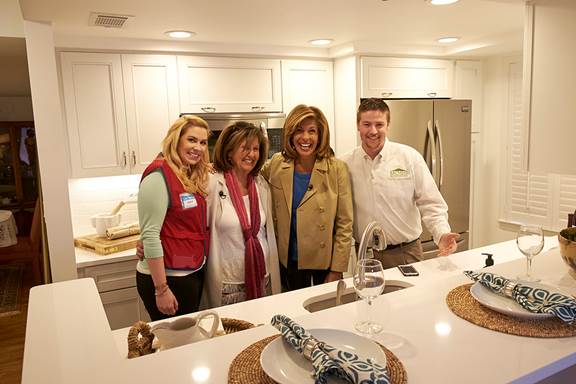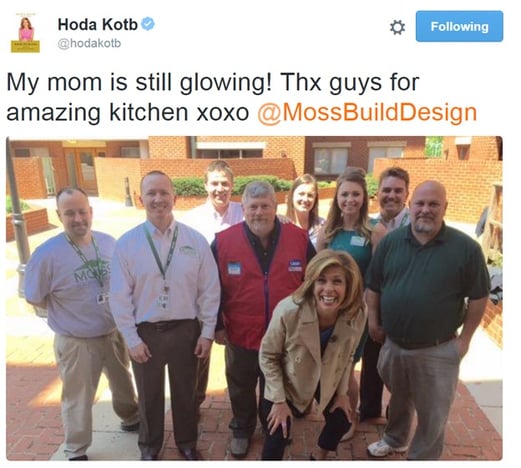 Luxury Bathroom Featured in Washington Post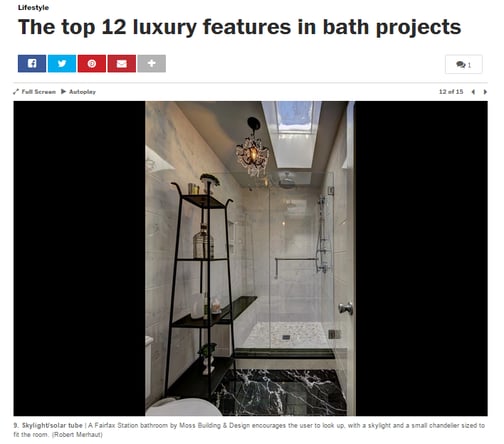 Check out this MOSS bathroom remodel in Fairfax Station, VA – featured in the Washington Post.The chandelier and skylight showcase a luxurious oasis for the homeowner to enjoy.
Reclaim and Repurpose: Design Topic Featured in Posh Seven Magazine
Reusing materials such as reclaimed wood is the newest trend in home renovations. Jeannine Miller shares the benefits of recycling materials in this Posh Seven article.
In-Law Suites: Top Subject in Northern Virginia Magazine Article
MOSS was featured in an in-law suite article by Northern Virginia Magazine. Co-owner, Jason Hampel "is a firm believer in the importance of aging in place, and the right to do so without sacrificing style or convenience." Continue reading here.
Kitchen & Bath 2015 Trends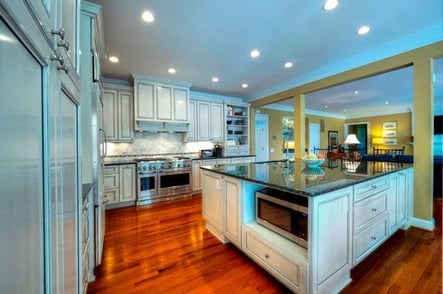 Jeannine Miller of Moss Building & Design shares what trends and classic remodeling techniques will be perfect for your renovations in 2015. Learn more in the article featured in Posh Seven Magazine!
Springfield In-Law Suite Addition: Featured in The Washington Post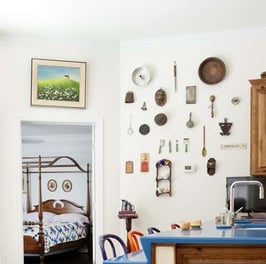 The Washington Post features an addition and in-law suite created by MOSS. Co-owner Jason Hampel gives tips for homeowners considering an in-law suite and the benefits of this popular trend. Read the full article.
Splurge and Save On Your Home Design in this Article With Posh Seven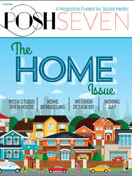 MOSS gives advice in it's latest article with Posh 7 on the elements of a kitchen and bathroom that are worth splurging and saving on.
No More Tubs: Northern Virginia Magazine Article
Homeowners are taking out their master bath tubs to make room for bigger showers and storage. Read the article here with Co-owner Justin Schopp.
Jeannine Miller and HandyMOM 101 featured on Let's Talk Live!
Moss Building & Design readies for the January 2014 Home Show and stops by Let's Talk Live to give a small HandyMOM 101 workshop tutorial.
Co-owner Justin Schopp Interviewed by WUSA Ch9 at the January 2012 Dulles Home & Remodeling Show
Justin shares information about why people are choosing to stay in their homes and remodel instead of purchasing a new home.
Working Within Your Resources
Co-owner Jason Hampel believes that most ramblers can be reasonably transformed into beautiful two-story homes. Read more at the http://clarendon.patch.com/articles/remodeling-ramblers-makes-cents
MOSS helped a young Arlington family stay in the neighborhood, schools, and location they loved through the renovation of their home. Read more at the Washington Examiner: http://washingtonexaminer.com/local/real-estate-news/2011/06/arlington-colonial-grows-young-family#ixzz1RnxfOHfE
Using Your Space Wisely
Co-owner Pete Hampel explains about the many "requests to have the second story filled in to create an extra bedroom or second floor family room. Twenty-foot ceilings look great when you buy it. But you can take the same footprint and use it more efficiently." Read more at the Washington Examiner: http://washingtonexaminer.com/local/real-estate-news/2011/04/bid-fond-adieu-living-room#ixzz1Rnzo4uBF
Finding Quality and Value
Discussion about the benefits of a contractor guiding your renovation product choices. With limited resources, consumers should choose products that offer quality at a reasonable price. View Jason Hampel at the Capital Home and Garden Show on Fox Morning News with host Holly Morris: www.myfoxdc.com/dpp/mornings/holly_live/holly-morris-capital-home-and-garden-show-022311
Reusing Your Resources
Pete Hampel, our resident "Grumpy Green Guy" and NARI certified Green Professional, is tired of hearing that green is a fad or that going green has to cost a lot to be worth anything. View Pete's discussion on green modeling at http://novagreenliving.blogspot.com/2010/03/moss-building-and-design-and-owner.html
Do It Yourself
Empowering individuals with the knowledge, skills and confidence to do small home improvement projects on their own is way for Moss to develop a relationship based on trust. Read more about the launch of the Handymom 101℠ Series.
All media requests should be directed to Carly McAlister,
4125 Lafayette Center Drive, Suite 100. Chantilly, VA.
P |703.466.5446 E | CMcAlister@MossBuildingandDesign.com