By: Leora Kahn (LKahn@MossBuildingandDesign.com)
One of the most common questions we hear at MOSS is, "How do I begin my design process," or "What is the first step?" Well, you do not have to begin your design process alone! It's 2017 which means that almost anything you need to do, you can do collaboratively via the internet. This applies to the remodeling process too.
With all of the different social media platforms out there, it can become ovewhelming. However, it doesn't have to be! Long gone are the days of physically cutting and pasting your favorite remodeling and home decor ideas in a scrapbook to show your friends and family. I'm here to tell you that Houzz and Pinterest are the tools of the future, and they're really user friendly!
Houzz
This social media platform was created specifically to serve the remodeling world. It is beneficial for both homeowners and contractors, and the possibilities are truly endless. Homeowners can benefit through this platform from a multitide of ways. Once they make a profile, they then have the opportunity to ask fellow homeowners and professionals questions on their own renovations, as well as participate in polls, read the latest design stories, and interact with other homeowners going through similar processes.

Personally, my favorite part of Houzz is the inspiration aspect. Houzz allows you to create your own ideabooks, collaborate on ideabooks, and save photos from professional projects, all in hopes of drawing inspiration for your own remodeling needs.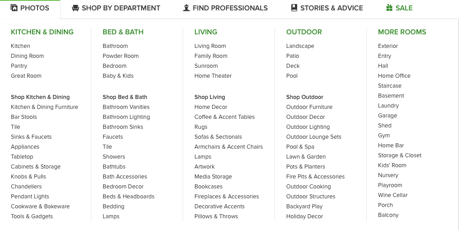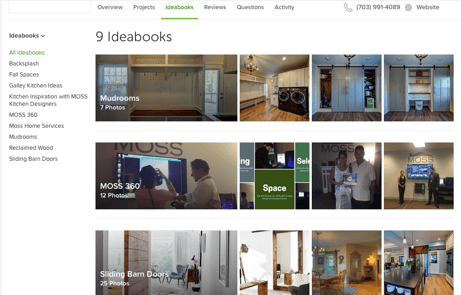 In addition to the communication and inspiration aspects, you can use Houzz as a shopping platform! Houzz is great because it is central to your location. Buy all of your home decor and home services needs via Houzz when you set up your zipcode. It will automatically match you to the best local products and services!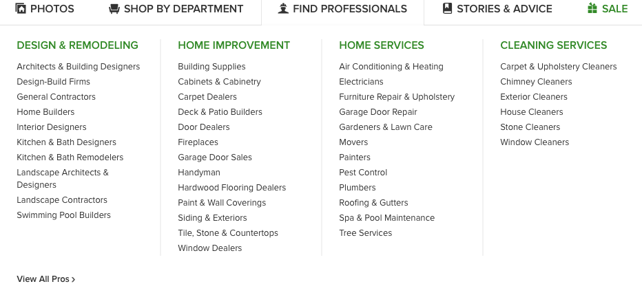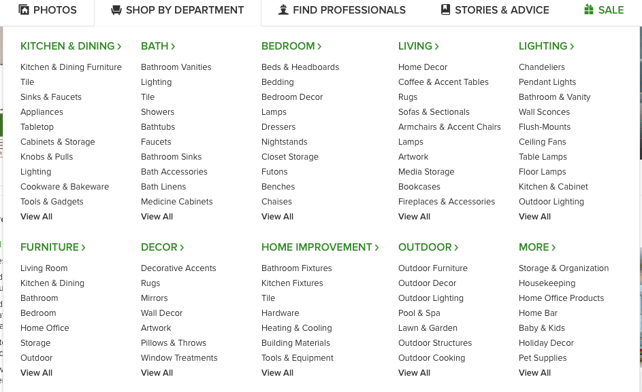 A huge benefit to Houzz is that it is free, and available to both people who have profiles as well as non-users. This allows for people to share links and photos to friends and families with ease. Plus, you can view Houzz via both web and mobile apps, so you can use it on the go! Fair warning, you can pass LOTS of time surfing the Houzz web, so let's get started! If you need help understanding the basic design styles and which style suits you best, this home style quiz will help ease you into the design world.
When looking at professional profiles, check for reviews, badges earned, affiliations, deals, and spotlight stories for authenticity. If you need any help getting started, feel free to browse the MOSS Houzz profile for inspiration. Save project photos, ideabooks, ask questions on specific projects, and participate in our design polls!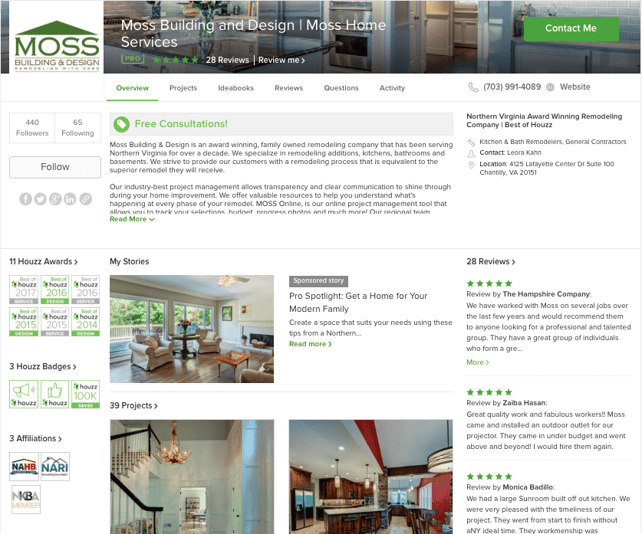 Pinterest
If I had to guess, I'd say that the everyone has at least heard of Pinterest. Furthermore, I bet the majority of us have even made an account during a delicious recipe search. However, Pinterest has a wide scope of content that ranges far beyond the food network.
Similar to ideabooks on Houzz, Pinterest has hundreds of thousands of boards based on 'dream home' remodel projects that can be used towards inspiration, or as millenials call it, pinspiration. During the brainstorming phase prior to construction, Pinterest can be provide ideas for DIY projects, home tips and life hacks, plus every possible room in the home, both interior and exterior. If you need any help getting started, feel free to browse our MOSS Pinterest Profile for inspiration. Follow our boards on DIY, home tips, room inspiration, outdoor living, and more!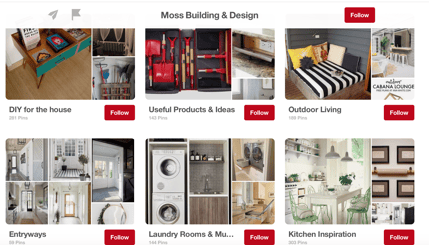 MOSS' Superior Design Experience
After all of your inspration and ideas are collected, it's time for the next step. MOSS is not a remodeling company that expects you to have all of your ideas and designs finalized on your own. Our project managers, customer care managers, and project designers will make sure of this. We appreciate a collaborate design approach and want to help you out along the way. If you are thinking of a home remodel, the professionals at MOSS are here to help. If you have general questions, call MOSS at 703.961.7707 or email Sales@MossBuildingandDesign.com.