MOSS 360 is changing the game for home remodeling in the Northern Virginia area. On Wednesday, March 29th, WUSA9 did a segment on virtual reality in the remodeling industry, and featured MOSS 360. Watch the full segment here!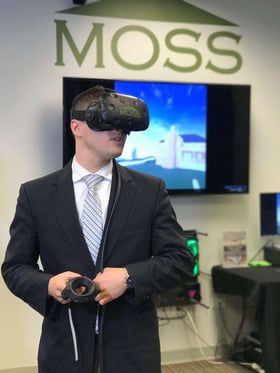 Virtual Reality in Remodeling
Evan Koslof interviews Marketing Manager, Carly McAlister, and MOSS 360 Architect, Tyler Tappan at Moss Building & Design in Chantilly, VA. Tappan has created virtual reality for the sole purpose of residential remodeling. He is able to walk you through your remodel before construction even breaks ground. MOSS 360 is changing the game as it allows you to feel your remodel as opposed to seeing drawings on paper. As you can imagine, the benefits to this experience are endless. "People absolutely love it," said Carly McAlister, and here is why.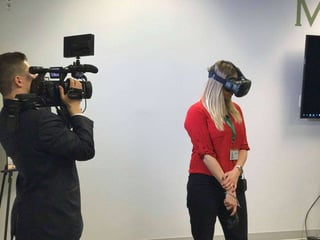 MOSS 360 Virtual Reality Design Capability
Long gone are the days of having regret post-renovations. No more wishing for a foot of more space between your kitchen island and your oven or wishing your counter tops were just a tad bit higher. You are encouraged to ask questions like, "Will there be a glare on the television at 4 p.m. in my new living room?" Or, "Does this shade of blue compliment the marble counter tops in the early morning?" For each MOSS 360 project, Tappan will do a sun study to determine how light will fall into the remodel. This allows you to see that difference within the space in real time, potentially saving you time and money from having to repaint if it's not the look you were going for.
One of the capabilities that may surprise homeowners using the technology is how customizable MOSS 360 can be. If you want to see how a certain kitchen sink will look, MOSS 360 has the ability to scan in that exact selection and place it into your space. The customization available to homeowners with MOSS 360 will allow them to not only see how each individual selection looks, but how cohesive the selections look together by walking through and seeing them in a real-life setting. "The real advantage is being able to feel your space," said McAlister. "As opposed to just seeing pictures and drawings of what it's going to look like."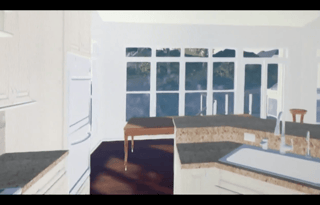 It is no secret that home renovations are pricey and that post-remodel mishaps could cost you an arm and a leg to correct. With this state of the art technology, you can literally walk through your new home and make these changes prior to construction. Your final results are guaranteed to be just the right fit… priceless.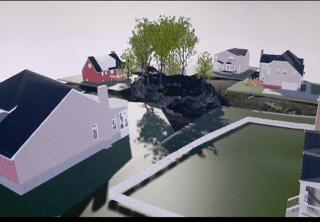 MOSS 360 was also recently featured in The Washington Post article on design firms using virtual reality to assist homeowners. Read the full article here!
Best Design/Build Firm in Northern Virginia
Did you know that not only was Moss Home Services just voted The Best Handyman 2017 by the readers of Arlington Magazine, but Moss Building and Design is also the reigning Best Remodeler?! Thank you so much for your support throughout the years, and we look forward to being your one stop shop for all your home improvement needs. If you are thinking of a home remodel, the professionals at MOSS are here to help. If you have general questions, call MOSS at 703.961.7707 or email Sales@MossBuildingandDesign.com.