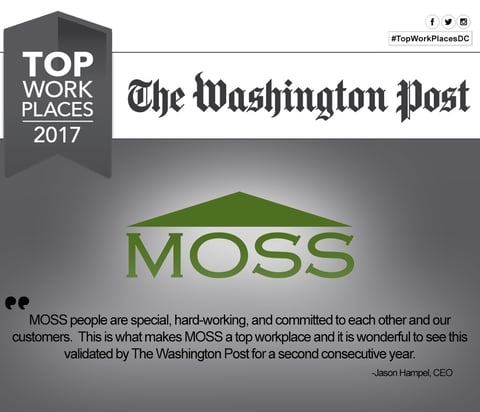 On June 15th, The Washington Post's Top Workplaces awards ceremony took place to announce the 2017 Top Places to Work. The ceremony celebrates the organizations who scored highest all-around when surveyed by their employees. Out of the 3,147 companies that were invited to be surveyed, we are proud to say that MOSS came in 6th for the Small Business Category!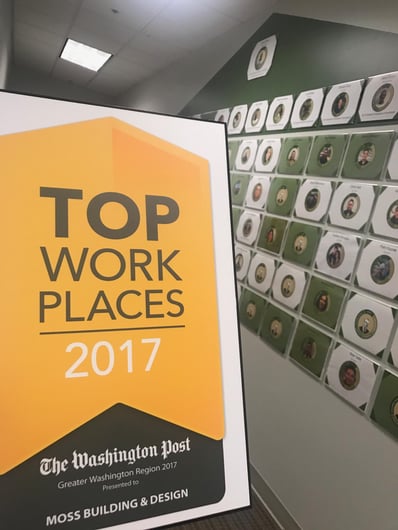 This is the fourth year that The Washington Post has put out the annual Top Workplaces Report. The Post partners with the survey firm, Workplace Dynamics, to find the Top Places to Work in DC. According to the Washington Post, the surveys focused on factors on quality of leadership, pay and benefit practices, and work-life balance issues.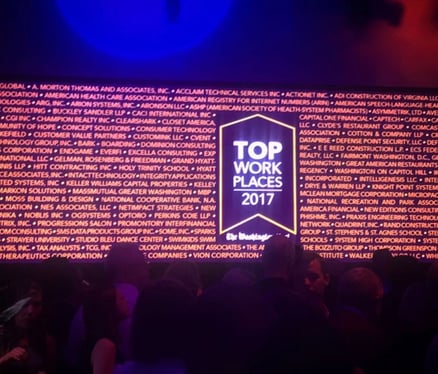 Our CEO Jason Hampel says that he is once again very proud of his employees for earning this high achievement. "MOSS people are special, hard-working, and committed to each other and our customers. This is what makes MOSS a top workplace and it is wonderful to see this validated by The Washington Post for a second consecutive year."

Top Work Places
We are so happy to once again be recognized as one of the top work places by the Washington Post, as voted by our employees. We had a great time celebrating our company and our culture at the Top Work Places reception on Thursday, June 15th!
Best Remodeler in Northern VA
Moss Building & Design is the area's top remodeler. If you are looking to design and remodel your home, look no further. We specialize in additions, kitchens, bathrooms, basements, and home services. The professionals at MOSS are here to help. If you have general questions, or would like a free estimate, call MOSS at 703.961.7707 or email Sales@MossBuildingandDesign.com.