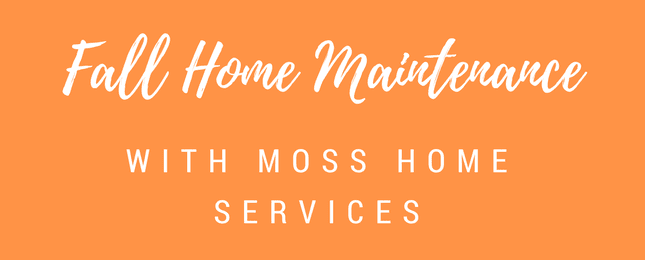 The air is getting chilly, the leaves are falling from the trees, and the kids have gone back to school… That can only mean one thing – fall is here! As the seasons change and you begin to get ready for the cold weather, don't forget to prepare your Northern Virginia home as well! Your yard, house exterior, and so much more require regular home maintenance throughout the year to ensure everything is working properly. Here are some things you shouldn't forget about during fall and winter home upkeep.
Home Services in Northern VA
Fall is the perfect time to fertilize your lawn! Aerate, fertilize, and reseed your lawn so it's fresh in the spring. Trim any trees that have branches too close to your house, especially the roof to prevent any damages that could be caused by a snow storm. Cover or clear off any outdoor furniture on the deck as well. Winterize and protect any outdoor sprinkler systems and store hoses indoors.
Switch summer appliances with winter ones in storage; put away the lawn mower and any gardening tools and bring out the snow blower and shovels! Make sure to have your snow blower and any backup generators serviced soon, as well as your HVAC system.
Check caulk and weather stripping around all windows and doors. You don't want to overwork your heating system by having drafty windows and doors! Reversing ceiling fans will also help heat circulate down from the ceiling. Insulate exposed indoor water pipes as well to prevent freezing.
Northern VA Handyman
While those are some easy DIY tasks, you may want to hire a professional handyman for the next few (like those here at MOSS!). Arguably the most important cold weather home preparations include gutter cleaning, roof inspection and repair, and chimney inspection and cleaning. Clear gutter buildup and ensure that your roof doesn't have any missing or loose shingles in order to prevent any water damage.
Some more exciting fall duties to check off your list include switching from summer to winter wardrobes, bedding, and décor! And don't forget to clear a path in the storage room to the holiday décor for easy access… it'll be time to get it out before you know it!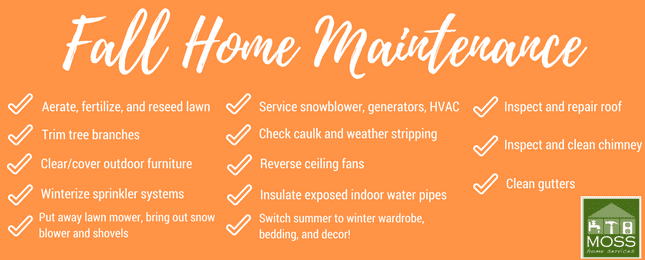 Handyman Services in Northern VA
We look forward to being your one stop shop for all your home improvement needs. If you would like us to take care of your home maintenance contact Moss Home Services. If you have general questions or would like to schedule an appointment, call MOSS at 703.961.7707 or email Sales@MossBuildingandDesign.com.