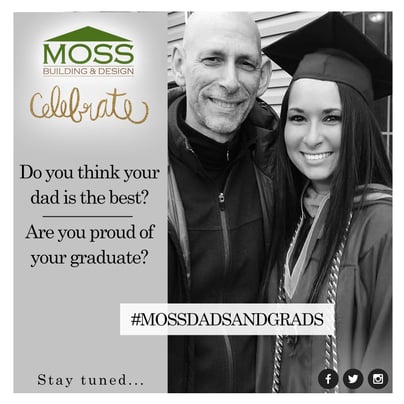 In honor of Father's Day on June 18th, college graduations winding down, and high school graduations right around the corner, we decided to celebrate! Graduation is a huge accomplishment, and we want to reward those who have worked so hard to get there. Not to mention all of the great dads out there who deserve more than a day of acknowledgment. Over the next few weeks we are going to host a series of social media competitions and opportunities to show your loved ones just how much they mean to you. Here's a sneak peak...
Father's Day in Northern Virginia
Father's Day is fast approaching, and that means everyone is asking the same question, "What do I get my dad!?" I know I tackle this question every year. Not to worry, MOSS is here to help! Beginning on Monday, June 12th, we will be sharing some of our favorite dad DIY gifts, great recipes that he will love, and more. Plus, we want to hear what makes your dad so special! In return, we will be giving away MOSS gift certificates and even a Free Handyman For A Day for one lucky dad (because Dad deserves a break from his handyman duties)! Tune in to our Facebook page on Monday to learn more.

Northern Virginia High School Graduation
With graduation season in full swing, we wanted to take time to reward some of our favorite graduates! Moms, dads, friends, and family, tell us how proud you are of your graduates. Not just your high school graduates, college too! Share your photos, your advice, and your favorite memories for a chance to win some great prizes. Stay tuned for more details. The competition begins Monday, June 19th, and ends Friday, June 23rd. Throughout the week we will be sharing favorite graduation photos of our own MOSS family, DIY recipes, gifts, decor, and more. We are so excited to share these special moments with you.

Northern VA Contractor
Moss Building & Design is the area's top remodeler. If you are looking to design and remodel your home, look no further. We specialize in additions, kitchens, bathrooms, basements, and home services. The professionals at MOSS are here to help. If you have general questions, or would like a free estimate, call MOSS at 703.961.7707 or email Sales@MossBuildingandDesign.com.