Transitional Design Style
For Your Northern Virginia Home
Transitional design takes components from traditional and modern design to create a harmonious space. It's really the best of both worlds!
Transitional interior design is great for homeowners who don't want the overly embellished look of traditional design or the starkness of modern design.
A transitional home design can be difficult to achieve. The last thing you want is for both design styles to be standing on their own within your space. Contact us for a design consultation, if you want expert advice on creating a cohesive transitional home design.
Before jumping into how to make each room transitional, let's review some of the hallmark elements of transitional design.
Color Palettes
When designing a transitional room, stick to a neutral color palette. Use beiges, grays, and other neutral colors on the walls to allow other elements and accent colors to take center stage in your space.
Remember, transitional design blends traditional and modern elements, so a consistent color scheme with a pop of color works well for a transitional space.
Minimalism
When blending modern and traditional design, find the sweet spot with enough decorative details, without overdoing it. Stick to the simplistic, clean look of modern interior design. Avoid clutter, but add smaller decorative pieces to incorporate traditional design.
Understated Sophistication
Stephen G. of Interiors by Stephen, describes transitional design as "understated sophistication," and we couldn't agree more. Blending two of the most popular design styles into one creates an elegant and beautiful outcome. This design avoids the clutter that comes from overly traditional spaces, yet it includes decorative traditional pieces into a modern space, creating a look that's clean and elegant.
Now, let's talk about how to make each room in your home transitional.
Transitional Bathroom Design
When it comes to designing a transitional bathroom, have fun with it! Pick and choose which elements of modern interior design and traditional design that you like the most.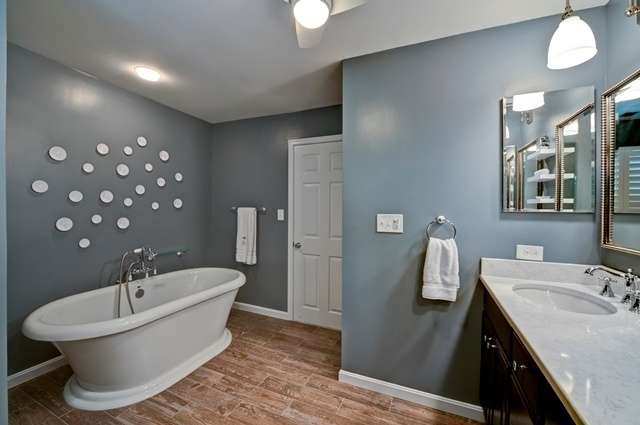 Consider the following transitional interior design ideas for your bathroom remodel:
Neutral tile

Freestanding tub

Neutral color palette

Incorporate curved and straight lines

Small amounts of decorative fixtures
Be cautious to not favor traditional or modern design elements to avoid creating a space that isn't transitional at all.
Transitional Kitchen Design
The possibilities are endless when creating a transitional kitchen. Have fun with your design! Transitional interior design adds texture to the space, like this kitchen remodel in Arlington, Virginia, which adds texture through the backsplash.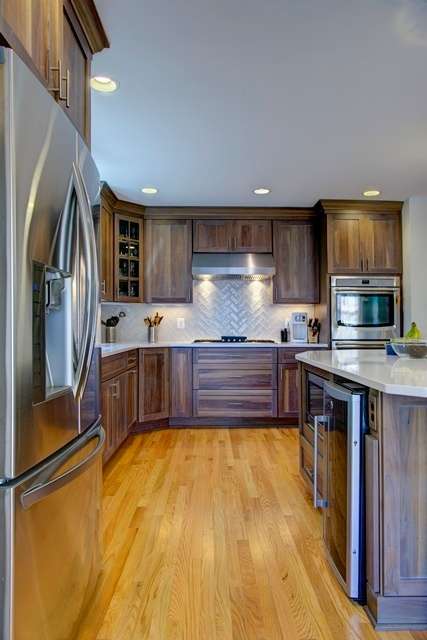 Consider the following elements to make your kitchen more transitional:
Hardwood floors

Neutral colors, including whites and beiges

Combining natural materials and manufactured ones

Granite, marble, and limestone countertops
Other Transitional Elements To Consider For Your Home Design
For every traditional element in a room, balance it with one of your favorite modern elements. For example, decorative details in traditional design should be on a small scale. The clean, minimal element of modern design allows for a clutter-free space in transitional interior design, but you can spice it up with enjoyable decorative elements.
To learn more about traditional and modern design, check out our recent blogs to help you blend the two designs into a beautiful transitional space.
The Best Remodelers In Northern VA
If you're in the market for home remodeling or you'd like to talk to a professional about making your home more transitional, call us at 703-961-7707 or email us at Hello@MossBuildingandDesign.com.