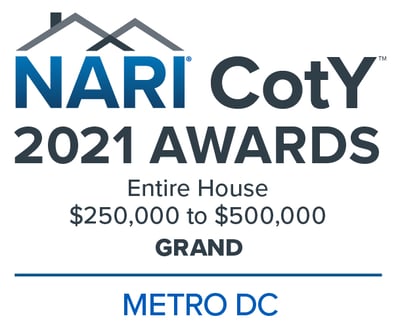 It's often said, "home is where the heart is." Many homeowners are challenged with the space constraints of a lovely home that worked well for them for several years, but now no longer suits their needs. So, homeowners have begun to add a wide variety of home additions to accommodate their unique requirements.
That was the case for Jake and Aylin and their beautiful Great Falls home. As American homes have changed over the years, so has Moss Building & Design's approach to home additions. A home addition is no longer simply the addition of a room. It's about truly understanding the homeowners' needs and identifying the best options possible for them. Not only were Jake and Aylin seeking more space on multiple levels of their home, they wanted their new home addition to transition smoothly and feel like part of their original layout in the interior, while completely updating the home's exterior to a more modern look and feel.
At Moss Building & Design we have an extraordinary team of home additions designers who will guide you through your remodeling journey. Our award-winning designers work on each project to understand the practical requirements of your home addition, learn about your lifestyle, and capture your inspirational style. Our designers work closely with our highly trained teams to yield one-of-a-kind additions that include: open concept kitchens with plenty of entertaining space, inviting screened-in porches, and expanded family rooms, and so much more.
Today Jake and Aylin's beautifully remodeled home includes a complete overhaul to the exterior of the home, the addition of a gorgeous front porch, expanded upper level bedrooms with a set of stunning dormer windows, a main level addition that houses the main level's open concept great room (with a peaked roof that matches the upper dormer windows perfectly), and much more. Interior touches throughout the addition include new flooring, new light fixtures, entirely new paint (both interior and exterior), and increased storage options, among others.
Our additions remodeling designers will assist you through every step of the decision-making, design, and selection process to ensure your new addition is a realization of your dreams. The end result is a beautifully crafted home addition that is unique to each home and family.
Please view our home additions portfolio to experience the magnificent transformations that our custom design teams bring to a home.