 Testing out how this works, so I'm copying over our most recent blog post as a test blog.
In mid-November 2020, the new City of Fairfax Theatre Company (CFTC)'s Scene Shop at Hopewell House was unveiled to CFTC members and signaled an exciting end to a transformative project for the company. In early 2020, MOSS Building & Design, which has connections to CFTC through its Chairman, Jason Hampel, had been contacted by the company to assist with the scene shop's updating from an un-used barn on the Hopewell House property (doated to CFTC) to a space that was safe, well-lit, insulated, and appropriate for both the storage and the construction of the theatre's sets and building materials.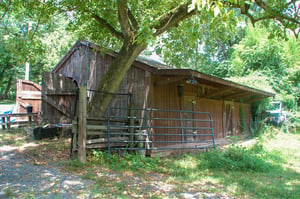 MOSS has long been a proponent and an active collaborator with non-profit and other organizations in the Northern Virginia community, and the opportunity to provide what is essentially a long-term solution to CFTC was a no-brainer for our team. Run entirely by volunteers, CFTC relies on public use space for its rehearsal and productions, and in the past had all its equipment, materials, costumes, and other related items stored at CFTC members' homes.
With donated materials from other sources, MOSS was able to provide the manpower necessary to do the following: demo interior partitions and frame a floor to provide storage, create a larger main double door entry for easier access, rework electrical to provide better lighting and outlets and to provide electrical for the HVAC system, insulate the main areas and finish the insides with plywood, insulate, drywall and paint the ceiling, and install a new HVAC system.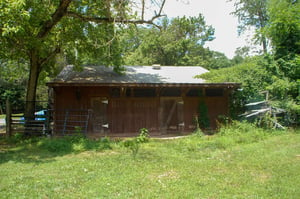 "This year has been a challenge for so many people- and to have Jason Hampel and MOSS come together with Hopewell House to make this game-changing contribution to CFTC really shows the power of community, and specifically the commitment of the Hampel family in making a difference in the lives of Northern Virginians! We couldn't be more thrilled to move forward and upward with our work due to the generosity of Jason, MOSS, and Hopewell House," said Michael O'Dell, President of CFTC.
"CFTC has been a wonderful organization for my family to be involved with," said Jason. "The volunteers and families behind CFTC give so much of themselves to provide our community with incredible access to the arts. They have given our son and many other kids and adults a fun and supportive outlet to explore a love of theatre and build confidence. Helping CFTC with the Scene Shop is the best way that MOSS could support such a positive group of individuals in the Northern Virginia area."
The City of Fairfax Theatre Company offers high quality theatre experiences to people of all ages through stage productions, summer camps, and workshops. CFTC builds a creative and collaborative environment to encourage artists of all ages and backgrounds to discover and develop their performing arts talents. Visit www.fairfaxcitytheatre.org for more information.